Wed, 15 August 2018
Last Seen…Babbling – MiGS 250b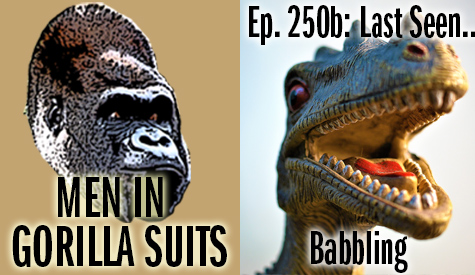 Before recording the Cruelty episode, the Gorillamen babbled as they often do.
In the past, when we've shared our more general pre-recording discussions, some people have liked listening in.
So...here's a mini episode instead of the usual between-weeks Classic episode...
* * *
Photo by Umanoide.
---
Wed, 8 August 2018
Last Seen…Being Cruel – MiGS 250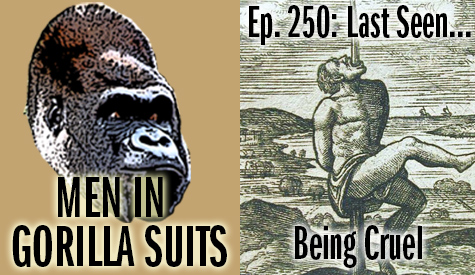 In honor of our 250th episode of Men in Gorilla Suits, we get happy...and talk about cruelty.
Of course, we try making the show fun -- and it's still a bit lighthearted for such a potentially dark topic -- but much of the humor comes from acknowledging what a dark subject it is this time around.
But hey, you get to find out the cruelest things the Gorillamen have done to other people, and we do address ways of dealing with and preventing cruelty. So there's that...
Obviously, this episode also gets a bit political...'cause, ya know...separating kids from their parents and not reuniting them is cruel.
You've been warned...
* * *
We kick it all off with the first time somebody did something cruel to us. Then we move on to whether or not we've ever done anything cruel to someone else...and why. (Please don't fear us!)
After all that, we chat about the cruelest things we've seen lately, and answer this question: is cruelty on the rise?
We talk about the Internet's role in modern cruelty -- and if cruelty and stupidity are linked.
We get a little more chipper when talking about the least cruel people we know, so there's that. And then we discuss why cruelty is more heinous than ordinary meanness.
And we wrap it all up with these two questions:
Is cruelty damaging us?
How do we fight cruelty?
But seriously, as dismal as the topic for our 250th episode is, it still has some very funny moments. Also, as we hit a fairly big milestone with this episode, if all you've ever listened to is this episode and are then like, "Fuck those gorilla guys -- they suck!" thank you for your time. Many podcasts never see episode 25, so we appreciate anyone who's listened to any of our 250 episodes...
---
Tue, 26 June 2018
Last Seen…Relaxing – MiGS 247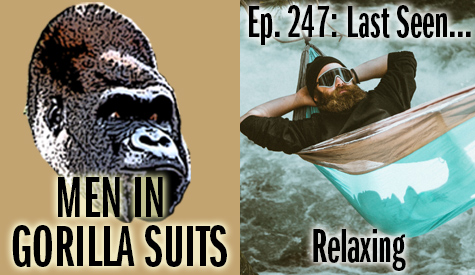 Breathe in...
Breathe out...
Repeat.
Do you feel relaxed?
Maybe nature is your thing. Or perhaps it's a Netflix binge.
The Gorillamen are laid back enough that we're not going to tell you how to relax.
(But if you wanted to kick back and listen to this episode while stretched out on the couch or something, we would not be opposed...)
* * *
We kick it off with the first time we were aware of this concept called relaxing. After that, we talk about how we go about relaxing -- and the last time we really relaxed.
Find out how important relaxing is to us before we piss on a popular Internet meme: that which claims nature is as effective -- or better -- than antidepressants.
We chat about if we believe people have a harder time relaxing now vs. a few decades ago...and why we hold those beliefs. And why not talk about the role recreational drugs and alcohol play in in relaxing for many people?
Going back to an earlier point, we discuss if there's anything wrong with those needing prescription medication in order to relax. Also: the role technology plays in people relaxing...or not relaxing.
We talk a bit about meditation and if one can relax too much.
And we wrap it all up 50 years in the future, speculating if we think people will be more (or less) relaxed.
Ahhhhh...
---
Wed, 13 June 2018
Last Seen…Talking about Family History – MiGS 246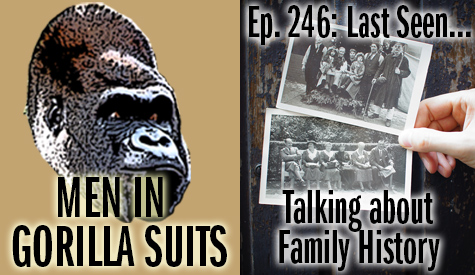 If the sons of the fathers are responsible for righting the sins of those fathers, Shawn slipped and Christopher did a fine job. Granted, Christopher's father was a wreck in many ways, and Shawn's father is so without sin that he might be Jesus (with muscles).
Both Gorillamen have done well by their ancestors if one decided to try quantifying it all. Need proof?
This week, we're talking about our family histories...
* * *
We kick it off talking about the first things we ever learned about our family histories -- and how we learned about family when we were kids. After that, we discuss how far back in history we can trace our families.
Find out the last time we discovered something shocking, funny, and terrible about our families...and then which side of our families is more interesting -- and dark.
We chat about our favorite deceased family members before discussing what kind of history we're each adding to our family names.
And we wrap it all up by talking about who the Endling is in each of our family lines.
---
Wed, 2 May 2018
Last Seen…Talking About Professional Wrestling – MiGS Ep. 243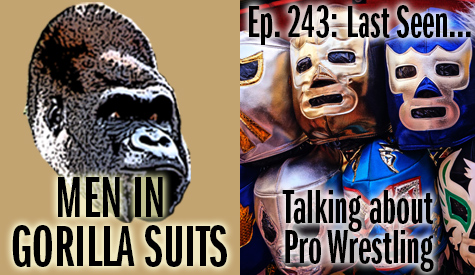 "TONIGHT, SHAWN-DAWG AND OGRE DEFEND THEIR TAG-TEAM PODCASTING CHAMPIONSHIP VS. ... well ... uhm ... HEY! They bought those cheesy belts at a Halloween store, and there's no such thing as the Tag-team podcasting championship! I told you wrestling was fake!"
Ah, professional wrestling -- with its history of terrible stereotypes and hokey gimmicks; its fake punches and scripted outcomes. The costumes, the characters, and all that comes with it.
But the Gorillamen maintain there is also a certain beauty to even Shockmaster's infamous debut.
So step into the squared-circle as we chat about professional wrestling this week...
* * *
We kick it off in the past, discussing the first times we ever saw professional wrestling. After that, find out if we still watch wrestling regularly.
We get through our lists of favorite professional wrestlers before discussing THE question: Is professional wrestling fake?
Then we talk about live matches we've seen -- and if we ever wanted to become wrestlers.
We chat about the appeal of professional wrestling, and then move on to professional wrestlers we've met.
Hardcore wrestling is quite a...thing. We discuss our thoughts on what compels people to willingly be put through flaming tables covered in barbed wire...and then we talk about the pressures put on professional wrestlers by the promotions they perform for.
And we wrap it all up with our favorite things about professional wrestling...and what the future holds for it all.
---
Wed, 18 April 2018
Last Seen…Talking About Virtual Realities – MiGS Ep. 242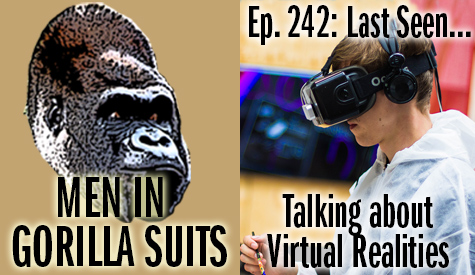 There are people who believe our reality is that we are all part of a computer simulation.
Futurists say that's not true, but that we will one day soon live in virtual worlds of our own devising.
Others say that any kind of virtual realities will never happen because we all look silly with big headsets strapped to our faces.
We can argue about these points, but one thing's certain: with recent leaps in virtual and augmented realities, big changes to technology are coming -- and that's what we're talking about on this week's episode of Men in Gorilla Suits. (Okay, so it's really about virtual reality, virtual worlds of games, augmented realities, and data modeling...)
* * *
We begin with our first experiences with virtual reality, and then talk about if we've ever modeled things before building them. Also: find out the last form of virtual and augmented realities we've used.
After that we discuss the best -- and worst -- virtual environments we've ever experienced. Getting personal, we chat about the most complex things -- and the dumbest things -- we've ever modeled before construction.
We talk about augmented reality's use in games like Pokemon Go and Ingress. Next, we devote some time to ways virtual reality, augmented reality, and data modeling are not being used in ways we'd like to see.
Find out what our ultimate virtual reality/augmented reality games would be like...and we wrap it up with the future of virtual and augmented realities.
---
Fri, 13 April 2018
Last Seen...Finding Themselves: MiGS Ep. 52 (Classic)
No audio intro today, kids, as your old pal Shawn JUST finished renovating his bathroom and is making no verbal sense right now.
Scars? Oh yes, I have scars.
*Blaze of Glory plays*
I remember this episode was fun, although I remember starting it with a regrettable "Who the fuck is you?"
Anywho, enjoy this classic episode. Back next week with a new one.
*Blaze of Glory cuts off*
---
Wed, 4 April 2018
Last Seen…Arguing – MiGS Ep. 241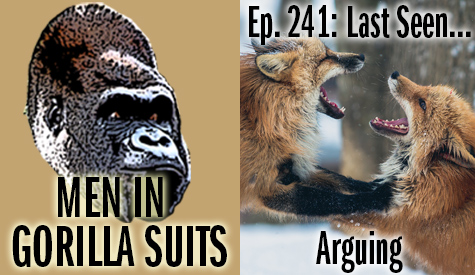 Go online, and you'll see people arguing about things.
Sit around in public long enough, and you'll see people arguing.
Hell, many people grew up with parents and other family arguing.
Sometimes it's arguing decent points, but other times it's just tense humans yelling at each other for the sake of yelling.
This week, we're all about arguing...don't tell us we're wrong!
* * *
We kick it off with the first arguments we remember hearing and then talk about the last arguments we've had.
Find out if we like arguing, if we argue well when we do argue, and if we think arguing is healthy.
We chat about why some people seem to love arguing so much -- and if it's important to learn how to argue well.
We devote a bit of time to whether or not we've changed anyone's mind in arguments, and how we feel about the Internet as a place to argue points.
We also discuss the role of emotions in arguing, and wrap it all up with advice we'd give to someone who has become fatigued by arguing so much.
You better not tell us why we're wrong in the comments!
---
Tue, 20 March 2018
Last Seen…Talking About Appearances – MiGS Ep. 240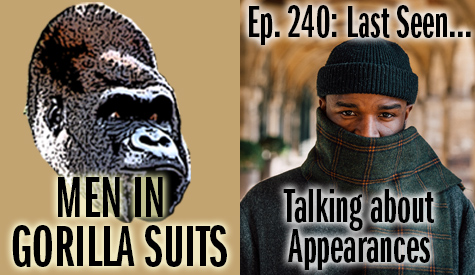 Look in the mirror and what do you see? Sure, there you are, but do you like what's reflected back at you?
Do you sometimes think about ways to improve your appearance?
It's hard not to look anywhere, really, and not think about appearance: magazines, commercials, and the shows and movies we watch often assault us with the mantra that we are nothing, unless we look as slick as these perfect people. (Who probably also have image issues.)
This episode ran much longer than our typical episode. We like to think much of it is funny, but at times it gets deeper, and we reveal things about the way we see ourselves that we've not talked about in 239 episodes. Hell, just the enthusiasm with which this episode was recorded leans toward a certain kind of appearance.
So sit back and enjoy knowing you're not alone when looking at mirrors...
* * *
We kick it off by discussing the first time we were conscious of our appearance...and what made us aware that appearance was even a thing. After that, we talk about if we've ever been obsessed with our appearances...and ways we've presented ourselves to others. Also: find out if we ever cultivated an appearance.
We devote some time to whether or not our families were ever concerned with keeping up appearances...and if we are concerned with appearances as adults.
We chat about how much time we devote toward our physical appearances -- and if it's even a concern for us to look good.
Next, we hone in on the one word we'd use to describe out appearances. Better than that: find out how we'd describe each other to a police sketch artist!
We share if the appearances we present to the world are accurate of who we are and, if not, how much it differs. Sticking along those lines, we chat about if most people we know are honest in the image they present to the world, or if they hide behind things they are not. Find out if we think presenting an image is damaging.
And we wrap it all up with the most important question one can ask: Beards...why?!
* * *
And just so you can appreciate the scarf the guy is wearing in this week's episode image, here's a bigger version.
(Dude's definitely got style!)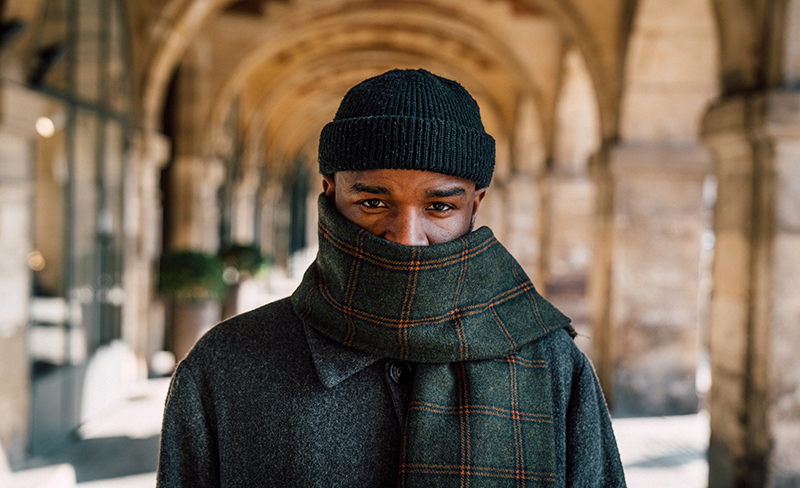 ---
Wed, 7 February 2018
Last Seen…Talking about Marijuana – MiGS Ep. 237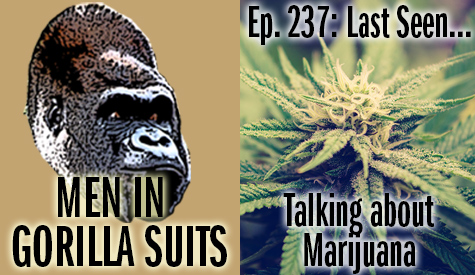 First: Today marks exactly five years since we loaded the first episode of Men in Gorilla Suits.
Now, on to this week's episode...
* * *
Duuuuuuuuuuuuuuuuuuuuuuuuuuuude...
Duuuuuuuuuuuuuuuuuuuuuuuuuuuuuuuuuuuuuuuuuuuuuuuuude...
Duuuuuu-- Duuuuuuuuuuuude, is that pizza?
This week, we're talking about marijuana.
(And just because Christopher mentions the tune, there's this:)
* * *
We kick off this week's episode talking about when we first became aware of marijuana. After that, we discuss if we've ever gotten high, the last time we got high, and our experiences with weed.
Find out if either of us ever sold marijuana, a then listen to us talk about if we're for legalization (and why...or why not). We discuss medical marijuana and miraculous claims about the plant. We also devote a little time to people we know who have changed their views about marijuana over the years.
Weed has reputed claims of making creative people even more creative. We talk about that and if we've ever used marijuana in a creative manner. As we near the end of this episode, we discuss our favorite pop culture references to marijuana...and we wrap it all up with the future of weed.
---