Thu, 26 December 2013
Men in Gorilla Suits Ep. 47: Last Seen…Getting Educated
Is an education what many believe it to be -- formal schooling -- or is it something more? It seems like something more as we begin this episode talking about our first memories of education...it didn't start with school. But, obviously, one cannot discuss education without [mostly] talking about school. After our early memories of being educated about something, we move on to this question: "Did you have any teachers that inspired and changed your life like you see in movies?"
Maybe we did; maybe we didn't...you'll have to listen to find out, but we definitely had teachers who soured us on schooling. So often, teachers are held up in high regard, but is it justified when so many teachers aren't all that great? (Not saying for a moment that a good teacher should be lumped in with the actions of poor teachers, but so often you hear things like, "Teachers should be paid more than athletes," and, truth be told...there are a lot of shitty teachers out there who probably don't deserve what they are already paid!)
After that, it's on to standardized testing and the money that's tied to it. Is standardized testing good or bad? Is one who tests well "educated" -- is it possible to solve problems and be smart and not test well? (You can probably guess where we stand!) Does more money solve problems in districts, or are there bigger problems with education that money alone can't solve? Hell, why not just ask if the public school model is outdated altogether?
We take a different track and ask how we'd see our own children educated before stepping into home schooling/unschooling. Is homeschooling and unschooling bad? What about the arguments about socialization: is a school a good place for socialization, or can it be like Lord of the Flies for many, destroying the confidence of so many kids who would otherwise be social in other environments?
While most of this episode focuses on primary and secondary education, it's off to college...but is college worth it? Does a traditional education and college prepare younger people for adulthood and the real world, or is it more about discipline and then wondering why the person who previously had to ask for permission to use the restroom isn't suddenly the problem-solving adult they are expected to be after graduating high school?
Breaking from tradition, we move on to other interesting ways of educating people. After that, we build a time machine and go back with the ability to shape our own educations -- find out what we would have changed and how we'd have preferred to have been educated. And, as always, we wrap it all up by discussing the future...this time, what the future of education might be like...
If you're stuck in detention and looking for something to do, tell us some of your thoughts and feelings about education in the comments.
---
Thu, 19 December 2013
Men in Gorilla Suits Ep. 46: Last Seen…Studying Science
MWAH-HA-HA-HA-HA!!! This week, we're all about...SCIENCE!!! (Imagine a flash of lightning instead of exclamation points and it's soooooooo much better!) But really, that's kind of the Hollywood/Frankenstein version of science. We're a bit more grounded than that...although we DO love a good mad scientist movie...
We begin as we always do: discussing our first memories of the topic; in this case, our first memories of science. We obviously wouldn't talk about science if we didn't find science fascinating, so after that, we move on to the first field of science we ever loved. Also, find out if we were good students in science classes in school.
But enough about the past: find out what we feel are the most fascinating scientific developments right now! Then we roll into the weirdest science experiments we've heard about...and the most horrific! Some people think most science has the potential for harm...who should decide the limits of what we do with science: scientists, government, or something else? Or...should anyone have a say?
Next, find out what we feel are the most ridiculous assertions backed by "science," and listen to why we feel so many people put stock in pseudoscience. It all wraps up with where we see science going in the future.
So put on the lab coats and headphones and then head to the comments to talk about one of the best things ever: science!
---
Mon, 16 December 2013
Men in Gorilla Suits Ep. 45b: Last Seen…Eatin' Candy!
Regular listeners know we always put a snippet of our pre-show babble at the very end of each episode. We decided it would be fun to give your ears a peek behind the scenes and let a longer-than-usual babble-fest loose on the world. No editing, just straight-up pre-show talk.
So...what do we cover in 10 minutes?
Hear us choose our pens!
Listen to us eat candy!
Find out what the hell Muddy the Mudcat is!
Revisit the Fear podcast as we talk about being afraid of the Dr. Who theme as children!
Find out why Disney's The Black Hole made Shawn almost give up a love of science!
Listen to Chris talk about the most terrifying robot ever!
Learn all about how Shawn used to view "downtown" in any city!
Is downtown Dallas really like the lonely scenes from 28 Days Later?!
Is downtown Cleveland really just hobos and prostitutes?!
Finally, find out how long we'd last in a Fight Club...and what our downfall would be!
Can we use more exclamation points?!
Yes, we sure can!!!!!!!!!!!!
---
Wed, 11 December 2013
Men in Gorilla Suits Ep. 45: Last Seen…Collaborating
We kick it off talking about our earliest memories of collaborating, before jumping right in and answering the big question: Do we like collaborating with others? Find out our best experiences working with others...and the worst!
It's hard not to talk about collaboration and not talk about work. How much do our jobs rely on collaborating with others? How do you work with that person who refuses to work well with others? Should employers even encourage collaboration; if so, how can they best get people to work together well? Does any one person (or group of people) have the upper hand when collaborating?
Find out if we prefer leading groups of simply being part of groups when we have to collaborate on a project. Can people collaborate and still have their own voice be heard? And, finally: what's the best collaborative effort seen in history?
Feel free to collaborate by sharing your thoughts about collaborating in the comments.
---
Wed, 4 December 2013
Men in Gorilla Suits Ep. 44: Last Seen…Watching Television
Ever watch TV? Bet you have. Man, do we have a podcast for you this week -- one of those, "I can't believe we haven't done this one, yet!" shows. This week, we're talking about that great American pass time: television!
We kick it off talking about the first TV show we remember watching, before jumping to how important TV was to us when we were young. How does TV from the past (we focused on 80s TV) compare to things today?
Somewhere along the way, the mini series became a popular thing. We discuss the first mini series programming we remember watching before moving to our all-time favorite mini series. Probably because the mini series at least shot for something more, we jump to talking about the shows that seemed to be forerunners to the more intricate story arcs, characterization, and chances taken with TV today. Also: the most out-of-the-box TV shows we've ever seen.
With the rise of cable, viewers (and creators) have more channels to choose from. Is this better or worse for creators? What TV shows do we feel have had strong writing? And you know you want to find out the most embarrassing shows we'll admit to liking!
In the homestretch, we ask how relevant TV is to today's culture...before calling out the best TV shows of all time (and the worst). We wrap it all up with this question: What is the future of television?
So grab that remote and flip to Men in Gorilla Suits. As always, we'd love to hear your feelings about anything discussed in the comments.
* * *
(Wow, we succeeded going this entire description without saying boob tube! Huhuhuhuhuhuhuhuh...)
---
Mon, 25 November 2013
Men in Gorilla Suits Ep. 43: Last Seen…With the Paparazzi
With Thanksgiving on Thursday in the states, we decided to release this week's show early...
This week, we're talking about celebrity, and we begin the episode like we begin most episodes: discussing our earliest memories of things (this time, of celebrities). When did we realize there were these things out there called celebrities, and who were the first celebrities to get our attention?
Why are people so enamored with celebrities, and is there something sad about the name dropper...the person who talks about all the celebrities they've met? Is there a difference in the way people view the status of famous musicians, athletes, actors, or even writers -- or is celebrity the same for all? Then the big question: who are our favorite celebrities?
From there, we talk about some of the celebrities we've met...and celebrities we just don't get! It seems many love celebrity scandals -- we discuss why that is before talking about a type of celebrity many don't even consider: the Internet celebrity. There are bloggers, people with YouTube Channels, and podcasters -- some of whom have larger followings than traditional celebrities. Is this new kind of celebrity a step down from what most deem as celebrity, or is it just as valid of those on the red carpet at a movie premiere or awards ceremony?
We then take a turn into the realm of reality TV show celebrities: do they deserve the credit, or are the Kardashians and others the worst of the worst?
This podcast was done at the request of a friend, who pitched a couple questions. The first one: who are our man crushes? (Apparently the Gorillamen have similar tastes in male celebrities!) The second: who are the five celebrities we'd put on our laminated list? Finally, we close the episode out by answering this question: "Would you want to be a celebrity?"
As always, we'd love to hear your answers to any of the topics discussed on this week's episode.
---
Thu, 21 November 2013
Men in Gorilla Suits Ep. 42: Last Seen…Advertising!
A week from tomorrow is Black Friday. It used to have more meaning, but in recent years, the sales kick off on Thanksgiving Day. Each year, it seems advertising for holiday sales begins earlier than ever before. People complain about seeing Christmas decorations in August, but it apparently works as advertisers push the limits of what the purchasing public will accept.
This week's podcast is all about advertising, starting with the first advertisements we remember seeing. From there, we confess to what capacity we've each worked in the advertising world. (If the podcast had chapter titles, this part would be "Shawn Hangs Out with Molly Hatchet!)
Even with digital recorders, TV still seems like the place for advertising. We discuss whether we even watch ads on television anymore (if we really ever did), before discussing ads that annoy us...and ads we like. (So, obviously, ads do get through to us.) Then on to the big question: has an advertisement ever convinced us to actually buy something? Has an ad annoyed us so much that it's turned us off from purchasing something? Are there right and wrong ways to go about advertising?
We then take a moment to discuss the best and worst ads we've ever seen before discussing if we've ever tried advertising our books. (Answer: no and no!) And then we close it all out discussing the future of advertising. How invasive will it get?!
We'd love to hear about your favorite and most-hated ads in the comments, so jump in and have fun! (You'll make the ghost of Earl Scheib sell his soul for just $99.95!)
---
Wed, 13 November 2013
Men in Gorilla Suits Ep. 41: Last Seen...Listening to Music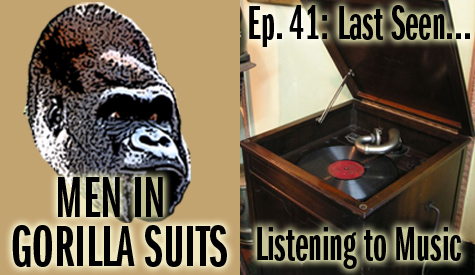 What music did our parents listen to when we were younger, and what was the first music we ever owned? Find out right at the start of this week's show. Also find out if either of us ever played a musical instrument. After the trip to the past, we leap to the future, discussing the musician or band that never lets us down...and the band that, when on it, is as good as it gets, but has also recorded some of the worst music out there.
From there, we delve into dislikes, leading off with the band or style of music it seems everyone says one must like, but we don't like. Then: it's time for a moment of hate...find out what band or musician we could do without. (And yes, we said hate. Normally, not our kind of thing, but once Christopher opened his mouth and discussed is irrational hatred for a particular musician, things took a bit of a dip into Negativeland.) You know we usually lean toward positive, though...to the point of ridiculously positive at times. We leave the dislike and hate behind and talk about music's effect on our writing.
Music is a time machine of the mind -- we then talk about the musician or band that transports us to the time we listened to them most. Find out what songs we can't help but like, as well as our guilty pleasure tunes. (Not that we are ones to really care what people think of our musical choices, but we all have those songs that are considered bad that we instead love.)
What do we listen to most these days? How has our tastes changed -- what musicians or bands did we once listen to all the time that we have simply left behind? Find out our biggest music 180s, the bands we once couldn't stand that we came to love. Then it's time for the one-minute lightning round as we rattle off some of our favorite songs (and forget so many others)! The episode closes with what effect music has on us.
We'd love to hear your answers to any of these questions in the comments.
---
Thu, 7 November 2013
Men in Gorilla Suits Ep. 40: Last Seen…Running the Government
It may sound like a high school civics class, but this week...we're all about government!
We jump right in by asking if America has the best system of government, or if others out there have better ideas? That leads to a discussion about what form of government is the best...and what we feel is best. Of course, we also discuss the worst kinds of governments that have existed and are still out there.
Then, a bit about education: how much government was taught to us in school, and how involved were the classes? Were they biased or open to all kinds of ideas? Did they help us, or have we forgotten all we learned? Do we feel like we learned something, but still ended up lost in a sea of people who didn't?
Next, we get a bit more philosophical. Does a transparent or secretive government best serve the people? Could a complete lack of government actually work? And because Shawn led the charge with this epsisode, could a government like the one in Star Trek ever become real...and if so, could it work? Sticking to fictional governments, we talk about how close or far we are from Orwell's 1984, before wrapping it up with the ideal government we would create, were we put in charge of the world.
(In the end, it is decided: Facebook and dance fighting are the only systems that work! Okay, maybe not, but we do mention dance fighting and the structure of social networks like Facebook as a system of government.)
---
Wed, 30 October 2013
Men in Gorilla Suits Ep. 39: Last Seen...Celebrating Halloween!
We begin the Halloween episode of Men in Gorilla Suits as we begin most episodes: by discussing our earliest memories of the topic. Find out when Halloween memories stuck in our brains. from there, it's on to our favorite costumes from our pasts. (This section had a beta listener rolling with laughter at Shawn's choice and our discussion of those cheap, vinyl costumes popular in the 70s and 80s.) The costume talk doesn't stop there, though...we reveal what we'd consider our ultimate costume if we had the talent to make them, and what creature we would want to be if we could change into a monster just like that.
But let's be honest: for many, Halloween is all about the candy! We discuss the best -- and worst -- things people dropped into our Halloween bags when we were younger. Find out if our candy was ever stolen from us [by a band of thugs dressed like the baseball gang from the movie, The Warriors], or if we were ever the ones doing the stealing.
For some, Halloween is about destruction. Find out how many pumpkins we've smashed in our time and any other mischief on October 31st we got into. For others, Halloween is all about entertainment. Find out what books, movies, and music we recommend for Halloween.
In recent years, Halloween has returned to its roots for some, and become seen as evil by others. We take a moment to discuss the religious side of what is largely a secular holiday, before wrapping the episode up with a couple favorite stories from past Halloweens -- and our plans for this year's festivities.
We'd love to hear some of your favorite Halloween memories in comments, so please share.
---