Wed, 26 October 2016
Men in Gorilla Suits Ep. 195: Last Seen…Having Phobias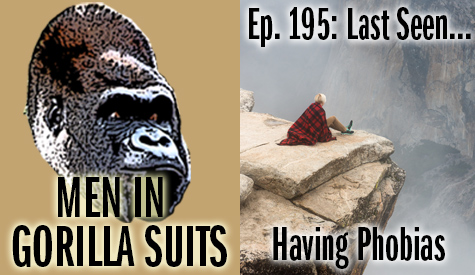 It's a really busy week, so no commentary -- just our talking points in a nice, neat list:
How old were you when you first experienced irrational fear?
What was your first phobia?
Have you ever had a debilitating phobia?
Have you known anyone who had a debilitating phobia?
Who has the strangest phobia that you know?
Have you ever gotten over a phobia? How?
Are you currently phobic about anything?
Are phobias something we're born with, or something we're taught?
Can phobias serve any useful purpose?
Has a phobia ever stopped you from doing something?
If you had to take on a severe, incurable phobia, which one would you choose? Why?
---
Wed, 19 October 2016
Men in Gorilla Suits Ep. 194: Last Seen…Being Outdoors-y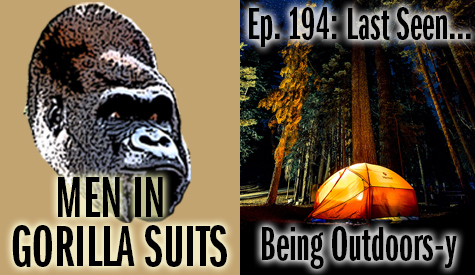 Some of us love the call of the wild and sleeping beneath the stars; some of us live for take-out and convenience.
This week, we dedicate an hour and change to the great outdoors...
* * *
We begin as we often do: back in the past. We talk about the first kind of outdoor recreation we remember doing, and then leap to our favorite things to do outside as kids...and now, as adults.
Find out if we think outdoor activities are important to the development of kids...and our favorite things to do outside today. Also, we discuss whether or not we feel being outside is important beyond levels of simple personal satisfaction...and then we share some of our favorite outdoor memories.
We chat about outdoor activities and trips we'd love to do, including what we'd do if money and time were no object.
We live in a fast-paced world where we hear some people even listen to podcasts at 2X speed to take more in. Find out if we think we lose anything by living such hurried lives often away from nature. Sticking to that idea, also listen to us talk about the role the Internet and technology play in how we interact with the natural world.
And, as always, we wrap it up in the future; this time, chatting about what the future holds for outdoor recreation.
---
Thu, 13 October 2016
Men in Gorilla Suits Ep. 193: Last Seen…Talking about Authority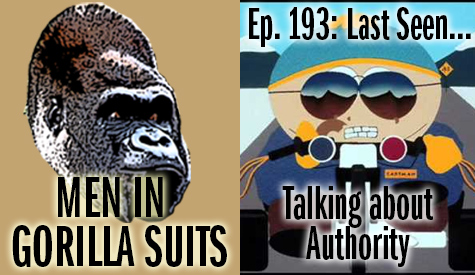 You will do as we say. If you do not do as we say, there will be consequences.
For many, that's what authority is -- someone with perceived power ruling over others.
But authority is also just being the person who has the authority to sign off on documents...things like that.
Really, though...we stick more with the first example of authority this episode...
* * *
We begin by talking about the first authority we recognized in life...and then whether or not our parents were seen as authority figures when we were growing up. We stick to that a bit more and discuss how our parents compared to friends' parent where authority was concerned.
Find out if we have a problem with authority [yes, we do] and when the problem started for each of us. We also chat about why we think authority can make us bristle a bit.
We devote some time to current authority figures in our lives, and whose authority we refuse to recognize -- as well as who we will listen to.
Many people say we must have authority for a society to survive, but is that true? We devote some time to that before talking about whether we follow authority more or less than others we know. And find out what gives someone enough authority that we will actually follow them.
We wrap it all up with the future of humanity's relationship to authority.
Now...respect our authority and leave a comment below!
---
Wed, 5 October 2016
Men in Gorilla Suits Ep. 192: Last Seen…Being Pretentious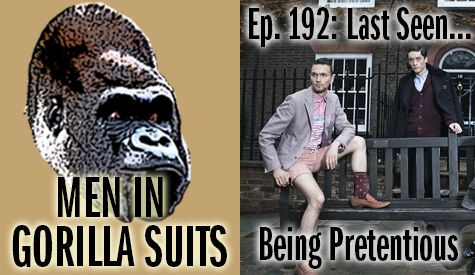 Really, podcasting is beneath us -- we only do this to be ironic. Our true fans listen to us on vinyl while drinking craft beer you've never heard of in exclusive bars meant to look like dives, even though they aren't. All your thoughts are provincial; you simply don't have what it takes to run with us.
We're sooooooo over The Decemberists, Grizzly Bear, and Bon Iver -- you know, the bands you're just now discovering. Our background music is a single note from Velvet Underground's "Lady Godiva's Operation" extended for hours while an Icelandic band only three people know of sings about the plight of being so misunderstood.
It's not that we're better than you, but...we're simply better than you!
If that makes us pretentious, well, then...call us pretentious. We're not so pretentious that we refuse to do a podcast about the subject...
* * *
We begin by talking about the first time we became aware of this thing called pretension, and then jump to how pretentious we are on a scale of 1-10. Find out what does bring out certain pretensions in us -- and why we think hipsters are so pretentious.
Then we chat about what is wrong about being pretentious...and whether or not anything good can come from pretension.
After a discussion about why we think pretensions are important to people, we devote some time to whether or not becoming more pretentious as a society comes with being civilized.
Find out if we think being pretentious lends itself to also becoming a bully -- and who stands as the most pretentious group or person we know.
We devote a little bit of time talking about if it even matters to us to put pretentious people in their places...and what we do in those rare instances.
And we wrap it up pondering whether or not Americans will grow more pretentious in the future -- as well as the rest of the world.
If you like bands no one's ever heard of, or feel you're better than others simply for what or who you know, leave a comment below!
---