Wed, 29 May 2019
Last Seen...Watching Superhero Movies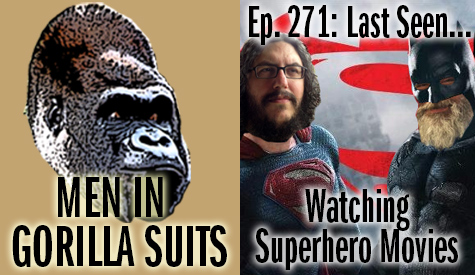 Look at that episode art! LOOK AT IT!!!
It's...super, right?! Shawn may not have the beard anymore, but his beard lives on in all our hearts. And Christopher...he's kinda super (for a crusty 50-year old!)
Hell, this episode was RECORDED on the day Gorilla Christopher turned 50.
So to keep the fleeting moment alive before entropy envelops him, you should listen to this episode!
* * *
We kick it off with the first -- and last -- superhero movies we saw (and have seen). After that, find out our favorite (and least favorite) superhero movies.
We devote a little time to our best superhero movie experiences...and why we think superhero movies finally took hold in popular culture.
We chat a bit about if we prefer our superhero movies to match comics exactly, or deviate a bit...and then we discuss our favorite TV superhero shows.
Robert Pattinson as Batman has some slobbery geeks' undies all bundled around their pebbly nads. We give our thoughts on the latest Batman choice...and then talk about the superhero movie we'd love to see. (Gorilla Christopher forgot Justice League International...or an all out Booster Gold/Blue Beetle flick!)
As we approach the end, we talk about if we've experienced superhero movie burnout...and we wrap it all up with the future of superhero movies!
---
Wed, 15 May 2019
Last Seen...Working Side Gigs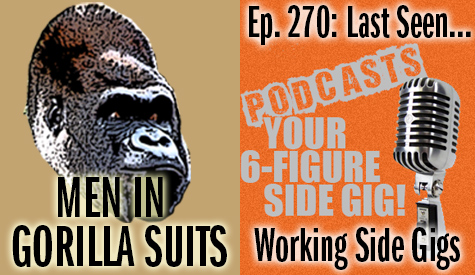 Yo! Like, we never tell you about how Men in Gorilla Suits has afforded us, the Gorillamen, ridiculous side cash!
You might think we do this out of love for just making the damn thing, but why make the damn thing if it doesn't make a lot of side money, right?
Men in Gorilla Suits has made us rich! Ridiculously so, but...we work day jobs just because it's funny for the show. Really, we're cutting-edge entrepreneurs, out there on the fringes of society, hustling all the time and making the fat stacks of Benjamins!
Or maybe not...
This week, we talk all about side gigs...
* * *
We kick it off with the first person we remember who had a side gig...and then talk about our own first side gigs.
We talk about the "gig economy" for a bit and if we're currently working any side gigs.
We devote a bit of time to the best and worst side gigs we've worked. After that, we chat about if things we do on the side today are strictly for money or other things.
If you listen to us regularly, you know we often talk about technology's effect on the chosen topic. We talk about how tech has influenced side gigs before chatting about the side gig we'd love to have.
But not all side gigs are good (in fact, many are terrible). We discuss them for a bit and then wrap it up with the future of side gigs.
---
Wed, 1 May 2019
Last Seen...Playing with Toys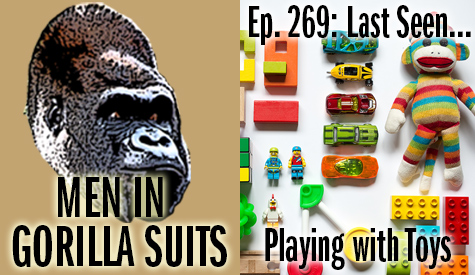 Gorilla Christopher starts a new job this week, so let's get straight to what we talk about this week:
* * *
What was the first toy you remember?
What was the first toy you ever REALLY wanted?
What was your favorite toy from childhood?
What was the worst toy you ever owned?
How important are toys to childhood development?
What is the last toy you purchased?
What do you think about adults rushing to collect toys before kids can get them? (Like Star Wars figures, Avengers figures…things like that!)
Toys have changed quite a bit over the years. What is the most dangerous toy you once owned that they would probably not sell today?
How has technology affected toys?
Let's talk about the OTHER adult toys. Do you consider things like mini flamethrowers, GoPro cameras, and drones toys? (Or at least appeal to us as adults in the same manner toys appealed to us as kids?)
In the world of podcasting, some refer to recording gear as toys. What is your favorite podcasting toy…and is there something else you'd really love having?
What is the future of toys?
---