Wed, 24 January 2018
Last Seen…Talking about Healthcare – MiGS Ep. 236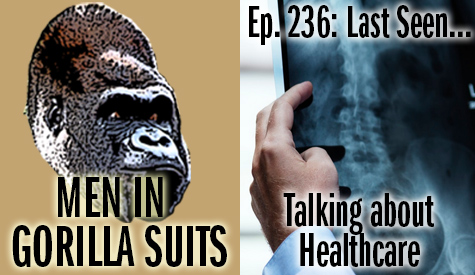 We're trying to think of something funny to say about healthcare in the United States, but it's really a situation of being so sad one can cry. Even those with coverage and savings are one serious incident away from bankruptcy. Just thinking about it can be unhealthy.
Still, somewhere along the way in this week's episode, we did crack a joke or two.
If you have been through it, prepare to nod your head and say, "Yup...been there..." And if you're from one of the Western countries that provides a better semblance of healthcare (or fortunate to come from a country that provides great healthcare), prepare to be horrified...
* * *
We begin in a time we were wee laddies first going to the hospital. Find out why...and also find out if we had healthcare throughout the entirety of tax year 2017.
After that, we talk about working in healthcare...and if we'd ever do it again. Then it's on to our worst -- and best -- experiences with the U.S. healthcare industry.
We devote some time to how we'd like to see the U.S. healthcare system change, and get a bit philosophical about if we think people have a right to healthcare. Along those lines, we chat about if healthcare should be completely free, and who has the best -- and worst -- healthcare systems on the planet.
And we wrap it all up by chatting about the future of healthcare in America...and the world.
---
Thu, 18 January 2018
Last Seen...Being Apathetic! MiGS Ep. 108 (Classic)
Meh. Whatever, bro.
It's a classic episode, or something. About... I didn't bother to listen to it. It's about something. I assume.
So, like, enjoy it. Or don't. I'm not the boss of you.
---
Tue, 9 January 2018
Last Seen...Talking about Ghosts – MiGS Ep. 235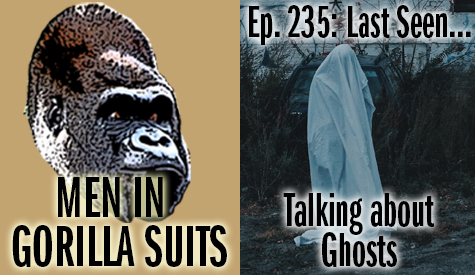 BooooOOOOOOoOooOooOOOOoooooOOooooooo...
G-g-g-ghoooOOOooOOooOOOoOOOOOoooooosts...
SpooOOOOooOOOOOOOOOOoooOOOOOOoooky...
We have cereal named after ghosts. Some of our biggest movies are about ghosts. As a species, we're obsessed with ghosts.
So this week, we strap on our proton packs and go a-ghost huntin'!
* * *
Right away, we establish if we believe in ghosts...or think they're bullshit. After that, we chat about people close to us who believe in ghosts...and if we've ever had strange experiences that made us question if ghosts are real.
We talk about why some people believe in ghosts, and then leap to our favorite ghost stories. Sticking to the thought of ghosts as entertainment, we discuss our thoughts about ghost hunting TV shows.
Ghosts work in certain ways according to legends. We devote a bit of time to the weird aspects of the popular mechanics of how ghosts haunt shit on up, and then we talk about some of the shittiest people on the planet: mediums who claim to channel the spirits of the deceased.
Ever lied awake at night wondering, "I wonder if the Gorillamen have ever used Ouija boards?" Well, finally, you will get your answer!
After all that, we talk about what we'd be like if we died and got to come back as ghosts.
And we wrap it all up with this question: Do you think people will always believe in ghosts?
Feel free to haunt the comments with your thoughts about this week's episode...
---
Thu, 4 January 2018
Last Seen…Spotting Aliens: MiGS Ep. 70 (Classic)
The aliens think they can just come into this country and take our jobs, get on our welfare, not pay taxes, and commit crimes! In this country!
Look, I'm not saying it's everyone. But they're not sending us their best gleep-glorps. They're sending their vaporizers, their warp-jackers, and their intergalactic scum. And some of them, I assume, are good gleep-glorps. But they're coming here to commit crimes, and anything else the media tells you is just fake news.
That's why the gorillamen propose a wall that goes into space. A wall will certainly keep Zeta Reticulans from crossing the space-time border.
Also, I love Zeta Reticulans. The best gleep-glorp salads are made right here at gorillamen tower.
Bigly.
(also fuck that guy and his stupid baby hands)
---