Thu, 15 November 2018
Last Seen...Talking about Development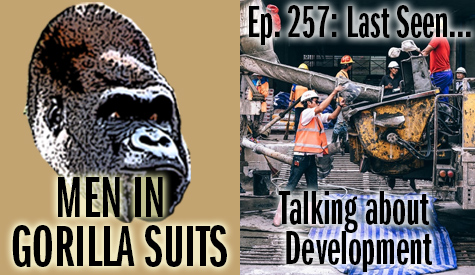 It's likely more than a few people listening to this episode will listen while stuck in traffic.
There's a fine line between developing an area to make it appealing and dealing with the rush that comes once that area is deemed the place to be.
This week, we're talking all about...construction and development.
* * *
We begin with when we first realized construction was a thing. After that, we talk about losing places special to us to development.
Nostalgia has an effect on the way many view development...we devote some time to that. We also chat about how growing populations affect the way we build things -- and how that construction can enhance lives.
Find out if we prefer developed or undeveloped areas...and if either Gorillamen have ever worked jobs in construction.
We chat about those wanting to build on protected lands like National Parks...and if it's possible to develop an area while keeping its natural appeal and ecosystem intact.
We discuss urban sprawl for a bit, going as far as speculating the limits of growth where we live.
And we wrap it all up with the future of construction.
---