Wed, 30 March 2016
Men in Gorilla Suits Ep. 165: Last Seen…Being Secure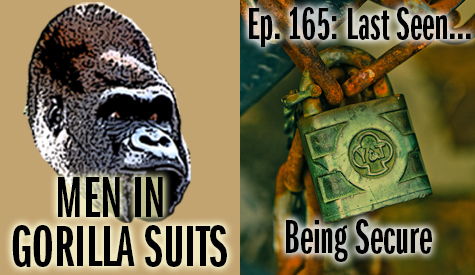 It seems one can't watch the news without hearing that ISIS, their neighbors, or even the weather is out to get them. While we're at work, criminals are stealing our stuff. No one has money; we're all facing a Mad Max future...and it's all the fault of politicians and the people who follow them.
There's a lot of money in making people secure (or feeling secure after you've scared them). This week, we're all about security.
* * *
We kick it off talking about if we feel more or less secure than we once did, and then step back to the first thing that made us feel secure...and the thing that shattered our sense of security.
After that, we discuss the least secure times in our lives -- as well as the most secure time.
Security and stability are the most important things in some people's lives. Find out how important it is to us -- as well as the thing we're most worried about upsetting our security. We chat about what we feel would make us more secure, and whether or not there's too much emphasis today on safety and security.
Find out our plan for an active-shooter scenario at work...or if we even have one. We also devote some time to whether or not closing the borders would make America more secure.
And we wrap it all up with what we think security will look like in the future.
Feel free to leave a comment, or gaze below at the horror that is Shawn with Nick Jonas's fake nipples over Shawn's eyes. (It makes sense if you listen to the episode. Okay, not really...)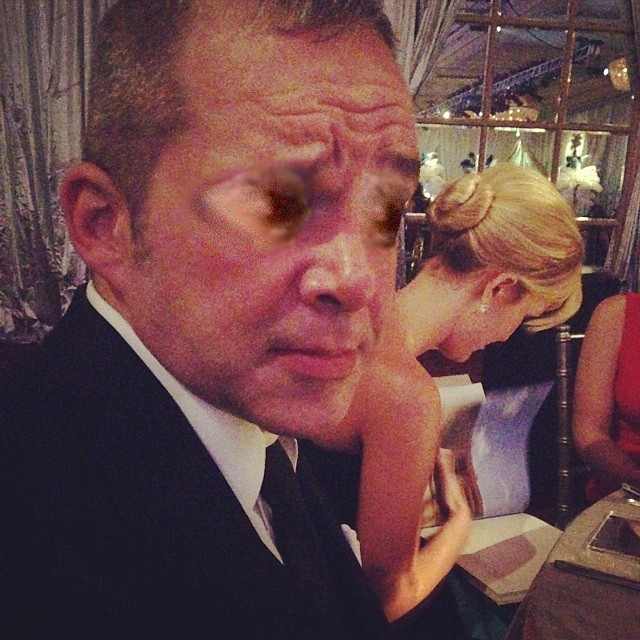 ---
Wed, 23 March 2016
Men in Gorilla Suits Ep. 164: Last Seen…Listening to Prog Rock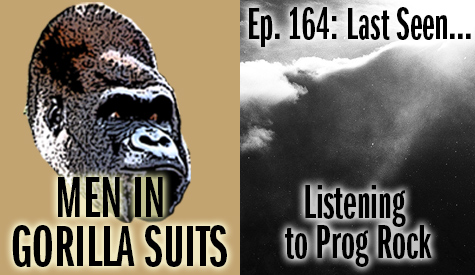 Combine the elitism of the staunchest fan of classical music with desperation and a Hammond keyboard or synthesizer and what do you get?
Progressive rock!
Ah, prog rock, you wacky thing. The musical equivalent of an awkward night of Dungeons and Dragons with a table full of mouth-breathing cretins; the music of "nice guys" and straight up assholes who thought the best way to win over the opposite sex was by telling them how wrong they were in their musical choices -- and to prove it, put on Yes' Tales from Topographic Oceans or Relayer (or worse for the unsuspecting woman: both albums back to back!).
We are not beyond seeing the weakness and ridiculousness in the things we held [or still hold] dear to us. But come on...entire albums dedicated to a concept was going to win over only a handful of people, regardless of gender. But for those of us who "got it" new worlds opened to us. Prog rock -- largely -- was the realm of desperate men who thought, "If I can't beat the crap out of the jocks, I can at least show off how intellectually superior I am to EVERYONE by my choices in music." (Or maybe you just liked the music -- it's possible.)
If it sounds like we're going to dedicate the next hour to slamming on prog rock and its fans, you're wrong. Cut us, and we bleed musical synthesizer backing layers in weird time signatures, wrapped in fantasy lyrics (and so much more).
We will defend how hokey what we love was [IS!!!] until our last breath.
Yes (<--- see what we did there?)...this is our tribute to the very music that kept us alive through our teen years and into adulthood (and hell, a blood that still flows through us today): prog rock!
* * *
We kick off this episode Living in the Past, when we talk about the very first bit of prog rock we remember listening to. Then we move on to how we define prog rock...and even show our hand and reveal whether or not we find prog rock just a bit hokey or not (and why).
MUTHAFUCKIN' SYNTHESIZERS, Y'ALL!!!
Can prog rock exist without synthesizers? Or, at the very least, we discuss just how important synthesizers are to progressive rock. Closely on the heels of the synthesizer is the concept album in its importance. We discuss not just the appeal of the concept album, but share what we feel is the ultimate concept album. (We match up on this one!)
Prog rock existed in a very tight time in popular culture -- and we'd be remiss to not address the link between prog rock and the many other things that came to light during that time. So we devote time to that.
And while we define what we feel makes up prog rock, there are bands that many don't put on their lists of progressive rock bands. We chat about those bands before coming out and telling you all what are our favorite progressive rock bands.
Face it: prog rock is trippy. We talk about the importance of drug use on the music, and then jump to whether progressive rock is largely the domain of guys -- or if it crosses genders. (But come on...largely, at least, it's a sausage fest!)
In the homestretch we discuss what we deem the ultimate prog rock album -- and wrap it all up with the influence of prog rock on modern music...and even music in the future. (Because we must have waited our whole lives for this moment (X6!).)
Feel free to share your favorite prog rock moments, bands, or anything else in the comments (because if you like prog rock, we know there are few things in life more important than establishing who you are by the bands you still love...and should you feel that's a poke at you, prog rocker-man (face it: odds are, you probably have a penis -- with an exception or two of female regulars to the show!), the person writing this is listening the Jethro Tull's "Jack in the Green" while typing this...and while [Christopher] will admit that there is a bigtime hokey factor on Songs from the Wood, he will stab you in the eye with a holly branch as he draws his last breath in defense that the album is one of the best homage's to nature ever written..)
So yeah, pass the Cup of Crimson Wonder...and let your hair blow in the breeze!
* * *
One more thing: in the episode, we tease a fellow podcaster named Mitch Todd about a prog rock tune he was once part of. We say "tease," but if you replace "tease" with "secretly admire," it's probably more accurate. So we give you the best thing to EVER come out of the God-forsaken state, Oklahoma: Zyrian doing "Winds of BAAG." (Down to the featured Wendy's cup, everything about this is GLORIOUS!!!)
And if you want to hear an interview with Shawn on Mitch's podcast, go here.
And to hear Christopher and Mitch come up with a monster on the fly, go here.
---
Wed, 16 March 2016
Men in Gorilla Suits Ep. 163: Last Seen…Being Authentic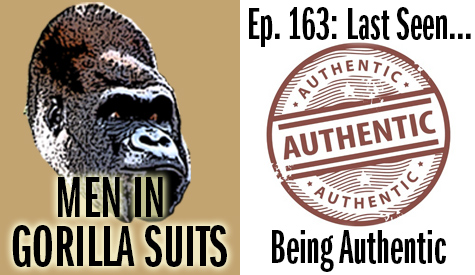 Christopher just read a Facebook post about a podcast that just hit 163 episodes. They have 1 millions downloads (and good for them). To put that in perspective, this is our 163rd episode, and we're at 8,815 total downloads.
Here's the thing: we could look at our biggest episodes ever and be like, "All we should talk about are movies, TV, music, the 80s, and…poop! (Oh, and religion.) Seriously, those are the topics of our big episodes. But…if that's all we talked about, the people who love that we talk about such a wide range of things would be like, "Uhm…if I wanted movie talk every week, there are better sources."
This much we know: people appreciate that we're just us. Granted, we could pretend to be what we're not (and probably get more downloads), but this is the show we want to do.
It goes against everything people say in conferences and meetups, but the show exists for us, and if you like it, cool. If you don't, well…that's also cool.
We can only be what we are, and if we are nothing else, we are…authentic. And that matters to some, as we chat about this week on Men in Gorilla Suits.
* * *
We kick it all off talking about the first time we heard something was "authentic." Then we move on to right now and people's obsession with things having to be "authentic."
It's probably clear just by reading this that we believe "authentic" is up for debate. So we devote some time to whether or not we have a preference between authentic and less-than-authentic (manufactured, modified, etc) experiences.
If you listen to us, you know we believe wars could be stopped if people gathered at a table and shared a good meal. Food is a great way to learn about others. We discuss the most authentic Mexican food weve ever had — as well as the least!
But we're not down on unauthentic stuff; in fact, we chat about whether or not there's something to be said for inauthentic stuff (cuisines, experiences, music, entertainment, etc.). And then we get political.
Find out if we believe "authenticity" is part of the appeal of candidates like Trump and Sanders — and if we believe either are truly authentic.
Also find out if there are things we feel are important to be authentic…as well as what we let slide.
We close out this week's episode with the least — and most — authentic experiences we've ever had.
Feel free to leave an authentic reply in the comments. We'll even give you an authentic reply.
---
Tue, 8 March 2016
Men in Gorilla Suits Ep. 162: Last Seen…Being Imaginative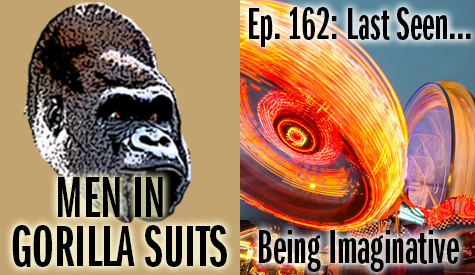 One day, several years ago, we imagined having a podcast. (A podcast made out of rainbows and songs and wind all wrapped up in the remnants of a mummy and steeped in a gallon jug of Prohibition-era bathtub gin.)
It's the only way we can imagine to describe what we do.
Or maybe we're very serious individuals lacking foresight and vision, unable to scour the depths of our minds to summon this thing called imagination.
So to remedy all that, we decided to create an episode dedicated to cotton candy memories and envisioning all the things that go bump in the night. This week, we talk about...imagination.
(If you can imagine that!)
* * *
We begin back as wee laddies, talking about the first time we were aware of this thing called imagination. After that, find out if we consider ourselves very imaginative...as well as how important imagination is to our lives.
As you know, we like chatting about society...so we chat about whether or not imagination benefits society, and whether or not there's actually room in office jobs for "outside-the-box thinking" -- or if many people using the phrase would even recognize good ideas if others handed them over.
Most people have met a person who think life is all about expression and imagination with no limits. We discuss if imagination all on its own without structure or limitations is overrated -- and whether or not imagination is inherent or something that can be learned. (It should be no surprise that we think imagination can be learned and refined, so we dedicate some time to how people can become more imaginative.)
We talk about the most imaginative creators we look up to -- and then about the most imaginative person we personally know.
Many people seem to believe that with so many distractions in life that we've all lost our attention spans and imaginations. But is that truly the case?
And we wrap up this week's show discussing what the future holds for imagination.
We like imagining everyone who listens will leave a comment. Feel free -- we're pretty harmless (except when hopped up on 1920s bathtub gin).
---
Wed, 2 March 2016
Men in Gorilla Suits Ep. 161: Last Seen…Being New Age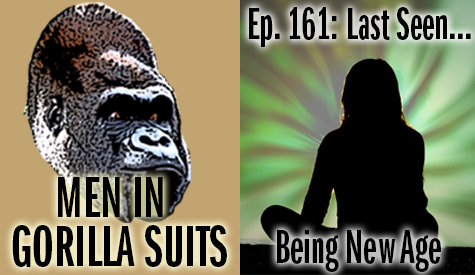 Close your eyes, and align your chakras -- we're getting all New Age up in here! Okay, so if you listen to us regularly, you know that's unlikely, but...we do try to see the good in things we [largely] don't believe. (Unless, you know, you believe in being racist, homophobic, or just generally full of hate.) We even admit that there are some things many attach to New Age beliefs that work -- including sme things we think are ridiculous.
Was the Age of Aquarius was monetized so we could all become Reiki masters, or is there something more to it all?
That's the subject of this week's episode.
* * *
We begin by talking about when we were first introduced to new age ideas, and then move on to the most useful things we've learned from the philosophies. (See, we're not totally out to discredit it all -- just, you know, most of it...like the notion that a human being contains enough energy to power a city!) We also chat about the dumbest things we've seen.
After that, we discuss whether or not we think we'll ever see a case where a new age cure trumps a scientific/medical cure. Sticking with that train of thought, we ask if there are some things that new age practitioners have right that science has wrong or yet to prove.
It's probably evident where we stand when taking sides, but we clarify it with this question: do we identify more with new age philosophies, or scientific facts?
But we really do try being fair, going as far as talking about what parts of the new age movement are misunderstood or misrepresented.
But let's be honest, when you can make any claim you want, and all you need for success is convincing a small group of people that it's a thing, it's a system that could easily be prone to fraud. So...is that the case? Also, find out the scariest advice we've ever seen given from a new age perspective (as well as the best advice).
We also discuss how we draw the line from something useful in the new age movement to something fraudulent or dangerous...and wrap up this episode chatting about what we think is the future of new age type movements.
As always, we'd love to hear your thoughts in the comments.
---