Tue, 28 March 2017
Men in Gorilla Suits Ep. 215: Last Seen…Being Childless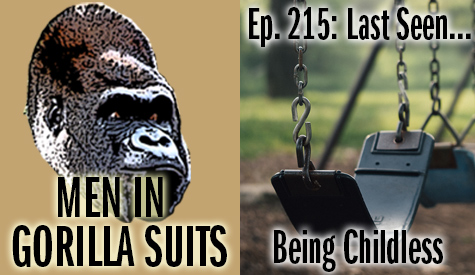 A very busy week, so we'll get right to it. This week we are talking about being childless...
* * *
Here's what we talk about (Shawn made Christopher seriously laugh so hard he cried in this episode):
Who was the first childless couple (or person) you knew?
Did it strike you as strange that they didn't have children?
When you were younger, did you think you'd have children when you got older?
We are both childless. Are you childless by choice or because of biological issues?
Have you encountered people who INSISTED you'd have children? (And how did you react?)
Have you ever been told, "But you can still adopt?"
Do you think your life lacks anything with the absence of children?
What are some advantages (and disadvantages) of not having children?
Millennials in America have been knocked for things as ridiculous as a decline in sales of bar soap. And a BIG criticism is they are not having children as much as previous generations. Why do you think that is?
Is it greedy to not have children?
Why do you think some are so insistent that others have children?
In the future, do you think we'll see more or fewer childless people?
---
Tue, 21 March 2017
MiGS32 (Classic): Last Seen...Talking History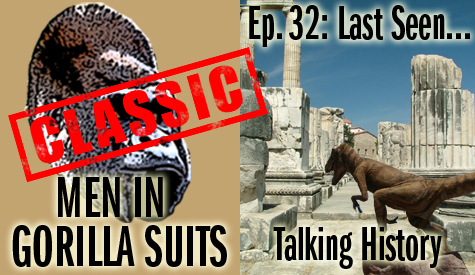 We once stepped back in time for this classic episode...
And, for those of you wondering, "When will Christopher be done with his damn book?!" it's flowing...but new chapters are happening as well. So...who knows. (But words are piling up!)
* * *
This isn't a boring history lesson, or an episode chock full o' trivial things like, "Hey, did you all know the first person to kill at the Battle of Hastings -- in 1066 -- was a juggler?" (<----- That's for real, right there! Don't mess with jugglers!) This episode is about our relationships with history. What many deem to be a boring subject really isn't when you consider how much the human mind lives in the past, whether it's a head full of nostalgia or thinking about your place in the universe...that's all history!
We begin the episode with a bit of personal history, discussing the first time we remember even thinking about the topic. Also, who (or what) got us interested in history? With that beginning, we move on to our favorite periods of American history and world history. Many "man on the street" interviews make it look like Americans know very little about history...we spend some time discussing if that's true before moving on to what history even is.
History takes hold more when it's presented as a story rather than a bunch of dates and events we must commit to memory. We talk about how this affects our perception of history, and then move on to how history is covered: is history really written by the winners, or are there places one can go to find all sides of a story? What are the best sources for understanding history -- and what are the worst? Where do we go when we're in a mood to take in some history? We close it out with the best representation of history -- and the worst -- we've seen in popular media.
If you're a history buff, we'd love to hear your thoughts about history...and if you think history is just a boring subject, we just might change your mind...
---
Wed, 15 March 2017
Men in Gorilla Suits Ep. 214: Last Seen…Talking about Texas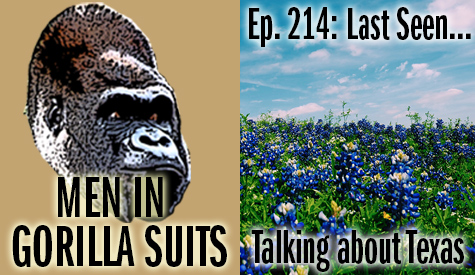 If you've lived in Dallas long enough, you see a certain pleasure in this episode about Texas being #214 (the classic Dallas area code). But is Dallas indicative of the Lone Star State, or for a true taste of Texas does one need to gaze upon a field of longhorn cattle? Is Ft. Worth more "Texas" than San Antonio, or must we all bow before the capital of Austin? Or is Texas something else entirely?
This week we're talking about Texas in all its glory (well, most of its glory). Like any state, it has its problems -- but a place so large really is like a country unto itself full of many wonderful things...
* * *
We begin with a simple topic: when did we first move to Texas? We each moved to Texas young enough to have experience with Texas public schools. Find out if we were impressed with the educational quality of the schools we attended.
After that, we chat about the various parts of Texas we've lived in...and visited. Keeping with that theme, we also devote time to the best town in Texas in which to live...and the best place to visit.
People from other places have their own ideas about what Texas is like. When they visit, it's often up to people living in the state to show them the "true" side of Texas. Find out where we take people to show them what the Bluebonnet State is all about.
After that, we talk about the best -- and worst -- things about living in Texas. And we wrap it all up with the weirdest thing about the state.
---
Tue, 7 March 2017
MiGS16 (Classic): Last Seen...Working Obsolete Jobs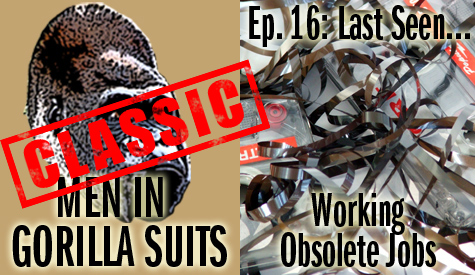 Welcome to Men in Gorilla Suits Classic: an old episode as Christopher finishes a book...and while Shawn gets even more buff at the gym.
Oh, sure, Shawn might play the humble card and be like, "No big..." but he's lifting closer to 20 tons a night than 15 -- enough that Christopher started lifting puny weights on work breaks today.
Speaking of that Christopher guy...thanks to all those who understand that him finishing his book is important. He really hates missing a week of Men in Gorilla Suits. In fact, he ALMOST posted the episode recorded a couple days ago and was then about to email Shawn saying, "If we get back to getting things done by mid-week and even double up on episodes, we can stick to the weekly thing!"
Because this IS a pretty impressive unbroken chain.
At the very least, you get this old episode...
Thanks for understanding...
* * *
Ah, to live the life as a National Hockey League rover, or to entertain the cigar-rolling masses as a Lector. To pump gas or serve as the director of photography on pornographic movies. To open your own Blockbuster Video store franchise or manufacture cassette tapes. These are jobs...some totally obsolete, some on their way out...
This week, it's all about jobs that no longer exist: some long gone, and some we've seen die in our own time. We talk about jobs that are fading, many jobs shoved into one catch-all job, and even discuss why outsourcing may not be the evil many believe it to be. (We might not be in the majority on this one.) We discuss how the "Good ol' days," were only good for some, and why our jobs these days is to simply figure things out. Of course, Shawn works Star Trek into the discussion, and Christopher entertains what a future in which computers write novels might be like. (Smash Gerbils reference goes to Deacon McClendon.)
We wrap it up by discussing how the Internet and nostalgia have brought some obsolete or dying jobs back -- kind of a grudging praise for...the Hipster! Also, wanna be a blacksmith? It's still a better option than many jobs that are on the way out! Don't believe us? Then give this episode a listen!
Note: This episode was recorded under the influence of copious amounts of caffeine (Shawn) and a couple Martinis (Chris). It's a bit frantic and wacky, and that, dear listeners = fun!
---
Wed, 1 March 2017
Men in Gorilla Suits Ep. 213: Last Seen…Drinking Coffee and Tea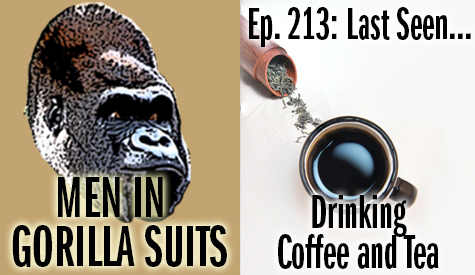 6:00 a.m.
You wake up in the dark. You don't want to get out of bed. You move in silence to the kitchen to remedy all that ails you with coffee.
Ah, the afternoon. The morning's coffee has worn off. Some return to coffee, but many others resort to tea.
Tea and coffee are the most popular drinks in the world following water. (And, some will argue, behind milk.) But even before sodas and juices, coffee and tea are kind.
Coffee and tea often fuel the Gorillamen, so...we dedicate this week to the beverages of the gods...
* * *
Before we get to coffee and tea, though, a quick note. After 213 episodes, we're temporarily moving Men in Gorilla Suits to an every-other-week schedule. Christopher is moving his other podcast, Not about Lumberjacks, to an every-other-month schedule as he gets his current novel into readable shape. To allow him a bit more focus, we're adjusting the Men in Gorilla Suits schedule until Christopher is done with the book.
And then things will resume as usual.
* * *
What we discuss this week:
What's your first memory of coffee?
What's your first memory of tea?
When was the first time you remember having coffee?
When was the first time you remember having tea?
Do you have a preference: coffee or tea?
Why do you think coffee and tea are such popular drinks?
What's the best cup of coffee you've ever had?
What's the best cup of tea you've ever had?
Have you ever gone a long time not drinking coffee?
When it comes to iced tea: sweetened or unsweetened?
Do you think people rely on coffee and tea a bit too much?
What's the future look like for coffee and tea?
---