Mon, 25 November 2013
Men in Gorilla Suits Ep. 43: Last Seen…With the Paparazzi
With Thanksgiving on Thursday in the states, we decided to release this week's show early...
This week, we're talking about celebrity, and we begin the episode like we begin most episodes: discussing our earliest memories of things (this time, of celebrities). When did we realize there were these things out there called celebrities, and who were the first celebrities to get our attention?
Why are people so enamored with celebrities, and is there something sad about the name dropper...the person who talks about all the celebrities they've met? Is there a difference in the way people view the status of famous musicians, athletes, actors, or even writers -- or is celebrity the same for all? Then the big question: who are our favorite celebrities?
From there, we talk about some of the celebrities we've met...and celebrities we just don't get! It seems many love celebrity scandals -- we discuss why that is before talking about a type of celebrity many don't even consider: the Internet celebrity. There are bloggers, people with YouTube Channels, and podcasters -- some of whom have larger followings than traditional celebrities. Is this new kind of celebrity a step down from what most deem as celebrity, or is it just as valid of those on the red carpet at a movie premiere or awards ceremony?
We then take a turn into the realm of reality TV show celebrities: do they deserve the credit, or are the Kardashians and others the worst of the worst?
This podcast was done at the request of a friend, who pitched a couple questions. The first one: who are our man crushes? (Apparently the Gorillamen have similar tastes in male celebrities!) The second: who are the five celebrities we'd put on our laminated list? Finally, we close the episode out by answering this question: "Would you want to be a celebrity?"
As always, we'd love to hear your answers to any of the topics discussed on this week's episode.
---
Thu, 21 November 2013
Men in Gorilla Suits Ep. 42: Last Seen…Advertising!
A week from tomorrow is Black Friday. It used to have more meaning, but in recent years, the sales kick off on Thanksgiving Day. Each year, it seems advertising for holiday sales begins earlier than ever before. People complain about seeing Christmas decorations in August, but it apparently works as advertisers push the limits of what the purchasing public will accept.
This week's podcast is all about advertising, starting with the first advertisements we remember seeing. From there, we confess to what capacity we've each worked in the advertising world. (If the podcast had chapter titles, this part would be "Shawn Hangs Out with Molly Hatchet!)
Even with digital recorders, TV still seems like the place for advertising. We discuss whether we even watch ads on television anymore (if we really ever did), before discussing ads that annoy us...and ads we like. (So, obviously, ads do get through to us.) Then on to the big question: has an advertisement ever convinced us to actually buy something? Has an ad annoyed us so much that it's turned us off from purchasing something? Are there right and wrong ways to go about advertising?
We then take a moment to discuss the best and worst ads we've ever seen before discussing if we've ever tried advertising our books. (Answer: no and no!) And then we close it all out discussing the future of advertising. How invasive will it get?!
We'd love to hear about your favorite and most-hated ads in the comments, so jump in and have fun! (You'll make the ghost of Earl Scheib sell his soul for just $99.95!)
---
Wed, 13 November 2013
Men in Gorilla Suits Ep. 41: Last Seen...Listening to Music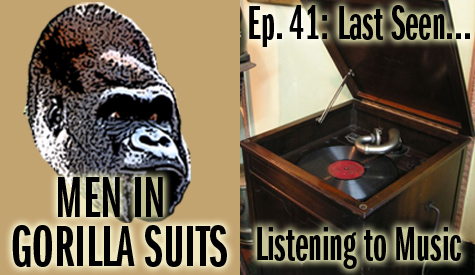 What music did our parents listen to when we were younger, and what was the first music we ever owned? Find out right at the start of this week's show. Also find out if either of us ever played a musical instrument. After the trip to the past, we leap to the future, discussing the musician or band that never lets us down...and the band that, when on it, is as good as it gets, but has also recorded some of the worst music out there.
From there, we delve into dislikes, leading off with the band or style of music it seems everyone says one must like, but we don't like. Then: it's time for a moment of hate...find out what band or musician we could do without. (And yes, we said hate. Normally, not our kind of thing, but once Christopher opened his mouth and discussed is irrational hatred for a particular musician, things took a bit of a dip into Negativeland.) You know we usually lean toward positive, though...to the point of ridiculously positive at times. We leave the dislike and hate behind and talk about music's effect on our writing.
Music is a time machine of the mind -- we then talk about the musician or band that transports us to the time we listened to them most. Find out what songs we can't help but like, as well as our guilty pleasure tunes. (Not that we are ones to really care what people think of our musical choices, but we all have those songs that are considered bad that we instead love.)
What do we listen to most these days? How has our tastes changed -- what musicians or bands did we once listen to all the time that we have simply left behind? Find out our biggest music 180s, the bands we once couldn't stand that we came to love. Then it's time for the one-minute lightning round as we rattle off some of our favorite songs (and forget so many others)! The episode closes with what effect music has on us.
We'd love to hear your answers to any of these questions in the comments.
---
Thu, 7 November 2013
Men in Gorilla Suits Ep. 40: Last Seen…Running the Government
It may sound like a high school civics class, but this week...we're all about government!
We jump right in by asking if America has the best system of government, or if others out there have better ideas? That leads to a discussion about what form of government is the best...and what we feel is best. Of course, we also discuss the worst kinds of governments that have existed and are still out there.
Then, a bit about education: how much government was taught to us in school, and how involved were the classes? Were they biased or open to all kinds of ideas? Did they help us, or have we forgotten all we learned? Do we feel like we learned something, but still ended up lost in a sea of people who didn't?
Next, we get a bit more philosophical. Does a transparent or secretive government best serve the people? Could a complete lack of government actually work? And because Shawn led the charge with this epsisode, could a government like the one in Star Trek ever become real...and if so, could it work? Sticking to fictional governments, we talk about how close or far we are from Orwell's 1984, before wrapping it up with the ideal government we would create, were we put in charge of the world.
(In the end, it is decided: Facebook and dance fighting are the only systems that work! Okay, maybe not, but we do mention dance fighting and the structure of social networks like Facebook as a system of government.)
---