Tue, 26 June 2018
Last Seen…Relaxing – MiGS 247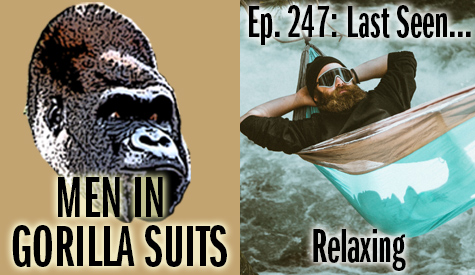 Breathe in...
Breathe out...
Repeat.
Do you feel relaxed?
Maybe nature is your thing. Or perhaps it's a Netflix binge.
The Gorillamen are laid back enough that we're not going to tell you how to relax.
(But if you wanted to kick back and listen to this episode while stretched out on the couch or something, we would not be opposed...)
* * *
We kick it off with the first time we were aware of this concept called relaxing. After that, we talk about how we go about relaxing -- and the last time we really relaxed.
Find out how important relaxing is to us before we piss on a popular Internet meme: that which claims nature is as effective -- or better -- than antidepressants.
We chat about if we believe people have a harder time relaxing now vs. a few decades ago...and why we hold those beliefs. And why not talk about the role recreational drugs and alcohol play in in relaxing for many people?
Going back to an earlier point, we discuss if there's anything wrong with those needing prescription medication in order to relax. Also: the role technology plays in people relaxing...or not relaxing.
We talk a bit about meditation and if one can relax too much.
And we wrap it all up 50 years in the future, speculating if we think people will be more (or less) relaxed.
Ahhhhh...
---
Thu, 21 June 2018
Last Seen...Being Authentic! MiGS Ep. 163 (Classic)
Ain't nothin' artificial about me. Ain't nothin' here made in China or nowhere else. This here computer is a gen-you-wine Soviet original, from the computer foundries of Leningrad, I tell you what. This leg? Authentic pioneer firewood covered in real Corinthian leather, it is.
Do I know what I'm on about? No. I don't.
Anyway, here's a classic episode.
---
Wed, 13 June 2018
Last Seen…Talking about Family History – MiGS 246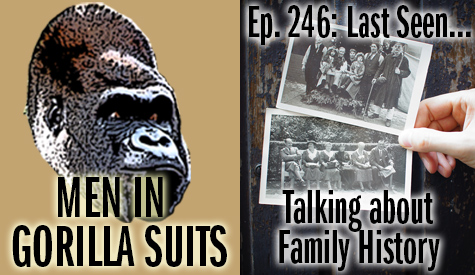 If the sons of the fathers are responsible for righting the sins of those fathers, Shawn slipped and Christopher did a fine job. Granted, Christopher's father was a wreck in many ways, and Shawn's father is so without sin that he might be Jesus (with muscles).
Both Gorillamen have done well by their ancestors if one decided to try quantifying it all. Need proof?
This week, we're talking about our family histories...
* * *
We kick it off talking about the first things we ever learned about our family histories -- and how we learned about family when we were kids. After that, we discuss how far back in history we can trace our families.
Find out the last time we discovered something shocking, funny, and terrible about our families...and then which side of our families is more interesting -- and dark.
We chat about our favorite deceased family members before discussing what kind of history we're each adding to our family names.
And we wrap it all up by talking about who the Endling is in each of our family lines.
---
Fri, 8 June 2018
Last Seen... Enjoying Nature! MiGS Ep. 101 (Classic)
I always knew nature was out to get me. Last night, while I was fixin' to get ready to post this podcast, a tree hit the transformer outside my house and plunged me into a day of darkness and a lack of modern technology.
I blame all trees, everywhere.
So anyway, here's an episode about trees and shit.
---
Fri, 1 June 2018
Last Seen…Playing the Lottery – MiGS Ep. 245
It would be funny if someone played these 6 numbers in the lottery and won:
13 - 21 - 28 - 38 -43 - 49
The winner is interviewed: "Was it a quick pick, or did you choose the numbers?"
Winner: "Men in Gorilla Suits picked for me...but I'm not giving those rotten bastards a penny. Oh, sure...you'd thinkI'd pay for domain hosting, audio hosting, and other charges for their show, but fuck those guys!"
This week, we're talking about the lottery!
* * *
We begin with when we were first aware of the lottery, if we've ever played the lottery, and if we currentlyplay the lottery.
Find out if we know anyone who's won a decent amount of money playing the lottery...say, $1,000 or more.
We chat about how much money we've won or lost in our lives playing the lottery...and if we've ever known anyone addicted to playing.
We devote some time to those who say they'd never want to win a lottery because they believe winning inherently destroys lives -- as well as why people feel entitled to demand money from lottery winners.
Find out if we think it's weird that many states with lotteries outlaw other kinds of gambling. After that, we talk about if we think those who say they have strategies for playing the lottery are on to something...or if they are just kidding themselves. (You can probably guess our answers.) Then we talk about how superstition factors into the lottery.
And we wrap it all up by chatting what we'd do if we won $500 million playing the lottery.
---