Wed, 28 November 2018
Last Seen...Being Dramatic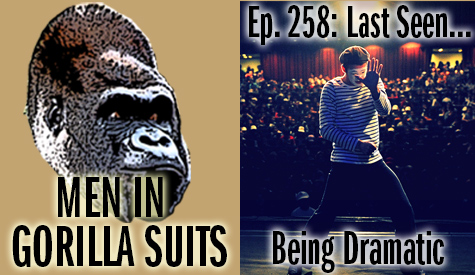 Perhaps you like theater. (Maybe you've even performed in a theater company.) Or...perhaps your family argues all the time and pumps passive aggressiveness through their veins.
Drama comes in many forms...
It's also the topic of this week's episode of Men in Gorilla Suits!
* * *
We begin with our first encounter of drama in any form. After that, we chat about the periods in our lives that saw the most drama (external to us).
Find out if we enjoy or even cause drama...and where we encounter the most drama these days. We also talk about the most exhausting person we know in terms of causing drama. (Gorilla Shawn's answer: "Friggin' Christopher!" Gorilla Christopher's answer: "Damn Kupfer!")
We devote a bit of time to the best -- and worst -- uses of drama in popular entertainment.
Rounding the last turn, we talk about the dumbest thing about which we've seen someone cause drama. And, in the homestretch, we answer this question: is the internet/technology making us more or less dramatic?
* * *
Photo by Fatih Kılıç.
---