Wed, 23 May 2018
Last Seen...Covering Tunes! MiGS Ep. 83 (Classic)
I don't know when I first realized he was watching me. At first, I thought he just lived in the house two over from mine of Live Oak (even though I never saw him move in, and come to think of it, I never really see anyone coming or going from that house). I'm home a lot these days, and it seems like every time I go outside, there he is.
I wave. He says nothing and stares. I attempt a hearty "Hey Neighbor!" He just stares.
He's in the front yard at the house on Live Oak, pretty much all the time. What's weird, though, is he doesn't seem to be doinganything out there. He's just standing. Waiting. Staring.
I mentioned him to my wife the other day. She's never seen him.
So, anyway... here's Wonderwall.
---
Wed, 16 May 2018
Last Seen…Adulting – MiGS Ep. 244
Gorilla Christopher would have put this all together for Gorilla Shawn much earlier in the week, but he had a software release at work and some extra things to write. Bills had to be paid, and he's running errands in the evenings this week in preparation for some Paid Time Off (PTO) next week.
But that's all okay, because Gorilla Shawn recently started a new job at a ridiculously reputable company. He's also working on a hearing regarding property taxes and trying to live a solid adult life in between it all.
Adulthood...
Oh, sure -- some people have parents who attempt to prepare them for adulthood, but most of it is a matter of figuring it out as you go. (Like most things in life.)
[And there's something oddly liberating that comes along with the day of that realization.]
So sit back and listen to the Gorillamen talk about what it is to be...ADULT Men in Gorilla Suits...
* * *
We kick it off with a simple enough question: Is being an adult like you imagined it would be as a child? After that, we talk about what surprised us about adulthood...and at what age we considered ourselves adults.
Find out if we feel like adults most of the time. After that, we discuss our chores as children...and as adults.
Even prepared, adulthood is not without its surprises. We chat about hidden responsibilities of adulthood no one mentioned when we were kids...and then devote some time to the best -- and worst -- things about being adults.
We touch on if we ever miss being younger...before chatting about the following question: is adulting hard?
And we wrap it all up with our futures in the adult world.
---
Thu, 10 May 2018
Last Seen...(Probably Not) Joining Cults! MiGS Ep. 121 (Classic)
One thing Shawn and his wife spend way too much time doing is watching documentaries about cults. Like, a disturbing amount of time. Which probably explains why Shawn knows tons of disturbing shit about cults, which also probably explains this episode.
Or he's just a creepy mofo.
Probably a little of both.
---
Wed, 2 May 2018
Last Seen…Talking About Professional Wrestling – MiGS Ep. 243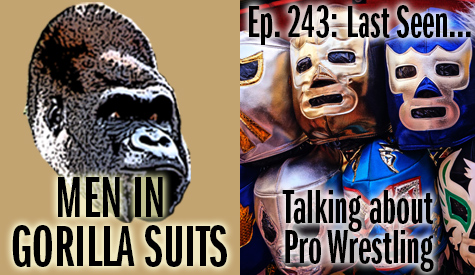 "TONIGHT, SHAWN-DAWG AND OGRE DEFEND THEIR TAG-TEAM PODCASTING CHAMPIONSHIP VS. ... well ... uhm ... HEY! They bought those cheesy belts at a Halloween store, and there's no such thing as the Tag-team podcasting championship! I told you wrestling was fake!"
Ah, professional wrestling -- with its history of terrible stereotypes and hokey gimmicks; its fake punches and scripted outcomes. The costumes, the characters, and all that comes with it.
But the Gorillamen maintain there is also a certain beauty to even Shockmaster's infamous debut.
So step into the squared-circle as we chat about professional wrestling this week...
* * *
We kick it off in the past, discussing the first times we ever saw professional wrestling. After that, find out if we still watch wrestling regularly.
We get through our lists of favorite professional wrestlers before discussing THE question: Is professional wrestling fake?
Then we talk about live matches we've seen -- and if we ever wanted to become wrestlers.
We chat about the appeal of professional wrestling, and then move on to professional wrestlers we've met.
Hardcore wrestling is quite a...thing. We discuss our thoughts on what compels people to willingly be put through flaming tables covered in barbed wire...and then we talk about the pressures put on professional wrestlers by the promotions they perform for.
And we wrap it all up with our favorite things about professional wrestling...and what the future holds for it all.
---