Thu, 28 January 2016
Men in Gorilla Suits Ep. 156: Last Seen…Finding Heroes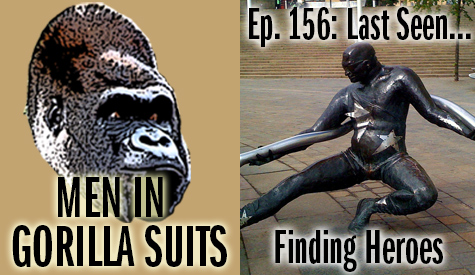 From a young age, we're conditioned to look at certain people and things in a larger-than-life way.
These are the people we hope to become. Some are driven to succeed because of the people they looked up to, while many more fall short of their dreams. Sometimes heroes themselves "fail us."
Is it even realistic for an adult to have a hero, or is it something that should be reserved for youth?
Heroes are the topic of this week's episode of Men in Gorilla Suits.
* * *
We begin by chatting about who our earliest heroes were, and then jump to whether or not parents or other relatives ever held hero status in our lives. After that, we talk about how important heroes were to us when we were younger -- and why that was.
We list off our heroes from childhood before discussing whether or not heroes are important to us today. Maybe we no longer have heroes -- just people we admire on some levels. We talk about that, and then move on to why the deaths of people we may have never met, but still admire, can affect us as though we were close to them. Also: find out if we'd ever want to be somebody's hero.
Sometimes heroes "fail us." We discuss why some people are stung when they see a flaw in someone they looked up to, and why some people will go to great lengths to defend the actions of a hero-done-wrong.
The "real life hero" (police, soldiers, firefighters, etc.) are often positioned as having more merit than imaginary heroes. We chat about why that might be, and wrap it all up with how our views of heroes has changed over the years...and how new generations will define what constitutes a hero.
If there's anybody you look up to (or even dislike who's liked by many), feel free to talk about it in the comments.
---
Wed, 20 January 2016
Men in Gorilla Suits Ep. 155: Last Seen…In High School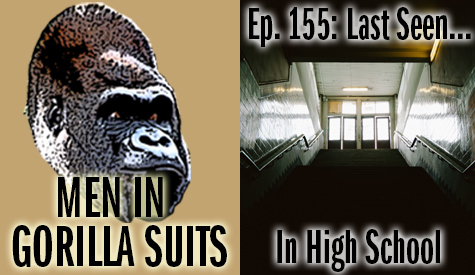 It's probably evident by the photo we used to represent high school that we weren't big fans of those four years. Still, they were not without their moments.
For some, they are the best days of their lives, while others could have easily done without them. Football games, parties, and fun; dodging bullies, isolation, and despair.
Being somewhere in the middle of it all, we decided to devote this episode to high school days...
* * *
We begin by sounding off: when did we graduate high school. After that, we talk about where we went to high school...and whether or not it was a good experience for us.
Find out if we agree with those who say high school is the best time of one's life as well as what we remember most about those years.
For many, extracurricular activities are what high school is all about. We discuss what we took part in -- and then chat about how many people from high school we're still in touch with.
High school is supposed to serve a purpose: preparing students for college. Was that the case for us? Did it even vaguely prepare us for the adult world?
As we often do, we hop into our imaginary time machines to go back to our high school selves. We have 30 seconds to offer advice about the time and life ahead. Find out what we would tell our younger selves.
Because we're old enough to have had high school reunions, we chat about if we attended any...or plan to in the future.
And we wrap it all up by discussing what we'd do to improve high school as it currently exists.
As always, we'd love to hear your thoughts about this week's topic in the comments if you are so inclined.
---
Tue, 12 January 2016
Men in Gorilla Suits Ep. 154: Last Seen…Conforming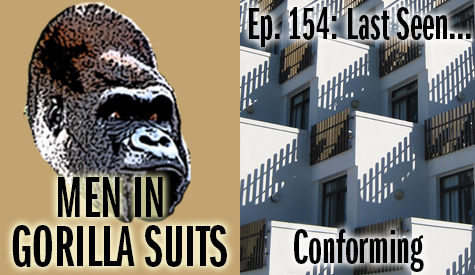 Do as we say, and all will be wonderful...
Fuck the system -- Tear it all down!
You make it easier on yourself if you're just like us...
Do you really want to be just like them?!
It's for your own good...
Only you know what's right for you!
It's an old battle: to conform or not to conform? Some (including us) argue that by not conforming...you're probably still conforming.
So...is resistance futile?
This week's episode is all about conformity (and non-conformity). Whether you're on the side of the popular jocks and cheerleaders...
...On the side of the deliberate non-conformists (who, remarkably, all look and act the same as each other, in much the same way as the jocks and cheerleaders)...
...Or if you're the geek totally out there on your own...
...This is an episode for you!
* * *
We kick is all off by talking about our first memories of conformity, and then jump to the benefits -- and drawbacks -- of conforming. After that, we discuss how important conforming is to society...and to us.
There are those who take incredible offense with those not like them. We talk about why that is before chatting about how much our environments influence us and our views.
Trends. Ah, wacky trends. We cover some of the trends we've followed, and then jump to whether conforming (or not conforming) has ever had a negative effect on us.
Our teens years are the most awkward years in our lives. It's a time when conformity is almost vital, even if you claim to not conform to anything at all. We chat about why that is, and then move on to whether people see us as conformists or non-conformists...and if those views are even accurate.
We wrap it all up by discussing the future, and whether or not conformity will be more -- or less -- important in the coming years.
Conform to the ways of all the cool kids and let us know your feelings about conformity in the comments. (To not comment is still conforming to an even bigger group, so sit at the "cool table" for a bit and have your say!)
Or just watch this:
(Is it sad that Christopher, at least, kinda envied Tom Hanks at the end of Mazes and Monsters...and still has days he kinda still does...?)
---
Tue, 5 January 2016
Men in Gorilla Suits Ep. 153: Last Seen…Being American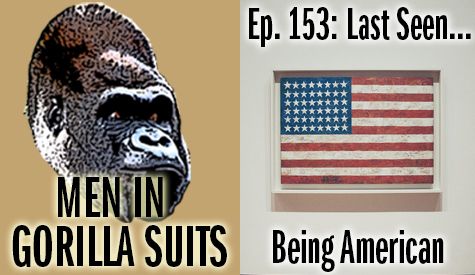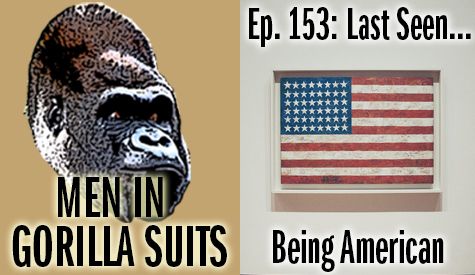 While we talk about a wide variety of things on Men in Gorilla Suits, there's no denying that much of what we talk about comes from an American perspective. (At least what we consider American.)
Some consider a group of men with guns holed up in a small Federal building they decided to occupy American.
People from other places might view Americans as loud and fat; others may say we're friendly. Some might even say we invaded their land and made a big mess of things.
America is a funny place. We can get away with things that would get us killed in some countries. At the same time, many think we're the only country with such freedoms...when that's far from the truth.
This week, we talk about what it is to be American (whatever the hell being an American is).
* * *
We begin by talking about how far back we have to go to find non-American citizens in our families. After that, we jump to whether or not people from other countries assume we're Americans when they meet us (and why we think that is how we're viewed). Next, we discuss what we love about being Americans...and what we're not so keen about.
People make assumptions about Americans. We chat about the assumptions we think people from other countries make about us because we're Americans, and even touch on the assumptions we make about our place in America.
American citizenship can be a heated topic -- so of course we devote some time to that. We chat about what we believe should be the process of becoming an American; what parameters (if any) should one lose their American citizenship; what we think about dual citizenship (and if we're eligible); if those who carry dual citizenship are any less American than single citizenship citizens; and what countries we would gladly share citizenship with if we could choose another. We also pretend we're exiled from America -- find out which countries we'd hope would take us.
Also find out what duties and responsibilities -- if any -- we believe we have as Americans (at home and while abroad).
And we wrap it all up with what we think America will be like in the future.
If you're an American, we'd love to hear your thoughts about all this in the comments...and if you're from another country, we'd love to know how we're viewed where you are from.
---