Thu, 26 April 2018
Last Seen...Talking Comedy! MiGS Ep. 62 (Classic)
So apparently, we recorded this episode in an airport bathroom well after closing time, because the reverb is just off the chain here. Unless I miss my guess, this was recorded in my old house during the Great Flooring Battles, which meant we were probably in a large, empty living room with no floors and no furniture trying to yammer this podcast into a Zoom H1.
Audio problems aside, this is a fun one. Shawn swears with parental permission. Christopher listens to comedy albums that are well above his maturity level at the time. Ziva snores loudly.
A good time is had by most.
---
Wed, 18 April 2018
Last Seen…Talking About Virtual Realities – MiGS Ep. 242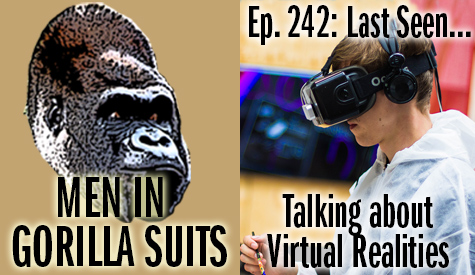 There are people who believe our reality is that we are all part of a computer simulation.
Futurists say that's not true, but that we will one day soon live in virtual worlds of our own devising.
Others say that any kind of virtual realities will never happen because we all look silly with big headsets strapped to our faces.
We can argue about these points, but one thing's certain: with recent leaps in virtual and augmented realities, big changes to technology are coming -- and that's what we're talking about on this week's episode of Men in Gorilla Suits. (Okay, so it's really about virtual reality, virtual worlds of games, augmented realities, and data modeling...)
* * *
We begin with our first experiences with virtual reality, and then talk about if we've ever modeled things before building them. Also: find out the last form of virtual and augmented realities we've used.
After that we discuss the best -- and worst -- virtual environments we've ever experienced. Getting personal, we chat about the most complex things -- and the dumbest things -- we've ever modeled before construction.
We talk about augmented reality's use in games like Pokemon Go and Ingress. Next, we devote some time to ways virtual reality, augmented reality, and data modeling are not being used in ways we'd like to see.
Find out what our ultimate virtual reality/augmented reality games would be like...and we wrap it up with the future of virtual and augmented realities.
---
Fri, 13 April 2018
Last Seen...Finding Themselves: MiGS Ep. 52 (Classic)
No audio intro today, kids, as your old pal Shawn JUST finished renovating his bathroom and is making no verbal sense right now.
Scars? Oh yes, I have scars.
*Blaze of Glory plays*
I remember this episode was fun, although I remember starting it with a regrettable "Who the fuck is you?"
Anywho, enjoy this classic episode. Back next week with a new one.
*Blaze of Glory cuts off*
---
Wed, 4 April 2018
Last Seen…Arguing – MiGS Ep. 241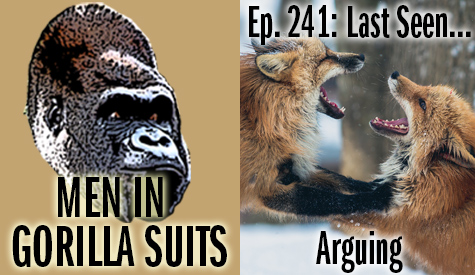 Go online, and you'll see people arguing about things.
Sit around in public long enough, and you'll see people arguing.
Hell, many people grew up with parents and other family arguing.
Sometimes it's arguing decent points, but other times it's just tense humans yelling at each other for the sake of yelling.
This week, we're all about arguing...don't tell us we're wrong!
* * *
We kick it off with the first arguments we remember hearing and then talk about the last arguments we've had.
Find out if we like arguing, if we argue well when we do argue, and if we think arguing is healthy.
We chat about why some people seem to love arguing so much -- and if it's important to learn how to argue well.
We devote a bit of time to whether or not we've changed anyone's mind in arguments, and how we feel about the Internet as a place to argue points.
We also discuss the role of emotions in arguing, and wrap it all up with advice we'd give to someone who has become fatigued by arguing so much.
You better not tell us why we're wrong in the comments!
---