Wed, 21 February 2018
Last Seen…Talking about Income Inequality – MiGS Ep. 238
Yes, it's time once again for one of those "serious" episodes of Men in Gorilla Suits.
Polish your monocle and tell your butler to bring you a 25-year-old fine scotch...this time around, the subject is income inequality...
* * *
We begin with what seems like a question with an obvious answer, but for some people...well, it isn't: Do you think there's a problem with income inequality in this country? After that we chat about income classes we've lived in during our lives...as well as where our spouses have been. Then we devote some time to differing financial views we may have had with early roommates or our spouses in the past.
Find out what social class we sit in now...and what we think has caused the shrinking of the middle class. Along those lines, we ponder if people in different classes can truly understand the lives of those in other classes.
Fast food workers: do they deserve $15/hour? We talk about that...and then move on to whether we should try invigorating the middle class...or if the middle class is even necessary...
Near the end, we talk about Millennials: have they gotten the shaft economy-wise?
And we wrap it all up with a not-so-simple question: How do we fix income inequality.
---
Thu, 15 February 2018
Last Seen...Combining Minisodes! MiGS Ep. 237b
And sometimes, you go to a store and they give you leftovers.
But sometimes, some of those leftovers are clips of audio you hadn't heard before and I really didn't think out this metaphor and I'm going to back out, thank you!
In an effort to prove that yes, we really do talk like this even when we're not podcasting, we originally released two mini episodes: one on candy and one on Star Trek (again). In our most recent recording, Christopher captured another minisode, which has now been packaged with the other two for your listening pleasure (question mark?).
Enjoy!
---
Wed, 7 February 2018
Last Seen…Talking about Marijuana – MiGS Ep. 237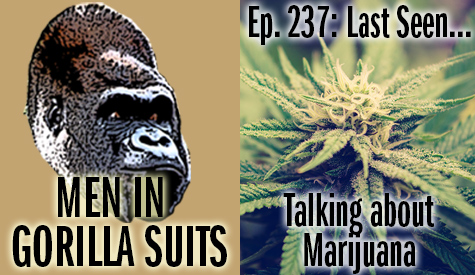 First: Today marks exactly five years since we loaded the first episode of Men in Gorilla Suits.
Now, on to this week's episode...
* * *
Duuuuuuuuuuuuuuuuuuuuuuuuuuuude...
Duuuuuuuuuuuuuuuuuuuuuuuuuuuuuuuuuuuuuuuuuuuuuuuuude...
Duuuuuu-- Duuuuuuuuuuuude, is that pizza?
This week, we're talking about marijuana.
(And just because Christopher mentions the tune, there's this:)
* * *
We kick off this week's episode talking about when we first became aware of marijuana. After that, we discuss if we've ever gotten high, the last time we got high, and our experiences with weed.
Find out if either of us ever sold marijuana, a then listen to us talk about if we're for legalization (and why...or why not). We discuss medical marijuana and miraculous claims about the plant. We also devote a little time to people we know who have changed their views about marijuana over the years.
Weed has reputed claims of making creative people even more creative. We talk about that and if we've ever used marijuana in a creative manner. As we near the end of this episode, we discuss our favorite pop culture references to marijuana...and we wrap it all up with the future of weed.
---
Thu, 1 February 2018
Last Seen...Playing Role Playing Games! MiGS Episode 138 (Classic)
Shawn rolled 1D20 for charisma.
He got a zero. Somehow.
Christopher 1D20 rolled for INT.
He got a 19.
Life ain't fair, motherfuckers. And neither are roleplaying games. But we take a(nother) look at them in this week's episode! Marvel at both gorillamen's awkward teen (and adult) years! Listen to the power rankings of the best and worst RPGs of all time! Stay up all night and play some damn games!
Oh, to quote Shawn, "HEY MR. PUBILLONES I'M JUST MAKIN' SOME COFFEE CUZ I DON'T WANT MY MAGE TO GET KILLED!"
---