Tue, 26 April 2016
Men in Gorilla Suits Ep. 169: Last Seen…Being Bored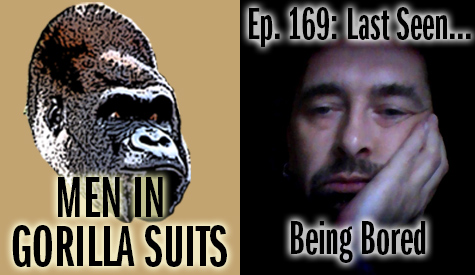 By Christopher's own admission, loading this episode will be one of the most boring tasks he completes this week. (Right up there with speaking of himself in third person!) From day jobs, to the times following them, people look to myriad things to alleviate boredom, succeeding to various degrees.
You could say boredom is our shadow, but is there a way to fight it?
Ho hum...this week, we talk about boredom...
* * *
We kick it off talking about the first time we remember experiencing boredom -- as well as our most recent moments of boredom.
Find out what we did to alleviate boredom when young...and today.
We chat about how often we're bored today -- and whether or not it's more (or less) than when we were younger.
We also discuss whether or not one can be bored when they have a lot going on -- and also what always bores us...and what we find boring right now.
We know many bored people. Find out what advice we have for the bored masses in an effort to combat those feelings, as well as the most -- and least -- boring things we do in our lives.
We wrap it all up with this: does boredom ever lead to any good in people's lives?
If you're bored, we have a remedy for that: leave a comment and chat with us!
---
Thu, 21 April 2016
Men in Gorilla Suits Ep. 168: Last Seen…Being Motivated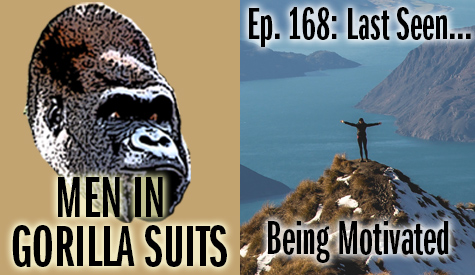 Do sayings like this motivate you?
If you dream it, you can achieve it...

Problems are not stop signs, they are guidelines.

Life is 10% what happens to you and 90% how you react to it.
Or does it take something more, like a mentor constantly checking on your progress?
Maybe you hate someone and are like, "I'll be damned if that son of a bitch is successful before me!"
Or perhaps you simply enjoy doing something, so you do it.
There are many reasons people seek out motivation; probably as many as there are to be motivated. That's our topic for this week's episode...
* * *
We begin back in the past, talking about the things that naturally motivated us as children -- and the things for which we needed motivation in order to do.
Find out what motivates us today -- and what we need motivation in order to do even as adults.
After that, we discuss how we feel about motivation as an industry, and why we think many people will pay good money to be motivated by another person.
Clearly, some people are naturally motivated, while others need assistance to do their things. We chat about why that might be before we move on to whether or not people have ever come to us to be motivated.
We talk about groups that are meant to motivate each other (writers groups, meetups, etc.), and then discuss how we stay motivated while working from home.
Is using anger a good or bad way to motivate oneself? (e.g. "That guy will not make it before me, and I will succeed before him if it's the last thing I do!")
And we wrap it all up with this: is there a point at which motivation can be bad?
As always, we'd love to hear your thoughts in the comments.
---
Wed, 13 April 2016
Men in Gorilla Suits Ep. 167: Last Seen…Talking about Paranormal Things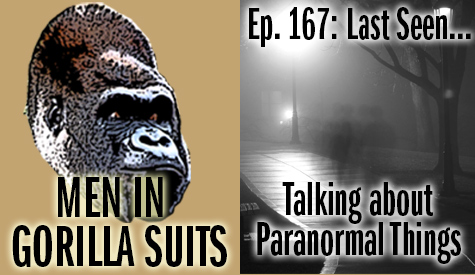 Ghoooooooooooooooooooooosts!!!
SpooooOOOOOOoooOOoOOOooooOOoooooky things!
The OTHER side...
The truth is out there...and...it's not what they want you to believe.
This is the episode in which you will hear Christopher almost come unhinged. This is the episode you will see (and hear) the Gorillamen fly the "No Ghosts" banner -- but they are not Ghostbusters...
And yet...they have experienced "paranormal things."
That's the topic of this week's episode.
(You might even walk away from it being like, "Okay, I do NOT want to push that Christopher button...holy hell - I can't believe he said that about one of his favorite people of all time!)
* * *
We kick it all off by talking about the first time we were introduced to...THE PARANORMAL!!!
Find out if we believed in ghosts when we were kids, and what -- if we believed -- those ghosts were (are).
Déjà vu. We've all experienced it, but does it mean we're psychic? What is that feeling that we've not only been here before, but that we can predict...the FUUUUUUUUTURE (at least for 5-15 seconds -- but rarely longer)?
Find out if we have ever experienced precognition...and also: if we believe any psychic powers exist (and if so, which ones).
If you know us, you know this is not a favorable episode if you believe in paranormal things. Find out what we think are the silliest paranormal things to us (this is where Christopher may have crossed a line and angered someone very dear to him), and also: if we know of any paranormal claims that defy explanation.
We wrap it all up with what we'd need in order to actually believe a paranormal claim.
Feel free to leave a comment...while it's probably clear we lean toward the side of skepticism -- as long as you don't insist our experiences are "something more," we won't bite...
And in honor of this episode, the best "ghost" thing Christopher has ever seen...posted by Shawn on social media...
GHOST PEE!!!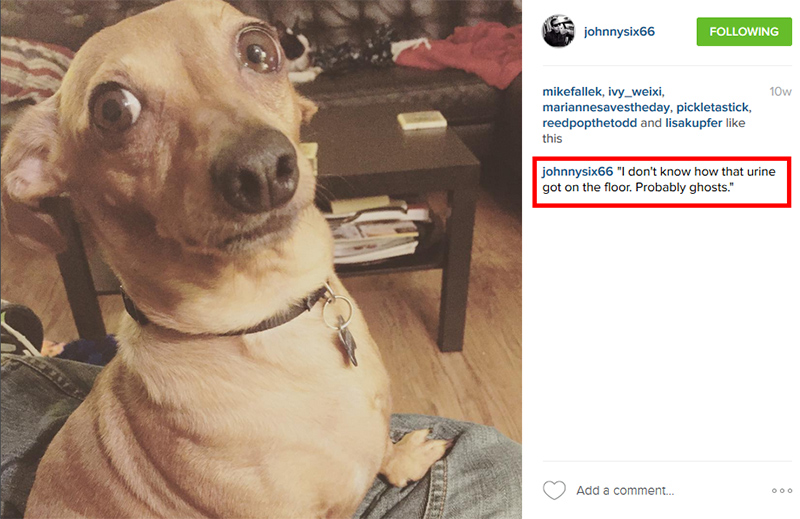 Oh yeah...that sound in the background near the end of the episode? Not ghosts -- but a snoring Boston terrier!
---
Wed, 6 April 2016
Men in Gorilla Suits Ep. 166: Last Seen…Swearing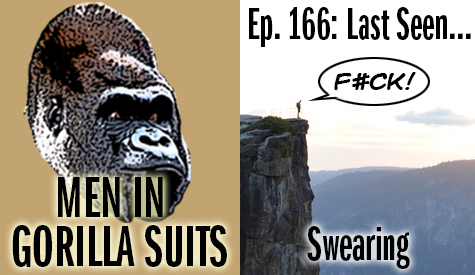 Oi, ya c@unts -- we f&cking did it! We went an entire f@cking episode of our sh$tty podcast without any G!d-d%mned swearing! That's cooler than sh*t -- especially because the motherf%cking episode is about f#cking SWEARING!!!
And it wasn't easy because our f#cking signoff is "Chill the f*ck out, and make the d@mn thing!" No s%it -- look at that motherf@cking image up top!
We're badass b%stards for not dropping so much as a b%tch, @ss, or other sh%tty word that's okay of f!cking television...let alone f&ck and c@nt and other words that make people cringe like sh$t-monkeys!
So open your f@cking earholes and listen to our only "clean" f&cking episode to date!
* * *
We kick it all off with our first memory of swearing -- and then talk about the first time we swore (and if we got in trouble).
After that, it's on to places we don't swear (if they even exist) -- or people around whom we refuse to swear.
This whole episode came to be after reading that Adam Carolla is doing a couple "clean" shows to attract big advertisers. Some podcasters say swearing limits audience size. We discuss our thoughts on that, and then chat about whether we have (or would) not swear in order to get a specific deal.
We discuss if certain words cross the line (fuck and cunt vs. shit and damn) -- and whether or not that makes any sense to us.
By the time we get to it, we've established things, but we talk about when we were "allowed" to swear at home...and if we dare swear around our parents today.
Some say that swearing is a sign of low intelligence...but is that shit fucking true? Hell, there are even advantages to swearing -- and we talk about that shit!
Is a corporate environment elevated to the point that swearing is wrong, there, or is it as okay to speak in an office as though you're on a factory floor?
Bleeping words we all know or writing F#ck instead of Fuck. Is that shit goofy, or does it make sense -- even though we know what's being written or said?
We close out this episode by talking about how violence is far more accepted by many people who will storm out of a movie in which someone says fuck. Is there a certain hypocrisy to that, or is watching a hero put down 30 bad guys more acceptable than someone stubbing their toe and saying shit?
Leave a fucking comment if you want. Or don't if you're like, "Screw those @ssholes and their f&cking potty mouths!"
---