Wed, 12 December 2018
Last Seen...Talking About Weapons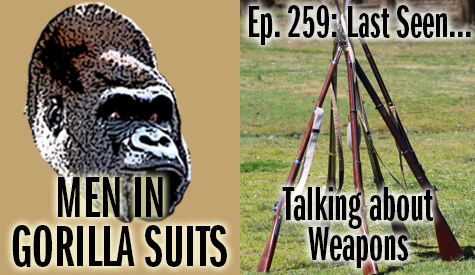 Whether we like it or not, weapons shaped human life on the planet. Today, they are big business. At least in the United States, we see weapons from the start: in movies, cartoons, and even in stores.
So the Gorillamen decided to pull up a couple chairs and talk about weapons this week.
* * *
We begin with the first weapons we remember...and the weapons we regularly feared as children.
After that, find out if we own any weapons -- and our favorite (and coolest) weapons we've ever used.
Because we're geeks, we dedicate some time to the best (and worst) fictional weapons...and then get serious when we discuss the weapon that most frightens us.
We talk about where we stand on gun control and American's fascination with weaponry. We also chat about what it says about a society that spends so much on weapons...and then wrap it all up with the future of weaponry.
---