Wed, 2 May 2018
Last Seen…Talking About Professional Wrestling – MiGS Ep. 243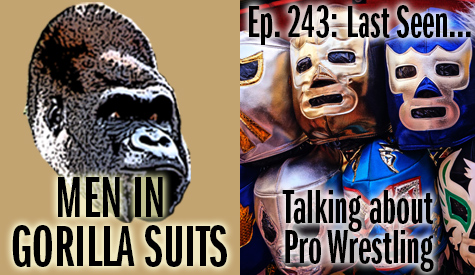 "TONIGHT, SHAWN-DAWG AND OGRE DEFEND THEIR TAG-TEAM PODCASTING CHAMPIONSHIP VS. ... well ... uhm ... HEY! They bought those cheesy belts at a Halloween store, and there's no such thing as the Tag-team podcasting championship! I told you wrestling was fake!"
Ah, professional wrestling -- with its history of terrible stereotypes and hokey gimmicks; its fake punches and scripted outcomes. The costumes, the characters, and all that comes with it.
But the Gorillamen maintain there is also a certain beauty to even Shockmaster's infamous debut.
So step into the squared-circle as we chat about professional wrestling this week...
* * *
We kick it off in the past, discussing the first times we ever saw professional wrestling. After that, find out if we still watch wrestling regularly.
We get through our lists of favorite professional wrestlers before discussing THE question: Is professional wrestling fake?
Then we talk about live matches we've seen -- and if we ever wanted to become wrestlers.
We chat about the appeal of professional wrestling, and then move on to professional wrestlers we've met.
Hardcore wrestling is quite a...thing. We discuss our thoughts on what compels people to willingly be put through flaming tables covered in barbed wire...and then we talk about the pressures put on professional wrestlers by the promotions they perform for.
And we wrap it all up with our favorite things about professional wrestling...and what the future holds for it all.
---