Wed, 18 September 2019
Last Seen...Being Determined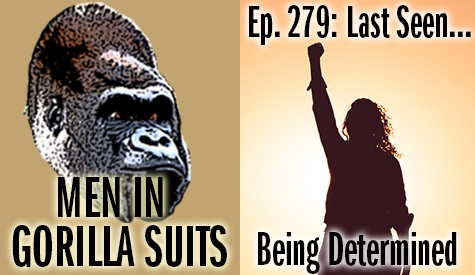 Because Gorilla Christopher is determined to get some writing in during his lunch break, here's what we chat about this week:
When did you first become aware of determination?
Are you a very determined person?
What is the best thing, to you, about determination?
What is the worst thing, to you, about determination?
Who is the most determined person you know?
Do you think there's anything wrong with not being a determined person?
Can one be determined without being ambitious?
As a society, do you think we place too much importance on being determined?
Is there anything you are determined to do before you die?
What's something you were once determined to do that you aren't anymore?
What advice would you give to someone who wants to be more determined to do the things they want to do in life?
We usually end by talking about the future. As we stare climate change in the face, do you think humanity is determined to actually do something about it?
---
Wed, 12 June 2019
Last Seen...Being Optimistic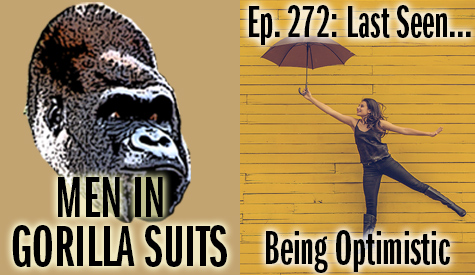 Radiohead once sang about optimism.
It went a little like this:
Flies are buzzing 'round my head
Vultures circling the dead
Picking up every last crumb
The big fish eat the little ones
The big fish eat the little ones
Not my problem, give me some
We're a bit more optimistic than that, but about certain issues...probably not by much.
This week we will fill your hearts with hope as we talk about...optimism...
* * *
We begin by discussing our own optimism...and when we were first introduced to the concept. Then we talk about the most optimistic people we knew growing up -- and who claims the title today.
We chat a bit about if it's easier or harder to maintain optimism as we age...and then devote some time to whether or not we're optimistic about the United States.
Find out where our optimism ends -- and what we try [and sometimes fail] to be optimistic about.
We answer these questions: Can relentless optimism be damaging? Or annoying? And then we offer our advice for someone who is not naturally optimistic.
And, of course, we wrap it all up talking about the future of optimism.
* * *
Umbrella Woman Photo: Edu Lauton
---
Wed, 3 April 2019
Last Seen...Talking about Trust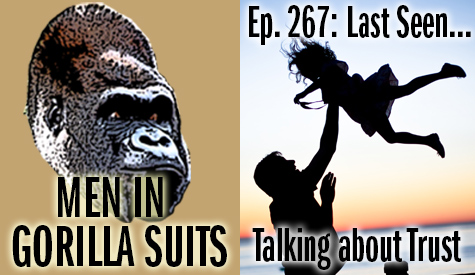 You'll just have to trust us that this episode is good...
* * *
We kick it off with our first memories of trusting someone, and then talk about how important trust is to one's existence. Find out who we trust most today...and what role trust plays in this podcast.
Next, we chat about how much we trust institutions like religion, corporations, and governments. After that, find out if our trust has ever been betrayed by someone...and if we have ever betrayed someone's trust.
We discuss why betrayed trust hurts some people so much, and devote a little time to processes we trust. From there, it's on to talking about if we trust ourselves to make good decisions and then wrapping it all up with the future of trust.
---
Thu, 14 March 2019
(Classic) Last Seen...Playing Role Playing Games! MiGS Ep. 138
You know that thing we did last week? We also did something similar three and a half years ago.
I know. It's like some Matrix shit.
---
Thu, 28 February 2019
(Classic) Last Seen...Traveling! MiGS Ep. 34
Sometimes we go places. In the past, we went places.
This is about that.
---
Thu, 14 February 2019
(Classic) Last Seen...Building their Realities! MiGS Ep. 02
I am so, so extremely sorry.
Please try to remain courageous in the face of this abomination, this second episode of Men in Gorilla Suits.
Actually, I haven't listened yet. It might be great.
Spoiler alert: It isn't.
---
Thu, 7 February 2019
Last Seen...Hoping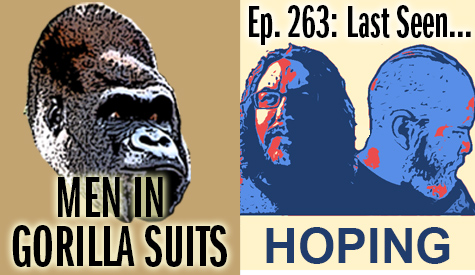 Gorilla Christopher hoped to have this episode online yesterday, but he was tired and decided a busy week merited sleep, instead.
Here's what the gorillamen are talking about this week:
What is the first thing you remember hoping for?
What is your latest hope?
What does hope mean to you?
How important is hope to human existence?
Share a story of hope. (Could be yours, another person's, or even a universal hope of some sort).
Is hope a strong motivator in your life?
Is all hope inherently good?
Have you ever hoped for something bad?
Can hoping too much have a negative effect on a person?
When your hopes are not met, how do you react?
Obama won, in part, on a message of hope after what was seen as a dark time for the U.S. Is hope enough to win in 2020?
What is your hope for the future?
---
Thu, 31 January 2019
(Classic) Last Seen...Balancing Work and Life! MiGS Ep. 127
OOOH, look at me, I'm not working 97 hours a week!
Jerk.
---
Thu, 17 January 2019
(Classic) Last Seen...Being Organized! MiGS Ep. 94
Y'all know me. You know how I make a living. I'll find your mess for you, but it ain't gonna be easy. Bad mess. Not like goin' down to the basement and chasin' tax returns and odd socks. No movin', no organizin', down you go. And we gotta do it quick, that'll bring back your family, put all your surfaces on a cleanin' basis. But it's not gonna be pleasant. I value my neck a lot more than three thousand bucks, chief.
---
Thu, 20 December 2018
(Classic) Last Seen...Being Bored! MiGS Ep. 169
Hey, man. We get it. Sometimes the world feels like staring at a wall. Maybe this'll help you be less bored for an hour.
---
Fri, 7 December 2018
(Classic) Last Seen...Volunteering! MiGS Ep. 159
So we're a day late and short some vocals today, because Shawn's internet decided to crap out for 40-odd hours. Normally, that wouldn't throw too much of a wrench into things, but Shawn is shorter on time during this part of the year... because he does a lot of volunteering.
As it is today, so too was it when this classic episode was recorded, over 50 years ago.
I have no concept of time.
---
Fri, 23 November 2018
(Classic) Last Seen... In a Routine! MiGS Ep. 49
This one's from way back in the day, and it's something I've been kind of thinking about lately as my days blur more and more together.
Fuck it. I dunno. Classic Episode, yo.
---
Thu, 8 November 2018
(Classic) Last Seen... Running the Government! MiGS Ep. 40
Sigh.
We just fucking never learn, do we?
---
Fri, 26 October 2018
(Classic) Last Seen... Being Indie-Pendent! MiGS Ep. 11
This one is a day late, but nota dollar short, because a) it's free, and b) I just saved a bunch of money on car repairs by fixing my wife's car myself.
Independent, that's the way of the future! Or the past, because we recorded this episode 83 million years ago, when Gristophers walked the earth. Enjoy, or don't!
---
Wed, 10 October 2018
(Classic) Last Seen... Being Collegiate! MiGS Ep. 149
Oh, like you never went to college for seven years.
---
Thu, 27 September 2018
(Classic) Last Seen...Talking About Millennials! MiGS Ep. 180
OMG. I can't even get divorced anymore. Goddamn millennials ruining that, too. And Chili's, the napkin industry, mayonnaise, McBreakfast, and about a hundred billion other things. I can't even chase them off my lawn with a rake.
That's right. Somehow they ruined fuckin' rakes.
---
Thu, 20 September 2018
Last Seen…Talking about Dead Celebrities – MiGS 253
Shawn's new goal in life is, that when he dies, to have more wardrobe changes than Aretha Franklin had at her funeral. Christopher is not sure how he wants to go, but -- to quote The Dead Milkmen -- he knows he doesn't want to die, "stoned and fat and wealthy and sitting on the bowl..."
Really, either of the Gorillamen would be fine living a life like Abe Vigoda: successful enough to do his own thing -- and becoming an icon, in part, for being alive when most people believed him long gone...
* * *
We begin with the first dead celebrities we ever heard about, and whether people being upset about celebrity death seemed weird to us as kids.
After that, we talk about why celebrity deaths affect people, and which celebrity deaths (major and minor) affected us. Sticking to those thoughts, we even chat about the celebrity death that will probably hit us most in the future.
Technology has blurred the lines of celebrity -- now, someone with a camera and a YouTube connection can have a larger following than some major celebrities. But...some people stillthink it's weird when an atypical celebrity dies and people mourn. We discuss that, and then move on to the different ways we mourn based on the kind of celebrity who died. (And Shawn and Christopher briefly argue about which Philip Roth book is the best!)
Some celebrities live lives of ridiculous excess...so much so that some people almost seem like they got what they "deserved." We discuss why people can be like that, and then devote some time to celebrity death pools.
Sometimes in death, things are revealed about celebrities that changes some people's views about them. We talk about a few celebrities we've seen that happen with...and then we wrap it all up with perhaps the most ridiculous (and oddly specific) future scenario Gorilla Christopher has devised for the show:
"And now we step into the future. Something about episode number 538 catapults us to super stardom. We can't go outside without being mobbed. We decide to have a recording retreat to a cabin in the woods...where a faulty space heater takes us out with carbon monoxide poisoning. How would YOU like to be remembered by our masses of adoring fans?"
Live long and prosper, y'all!
---
Thu, 13 September 2018
(Classic) Last Seen...Talking About Authority! MiGS Ep. 193
NICK TOLD ME TO PUT CLASSIC AT THE FRONT
CHRISTOPHER GRONLUND WAS TRIED AS AN ADULT
SHAWN DOESN'T LIKE YOUR TONE
SYLVESTER IS THE LAW
---
Thu, 6 September 2018
Last Seen…Being Safe – MiGS 252
Buckle that seat belt and lock your doors at night. Don't talk to strangers; remember, the world is not a safe place. Don't believe us? Watch the news. See? Right there...so many things worthy of your fear.
Oh, sure...some say they turned the news off and somehow stayed safe, but there's nothing more safe than watching 24-hour news in a bunker with a gun within reach. Just in case someone gets through your defenses, you're armed and ready.
So what if you spilled lukewarm coffee (mustn't be too hot) on your coffee table that's covered in bubble wrap in case of a fall. I mean, somewhere...someonehad to have fallen, hit their temple on the corner of a table, and died. Right? RIGHT?!
Egads, this safety thing can be tiring. Or...maybe, just MAYBEthere's a happy balance between doing the stupid things the Gorillamen have done in their time and ensuring a generally safe life.
* * *
We kick it off with the first time in our lives that we felt unsafe...and then move on to elementary school for tales of the safety patrol!
Find out if we live in safe neighborhoods -- and when we first remember someone talking to us about safety.
What steps do we take to keep ourselves and loved ones safe? Listen and find out! After that, we talk about the one thing we're extra careful in doing...and where we throw caution to the wind and do unsafe things.
Gorillamen Studios East is almost in Dallas, Texas. Find out if we think Dallas is a safe city. Then we go on to chat about whether the world is more or less safe than it's been in the past.
Ever stayed up all night thinking, "I wonder what things the government does in the name of safety that bothers the Gorillamen?" If you have, you will sleep well tonight...because we answer that question!
And we wrap it all up with the future of safety...
---
Thu, 30 August 2018
Last Seen...Committing Crimes! MiGS Ep. 109 (Classic)
Contrary to popular belief, Christopher didn't do a dime in Joliet for armed robbery. He's also not at the Pizza Hut, so you can't find him there, so don't even look.
Shawn, however, did apparently smuggle meth in his bloodstream at some point, if his mug shot is any indication.
HEY LET'S TALK CRIME WHY NOT
---
Thu, 2 August 2018
Last Seen...Turning 25! MiGS Ep. 25 (Classic)
Who'da thunk this little ol' podcast that could would make it to TWENTY-FIVE whole episodes? Not me, dagnabbit. I'm just a crusty ol' Colorady prospector who keeps on finding pyrite in these here hills. I ain't got time to be patting myself on the back like these bandits here. THERE'S GOLD IN THEM THAR HILLS or so they tell me but I ain't found shit yet except these here TWENTY-FIVE episodes of this here podcast.
(Sometimes even I don't know what happens in my brain. Yes, I will seek some help. I'm lying, of course. I won't.)
See you back here next week for Episode 250!
---
Wed, 25 July 2018
Last Seen…Road Tripping – MiGS 249
The middle of summer for many means doing all they can to dodge the heat (as many of us do in Texas)...but others find it to be the perfect time to hop in a car and hit the road.
The Great American Road Trip is the stuff of legends. It's inspired movies and books; music and video games. While perhaps not as common as they once were, road trips are still a very American thing -- and the topic of this episode of Men in Gorilla Suits!
* * *
We kick it off with the first road trips we remember taking. After that, we talk about whether we prefer driving, flying, or other means of transportation to get places. Then we chat about why we think road trips still endure today.
Find out if we've ever taken road trips just for the sake of hitting the road before we dedicate some time to these thoughts:
What do you like best about road trips?
What's the longest road trip you've taken?
What's one road trip you'd love to take?
What's the best road trip you've had?
What's the worst road trip you've taken?
What's the last road trip you've taken?
After all that, we talk a bit about technology -- specifically: with DVDs in seat backs and other on-road distractions (not to mention interstates and lack of many roadside attractions along them), is the old-school road trip is a thing of the past?
And we wrap it all up with what we think road trips will be like in the future?
---
Fri, 20 July 2018
Last Seen...Talking About Star Wars...Again! MiGS Ep. 248b
That Han Solo DDR was some bad shit.
Hey, how old is Han Solo anyway? The Gorillamen tackle this, and (not a ton) more, in this Star-Wars themed minisode! Also, Shawn breathes a lot and says "like" a ton. Enjoy!
---
Wed, 11 July 2018
Last Seen…Faking It – MiGS 248
The Gorillamen have a secret: we are not gorillas. Nor are we men (or even DEVO).
We are an artificial intelligence trained to follow an algorithm and expand on it in the form of a podcast. (This explains why we often go off topic -- we are still in our infancy as something faking two friends getting together to record podcasts.)
The photos you've seen of us? All fake! (Do you really think actualhumans would go out in public with Christopher's 80s rock-star hair or Shawn's sea-captain beard?)
Why do you think we've not had a Men in Gorilla Suits meetup for our fans around the world? Because we do not exist, that's why!
We are fake. Everything you know is fake. Nothing is real, but the machine.
Or maybe we arereal meatbags faking a goofy excuse for the existence of this episode, which is all about fake stuff.
* * *
We kick it off with the first time we were aware of someone (or something) being fake. After that, we talk about the first thing we ever faked or forged.
The Internet is often abuzz with a little saying: "Fake it until you make it!" We talk about if there's any truth to that. And because our answers lead to our day jobs, we also devote some time to whether or not we've ever faked anything on our resumes. Also: find out if we've ever claimed we could do something we really couldn't...and how we got out of it.
We then discuss the fakest things we've ever seen. Next, it's all about the most and least convincing fakes we've experienced.
We couldn't do an episode about fake things without chatting about FAKE NEWS! Is fake news even a thing?
And we wrap it all up with this question: do we find ourselves faking much these days?
Oh, and feel free to leave a fake comment below. We just might answer with fake responses...
---
Thu, 5 July 2018
Last Seen...Being Superstitious! MiGS Ep. 36 (Classic)
Shawn was afraid of everything as a kid. The month of October filled him with unspeakable dread.
Christopher was the guy walking under ladders, then picking up black cats to throw at mirrors.
Together, they fight crime!
All this and more, on this week's episode of DIAL G FOR GORILLA SUITS COMMA MEN IN COLON IT'S A PODCAAAASSSSSST
---
Thu, 21 June 2018
Last Seen...Being Authentic! MiGS Ep. 163 (Classic)
Ain't nothin' artificial about me. Ain't nothin' here made in China or nowhere else. This here computer is a gen-you-wine Soviet original, from the computer foundries of Leningrad, I tell you what. This leg? Authentic pioneer firewood covered in real Corinthian leather, it is.
Do I know what I'm on about? No. I don't.
Anyway, here's a classic episode.
---
Fri, 8 June 2018
Last Seen... Enjoying Nature! MiGS Ep. 101 (Classic)
I always knew nature was out to get me. Last night, while I was fixin' to get ready to post this podcast, a tree hit the transformer outside my house and plunged me into a day of darkness and a lack of modern technology.
I blame all trees, everywhere.
So anyway, here's an episode about trees and shit.
---
Fri, 1 June 2018
Last Seen…Playing the Lottery – MiGS Ep. 245
It would be funny if someone played these 6 numbers in the lottery and won:
13 - 21 - 28 - 38 -43 - 49
The winner is interviewed: "Was it a quick pick, or did you choose the numbers?"
Winner: "Men in Gorilla Suits picked for me...but I'm not giving those rotten bastards a penny. Oh, sure...you'd thinkI'd pay for domain hosting, audio hosting, and other charges for their show, but fuck those guys!"
This week, we're talking about the lottery!
* * *
We begin with when we were first aware of the lottery, if we've ever played the lottery, and if we currentlyplay the lottery.
Find out if we know anyone who's won a decent amount of money playing the lottery...say, $1,000 or more.
We chat about how much money we've won or lost in our lives playing the lottery...and if we've ever known anyone addicted to playing.
We devote some time to those who say they'd never want to win a lottery because they believe winning inherently destroys lives -- as well as why people feel entitled to demand money from lottery winners.
Find out if we think it's weird that many states with lotteries outlaw other kinds of gambling. After that, we talk about if we think those who say they have strategies for playing the lottery are on to something...or if they are just kidding themselves. (You can probably guess our answers.) Then we talk about how superstition factors into the lottery.
And we wrap it all up by chatting what we'd do if we won $500 million playing the lottery.
---
Wed, 23 May 2018
Last Seen...Covering Tunes! MiGS Ep. 83 (Classic)
I don't know when I first realized he was watching me. At first, I thought he just lived in the house two over from mine of Live Oak (even though I never saw him move in, and come to think of it, I never really see anyone coming or going from that house). I'm home a lot these days, and it seems like every time I go outside, there he is.
I wave. He says nothing and stares. I attempt a hearty "Hey Neighbor!" He just stares.
He's in the front yard at the house on Live Oak, pretty much all the time. What's weird, though, is he doesn't seem to be doinganything out there. He's just standing. Waiting. Staring.
I mentioned him to my wife the other day. She's never seen him.
So, anyway... here's Wonderwall.
---
Wed, 16 May 2018
Last Seen…Adulting – MiGS Ep. 244
Gorilla Christopher would have put this all together for Gorilla Shawn much earlier in the week, but he had a software release at work and some extra things to write. Bills had to be paid, and he's running errands in the evenings this week in preparation for some Paid Time Off (PTO) next week.
But that's all okay, because Gorilla Shawn recently started a new job at a ridiculously reputable company. He's also working on a hearing regarding property taxes and trying to live a solid adult life in between it all.
Adulthood...
Oh, sure -- some people have parents who attempt to prepare them for adulthood, but most of it is a matter of figuring it out as you go. (Like most things in life.)
[And there's something oddly liberating that comes along with the day of that realization.]
So sit back and listen to the Gorillamen talk about what it is to be...ADULT Men in Gorilla Suits...
* * *
We kick it off with a simple enough question: Is being an adult like you imagined it would be as a child? After that, we talk about what surprised us about adulthood...and at what age we considered ourselves adults.
Find out if we feel like adults most of the time. After that, we discuss our chores as children...and as adults.
Even prepared, adulthood is not without its surprises. We chat about hidden responsibilities of adulthood no one mentioned when we were kids...and then devote some time to the best -- and worst -- things about being adults.
We touch on if we ever miss being younger...before chatting about the following question: is adulting hard?
And we wrap it all up with our futures in the adult world.
---
Thu, 10 May 2018
Last Seen...(Probably Not) Joining Cults! MiGS Ep. 121 (Classic)
One thing Shawn and his wife spend way too much time doing is watching documentaries about cults. Like, a disturbing amount of time. Which probably explains why Shawn knows tons of disturbing shit about cults, which also probably explains this episode.
Or he's just a creepy mofo.
Probably a little of both.
---
Thu, 26 April 2018
Last Seen...Talking Comedy! MiGS Ep. 62 (Classic)
So apparently, we recorded this episode in an airport bathroom well after closing time, because the reverb is just off the chain here. Unless I miss my guess, this was recorded in my old house during the Great Flooring Battles, which meant we were probably in a large, empty living room with no floors and no furniture trying to yammer this podcast into a Zoom H1.
Audio problems aside, this is a fun one. Shawn swears with parental permission. Christopher listens to comedy albums that are well above his maturity level at the time. Ziva snores loudly.
A good time is had by most.
---
Fri, 30 March 2018
Last Seen... Hacking Things! MiGS Ep. 122 (Classic)
Here are a few things you will only get if you listen to this episode:
Zork Cops
Zork Cops are Dead
I'm a Writer, Of Course I Have Binder Clips
Bosun's Whistle at 2600 Hz
Ferris Bueller is in Witness Protection
It's Harder For You To Buy Straws than it is to go to The Fucking Walgreens and Find the Travel Section
These and many more hits could be yours, for the low, low price of a download!
---
Thu, 15 March 2018
Last Seen...Changing Lives! MiGS Ep. 148 (Classic)
I believe it was the great philosopher James Van Der Beek who once said "I don't want yur laafe." What James was really looking for was something that would change his own life, rather than blindly following the path that was laid out for him in that one-horse football town where he hacked a computer and started a countdown to nuclear war.
So I might have fallen asleep when that movie was on and woken up during Wargames. Which, you know, is a pretty good movie too.
This podcast is about the 1983 film Wargames, or possibly the 1999 film Varsity Blues. It's actually about neither of those, but it's worth a listen nonetheless.
I guess. Now I just wanna go watch Wargames. They should remake that with Van Der Beek in the Dabney Coleman part. That'd be sweet.
---
Thu, 8 March 2018
Last Seen…Talking about Fast Food – MiGS Ep. 239
Another rough day at work. You drove in with the faint blur of the sunrise on the eastern horizon, and now you're heading home and looking at the sun going down in the west. You're tired and you don't feel like cooking. So you pull into the line...
From a speaker at the bottom of a big menu sitting outside in the cold: "Welcome to Taco-Taco; how may I help you?"
The next night: "Welcome to Burger-Burger; how may I help you?"
And later that week: "Welcome to Chicken-Chicken; how may I help you?"
Over the weekend, you stop in to a fast food place serving deli food in an attempt to eat a bit more healthy.
This is life for many...
It's convenient, fast, and sometimes still hot by the time you get home: fast food. It still fuels America and excites kids.
So...this week, the Gorillamen talk all about...fast food!
* * *
We begin with the first fast food we remember eating, and then cover our favorite fast food...and the last fast food we ate. After that, find out if we ever worked in fast food (and where).
Speaking of working in fast food, we chat for a bit about if fast food workers deserve $15 an hour...and if working in fast food is an American rite of passage.
We talk about our grossest fast food experiences and move on to regional or defunct fast food restaurants we miss.
We sing high praises to Whataburger and Taco Bueno, devoting further time to what makes them so damn good!
We chat about the most upscale fast foods we've had before chatting about whether or not food trucks have redefined the fast food industry.
And we wrap it all up with the future of fast food.
---
Thu, 1 March 2018
Last Seen...Being Manly! MiGS Ep. 177 (Classic)
See ya, motorscooters. I'm off to get a job with a drill.
I say in the intro to this one that I don't really have a reason I picked this particular episode, but that might not be entirely true. Subconsciously, I might have been thinking about the disease of toxic masculinity, and the fake manhood that some people wear to pretend they're bigger, braver, and stronger than they are (unless we all believe Tiny Hands would have REALLY charged into a school shooting unarmed, which we do not).
Manliness and masculinity can be useful, but they can also be horrible. And so of course, we talked about it that one time a year and a half ago.
Enjoy!
---
Wed, 21 February 2018
Last Seen…Talking about Income Inequality – MiGS Ep. 238
Yes, it's time once again for one of those "serious" episodes of Men in Gorilla Suits.
Polish your monocle and tell your butler to bring you a 25-year-old fine scotch...this time around, the subject is income inequality...
* * *
We begin with what seems like a question with an obvious answer, but for some people...well, it isn't: Do you think there's a problem with income inequality in this country? After that we chat about income classes we've lived in during our lives...as well as where our spouses have been. Then we devote some time to differing financial views we may have had with early roommates or our spouses in the past.
Find out what social class we sit in now...and what we think has caused the shrinking of the middle class. Along those lines, we ponder if people in different classes can truly understand the lives of those in other classes.
Fast food workers: do they deserve $15/hour? We talk about that...and then move on to whether we should try invigorating the middle class...or if the middle class is even necessary...
Near the end, we talk about Millennials: have they gotten the shaft economy-wise?
And we wrap it all up with a not-so-simple question: How do we fix income inequality.
---
Thu, 15 February 2018
Last Seen...Combining Minisodes! MiGS Ep. 237b
And sometimes, you go to a store and they give you leftovers.
But sometimes, some of those leftovers are clips of audio you hadn't heard before and I really didn't think out this metaphor and I'm going to back out, thank you!
In an effort to prove that yes, we really do talk like this even when we're not podcasting, we originally released two mini episodes: one on candy and one on Star Trek (again). In our most recent recording, Christopher captured another minisode, which has now been packaged with the other two for your listening pleasure (question mark?).
Enjoy!
---
Thu, 1 February 2018
Last Seen...Playing Role Playing Games! MiGS Episode 138 (Classic)
Shawn rolled 1D20 for charisma.
He got a zero. Somehow.
Christopher 1D20 rolled for INT.
He got a 19.
Life ain't fair, motherfuckers. And neither are roleplaying games. But we take a(nother) look at them in this week's episode! Marvel at both gorillamen's awkward teen (and adult) years! Listen to the power rankings of the best and worst RPGs of all time! Stay up all night and play some damn games!
Oh, to quote Shawn, "HEY MR. PUBILLONES I'M JUST MAKIN' SOME COFFEE CUZ I DON'T WANT MY MAGE TO GET KILLED!"
---
Thu, 18 January 2018
Last Seen...Being Apathetic! MiGS Ep. 108 (Classic)
Meh. Whatever, bro.
It's a classic episode, or something. About... I didn't bother to listen to it. It's about something. I assume.
So, like, enjoy it. Or don't. I'm not the boss of you.
---
Thu, 4 January 2018
Last Seen…Spotting Aliens: MiGS Ep. 70 (Classic)
The aliens think they can just come into this country and take our jobs, get on our welfare, not pay taxes, and commit crimes! In this country!
Look, I'm not saying it's everyone. But they're not sending us their best gleep-glorps. They're sending their vaporizers, their warp-jackers, and their intergalactic scum. And some of them, I assume, are good gleep-glorps. But they're coming here to commit crimes, and anything else the media tells you is just fake news.
That's why the gorillamen propose a wall that goes into space. A wall will certainly keep Zeta Reticulans from crossing the space-time border.
Also, I love Zeta Reticulans. The best gleep-glorp salads are made right here at gorillamen tower.
Bigly.
(also fuck that guy and his stupid baby hands)
---
Thu, 28 December 2017
Last Seen...Talking about White People - MiGS Ep. 234
To hear it from some people (like, say...an orange-tinged shitlord with a sulfurous-looking hairdo who's presumable in charge of the Western world), white people have it soooooooooo hard!
That a middle-aged (or Baby Boomin') white guy can say with a straight face, "There's no other group who has it worse than Christian white males," says so much about white privilege.
And so, Gorilla Shawn thought two white guys talking about white people would make for a good episode...and it did. (Although, some shitty white people might not agree...)
* * *
We kick it off talking about the first time we noticed the differences between white people and other races or cultures. We discuss what the experience was like, and then we move on to the whitest people we know.
To that point, though...is there even such a thing as "being white," either racially or culturally?
After that, we discuss if anyone should be proud of being white...and if anyone should be ashamed if they happened to be born white?
Find out if we think we see the world in a different manner than someone who's black. (Spoiler: we don't get pulled over when simply driving a decent vehicle.)
Shitty white people sure have been more vocal, lately. We devote some time discussing who's to blame for the rise in white supremacy, lately...and then we chat about ways to fix that problem.
In popular culture, there are things deemed rather white (like really bad dancing). Find out the "whitest" thing we've ever seen...and learn about the whitest things we've ever done.
Finally, we wrap it all up with what the future looks like for white people...
---
Fri, 22 December 2017
MiGS Ep. 57 (Classic): Last Seen…Being Greedy
Christopher and Shawn are both white dudes (if you didn't already know this, it'll definitely become clear next week), but they're somehow not greedy assholes. That's one of many reasons neither of them will be elected to the Senate, because they're just not greedy enough.
With the new tax bill that just passed with the explicit aim of funneling still more money to the richest one percent of the country, it seemed like a good time to revisit the episode they did way back when (in 1848, I think) about greed!
Sit back and enjoy this episode. It's all yours!
*Also the audio quality on this one isn't great. This might-could have been one of our first Skype episodes ever.
---
Wed, 13 December 2017
Men in Gorilla Suits Ep. 233: Last Seen...Partying!
We suppose a party should be held in February, to celebrate the five-year anniversary of the podcast. (Okay, so we really are fine without a party...but you'll see where we're going with this...)
[Many] people love parties -- and many others do not. We devote this week's show to where we stand on the whole party thing...
* * *
First, we go back in time...to the first party we remember attending. (We tell you all about them.) And, also...we tell us about the last parties we've attended!
After that, find out if we are party people! Then: whether we're party people (or not)...we chat about the craziest parties we've ever attended.
Find out if we even like parties...and what the best party or gathering we've ever attended was -- as well as the worst!
We devote some time to birthday party memories...and then talk about if we're good at putting together parties.
Find out if parties are even important to us...and why we think parties are important to others.
And we wrap it all up with this: if we could throw the best parties ever (on our terms), what would they be like?
As always, party it all up in the comments section if that's your kind of thing...
---
Thu, 7 December 2017
MiGS Ep. 155 (Classic): Last Seen...In High School!
Christopher was a Dragon! Shawn was a Thunderbird! This episode is METAL AS FUCK!
Oh, wait, no it isn't. Those were their high school mascots. And Shawn's wasn't named after the mythical Native American beast, or even the massive car by Ford… nope, it was named after the Air Force Aerobatics team. NERRRRRRDDDDD.
Did the Gorillamen dig high school? Were they the kings of the commons, or the nerds no one talked to? Are they still true to their schools? What stupid voices will Shawn do this show? What traumas from Christopher's young life with they unearth? You'll have to listen to find out!*
*or have listened in January 2016. Whatever. Dick.
---
Tue, 28 November 2017
Men in Gorilla Suits Ep. 232: Last Seen... Fucking Up!
Greetings and Felicitations, noble pod-people! Yes, I think I carried that off quite well. No way I fucked up that greeting! I am totally passing for one of you hew-mans!
Today on the magical internet radiola programme, we're talking about all the times we fucked up! See, there's times when you just don't get it right, and it's kinda your fault. But that's OK! The Gorillamen aren't here to judge, because, as you will learn in this podcast, we're kind of masters of fucking up.
We start, of course, with the first time we remember fucking up, before moving to our most recent fuckups. Then we shift gears a little bit to reminisce about the last time each of us was totally effed up on chemicals or booze or the like, and cover any embarrassing things we did while in our fucked-up states!
Then we move to the last times our bodies fucked up on us, which is pretty recent for at least one of the Gorillamen. We cover our biggest fuckups, our funniest fuckups, and the worst fuckups to which we've borne witness, all before discussing the role of technology in fucking up and (hopefully) coming up with plans to fuck up less in the future.
Got a time when you really fucked up? Share it in the comments!
---
Sat, 25 November 2017
MiGS Ep. 82 (Classic): Last Seen...Addicted!
Apologies for the late post and no new intro to this week's classic episode. It's been a busy week! And due to certain medical issues, it's the first day in a long while your old pal Shawn hasn't had any caffeine. He is addicted to caffeine.
Hmmm.... addiction would make a good episode topic! And if there's one thing about having done 250 episodes or so, it's that you've probably talked about a thing before! So this week, sit back, relax, and enjoy this classic Men in Gorilla Suits episode about addiction.
---
Thu, 9 November 2017
MiGS Ep. 95 (Classic): Last Seen...Surviving Apocalypses!
This is Gorilla 4-1 transmitting on frequency 1-1-5. I have no idea if this transmission is reaching you in the intended year of 2016, but be warned: the future is an apocalyptic hellscape now. You remember New York in the 70s? Like that, but with slightly more mutation.
Oh. Well, shit. My scientists are telling me that the furthest back we can reach is 2017. I really wish they'd mentioned that earlier. Sooooooo...
Mmmyep.
That first thing I told you? Eh, go ahead and forget that. It was all...well, it was all true, but you can't do shit about it now anyway. They're saying we have like an hour of transmitting time left, so...I dunno. Here's an old episode of Men in Gorilla Suits. Sucks that they both died when the thing happened...
I've said too much. End transmission.
---
Thu, 26 October 2017
MiGS Ep. 103 (Classic): Last Seen... Sick and Injured!
Chris and Shawn are FUCKED UP, yo.
No, they're not high, or anything. Nothing that would make them seem cool. It's more... well, when Shawn was in middle school, he saw an educational film about conditioning, and this dumb kid kept touching a hot stove burner. Christopher and Shawn are like that stupe, constantly injuring themselves in a vast array of blood and busted limbs.
Also they get sick and sometimes it's not their fault.
But mainly stupid shit.
Enjoy this classic episode!
---
Wed, 11 October 2017
MiGS Episode 39 (Classic): Last Seen…Celebrating Halloween!
Like a department store that puts its Christmas shit out waaaaaay too early, we just couldn't hold our Halloween episode for the appropriate date (and by we, I mean Shawn). Hey, at least it's in the correct month!
Travel back to Year One of Men in Gorilla Suits, and listen as we discuss shitty costumes, awesome candy, irrational fear of the month of October, and more! Probably!
BOO!
---
Thu, 28 September 2017
Men in Gorilla Suits Ep. 229: Last Seen…On the Water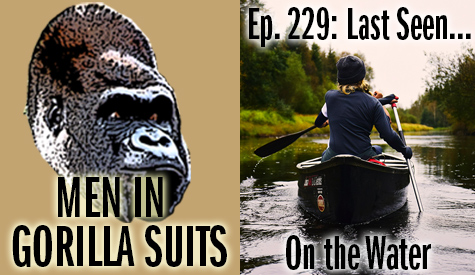 Summer's gone, and that means some lakes will soon be covered in ice. Memories of swimming and boating will have to carry some through to next year. But others have warm oceans that offer underwater dreamscapes year-round -- and it's rare in a place like Texas that a lake will ever ice over, allowing for some forms of water recreation any month of the year.
We came from water, so it's no surprise we spend so much time returning to it as well. So, this week, we're talking about water recreation...
* * *
We kick it all off with memories of our first swimming experiences -- as well as our first memories of being in a boat.
Find out if we're big fans of water recreation, or if we like having our feet planted firmly on land.
After that, we talk about the last time we did something on, in, or under water -- and things humans do in water that blow us away.
The cruise industry is pretty ridiculous, and we devote some time to chatting about if we've ever been on a cruise (or would like to).
Find out the dumbest thing we've done in the water -- and the fastest we've ever traveled across it.
Do the Gorillamen SCUBA dive (or would they like to learn)? Find that out -- as well as our most memorable experiences on the water.
Water freezes in some places...and the Gorillamen have lived in those kinds of places. We chat about things we've done on ice -- and then wrap it all up talking about something we'd like to do on, in, or under water someday...
Feel free to share some of your best water memories in the comments section.
---
Wed, 27 September 2017
MiGS Ep. 135 (Classic): Last Seen… Watching True Crime TV
What's creepier than a clown in a sewer that eats children? How about a middle-aged Kentucky Fried Chicken Franchise Operator who kills children, stashes them in his floorboards, and sometimes *dresses* like a clown?
This week, we talk about what Shawn calls Murder Shows, but the rest of the world calls True Crime TV. Marvel at bad impressions, and our heroes treating the most serious of subjects — actual people who were actually murdered — with the same tact and compassion with which they treat everything.
So you *know* that's not gonna go well.
---
Thu, 21 September 2017
Men in Gorilla Suits Ep. 227: Last Seen…Adapting
We come from the water. We change...adapt.
We learn new ways of doing things...more times than not, better ways.
We adapted so well that we now adapt the things we adapted -- a strange mental and biological origami move that we will never stop...everything folding in and over on itself until new forms emerge.
So, with this in mind, this week the upright(ish)-striding Gorillamen talk about adaptations in many various forms...
* * *
We kick it off talking about the first things we remember adapting to...before moving on to how well we adapt to change (and what's been the hardest things we've had to adapt to in life).
Next: people often fume about adaptations of entertainment -- like books to movies. We discuss adaptations better than their original material, our favorite adaptations...and the worst. We also take some time to talk about something we'd love to see adapted from one thing to another.
Find out what animal adaptation we'd take...and how well we believe we -- as a species -- have adapted to technology.
We get a bit more serious in discussing if we think there will ever be a point at which we will all adapt to changes in climate, hatred, and other things that ail us as a species.
Then, we devote a bit of time after that to how well we think humans have adapted to growing as a species...and if we're ready to adapt to life deeper in space.
And we wrap it all up in the future, wondering if we're ready for all it holds.
---
Thu, 14 September 2017
MiGS Ep. 102 (Classic): Last Seen… Talking Fantasy Football!
If Christopher's score this week in Fantasy Football is X, Shawn's score can be equated thusly:
(x/2)+5.51
Which is bad. Because Shawn is bad at Fantasy Football, and he should feel bad. But he doesn't. Because it's all just fun and games, right?
Right?!
The Gorillamen explore these questions and (at least one) more in this week's classic episode!
---
Thu, 7 September 2017
Men in Gorilla Suits Ep. 226: Last Seen…Eating Junk Food!
Americans love junk food. The world loves junk food! We're sure somewhere on other planets, aliens eat junk food (and love it just as much).
The Gorillamen are powered by junk food, so...it's time we discussed everybody's favorite thing!
* * *
It's a busy week, so here's what we discuss this time around:
What is the first junk food we remember eating? Did we like it?
Were we caught up in the Healthy Eating Craze of the mid-80s?
What's the last thing we ate that we'd consider junk food?
What's our criteria that makes a food junk?
What's a junk food from our childhoods that we miss?
Have we ever had a problem with too much junk food?
What is the best junk food of all time?
Is there such a thing as healthy junk food?
What's our go-to snack? Is it junky?
Do we think we're on the verge of another healthy eating craze?
What's the weirdest junk food we've ever had? (And the worst?)
What junk food we thought was dead suddenly rose from the grave, or is still sold in other states/countries?
What's the future of junk food?
---
Thu, 31 August 2017
MiGS Ep. 96 (Classic): Last Seen… Talking About Cars!
You know, there's something about the smooth lines and refined styling of this vehicle that makes me feel that... well, here in my car, I feel safest of all. I can lock all my doors. It's the only way to live.
You know. In cars.
This week (or more accurately, many many weeks ago), we talked about cars! I will most likely be having to buy yet another car soon, so... relevant episode is relevant! Enjoy!
---
Fri, 18 August 2017
MiGS Ep. 80 (Classic): Last Seen… Talking About Subcultures!
So the opening audio on this week's classic episode sounds shitty, and I'm not changing it. Why? It's the last thing I recorded in the house in which I lived the longest I've ever lived in one place. I bought a place just down the street, but still... feels fitting to record one last MiGS classic intro there.
You know what else we recorded there? This episode about subcultures, three years ago! We spend a lot of time talking about The Gathering of the Juggalos in this episode, which is a harmless subculture, especially compared to the ones we've seen this week.
So, yeah. Might as well remember the good old days when our biggest problems were figuring out who would win in a fight: Juggalos or Goths? (The answer to that one should be obvious.)
---
Thu, 3 August 2017
MiGS Ep. 75 (Classic): Last Seen… Talking About Religion
Welcome, children. Today we will read from the 47th Psalm of Gorilla. Please open your study bibles to page 3.14159, and have a blessed day.
When two guys like Christopher and Shawn talk about religion and don't immediately burst into flames, they've either done something very wrong or very right. As this is one of our most listened-to episodes of all time, we're going to bet on the latter, though that flame-bursting could be around any corner...
Enjoy this classic episode!
---
Wed, 26 July 2017
Men in Gorilla Suits Ep. 223: Last Seen…Looking Behind the Scenes
On the Men in Gorilla Suits website, we have a behind-the-scenes look at our old process for putting the show together. It's a bit dated -- we now have mixers, different recording gear, and a few other things -- but we've been told it helped some people take that first step and record something of their own...
There was a time when seeing how things were made was a mystery, but today documentaries, DVD and streaming movie extras, and myriad websites give people a peek behind the curtains of how things are done.
But it's not just entertainment -- humans want to know what governments and others are doing behind the scenes. So...we decided this week's show should be about all those things [and more]...
* * *
We start in the past, with our first memories of information we were originally not privy to, but eventually saw. After that, we talk about how much we enjoy looking behind the scenes of things...and what we think the appeal of those peeks is.
If you've listened to a few episodes, you've probably heard us talk about documentaries. We chat about some of our favorite peeks behind the scenes...going as far as if we've taken tours to get a different look at things.
Privacy and secrecy naturally get our attention. We discuss if we've ever been privy to information very few are aware of -- and what we've revealed about ourselves and the processes we follow. We also tackle this: is it better to be open and share information, or protect it and keep things to yourselves?
In recent years, highly visible cases of whistleblowers and people leaking government secrets has made the news. Find out how we feel about those sharing behind-the-scenes information with the masses -- as well as how much transparency governments and other large groups should have with your average person.
We get back to light-hearted information and chat about something we'd love to see behind the scenes...and we wrap up this week's show talking about if we think we'll see more -- or fewer -- looks behind the scenes of things in the future.
---
Wed, 19 July 2017
MiGS Ep. 116 (Classic): Last Seen… Becoming Obsolete
Oh, hello there. Didn't see you come in. You're looking mighty fine in that polyester lesiure suit.
Some might say you're out of date or obsolete, but we would never say that. The Gorillamen invite you to come inside, crack open a Zima, and experience the best -- and the worst -- of things that have gone obsolete in this classic episode.
Also, Shawn used to vomit Two Dogs Malt Beverage. In spades. Real talk.
---
Wed, 12 July 2017
Men in Gorilla Suits Ep. 222: Last Seen…Having Empathy
Hello, friend, and welcome to your place online where we understand what you're feeling. At Men in Gorilla Suits, we consider why you are the person you are -- even if you're an evil super-villain with a swelling brain ready to wreak telekinetic havok on the masses. We're not saying it's right that you want to act out against society because you were never hugged, but some humans who never had a bit of support in life don't know how to be. There, there, Swelling Itching Brain -- come on in for a group hug and all will be right again...
This week, we're talking about empathy...
* * *
We start as we often do, back when we were younger. Find out the first time we felt something for someone else -- as well as if we consider ourselves empathetic individuals. Also: have we gotten more or less empathetic as we've gotten older?
After that, we talk about whether or not the world is harder for empathetic people...before moving on to what the opposite of empathy looks like.
Has the Internet made us more [or less] empathetic? We talk about that -- as well as how the current political climate has affected empathy.
Find out who the most -- and least -- empathetic people we know are. We also cat about the best -- and worst -- examples of empathy in popular culture.
And, as we often do, we look to the future at the end of the show...this time, what the future looks like for empathy.
If you're feeling this episode, let us know in the comments...
---
Tue, 4 July 2017
MiGS Ep. 14 (Classic): Last Seen... Being Peeved!
You really piss me off, Jim. Human life is far to precious to waste on crazy stunts!
This week's classic episode is all about things that piss Christopher and Shawn off, but, you know, not that much. We're talking about Pet Peeves this week (OK, we talked about them many weeks in the past, whatever). Enjoy this classic episode from the early days of Men in Gorilla Suits, and we'll be back with a new episode next week!
---
Wed, 9 September 2015
Men in Gorilla Suits Ep. 136: Last Seen...Watching Online Video
Chances are, if you've taken a peek at any social network or news site, you've seen an online video today. Chances are good that it began playing all by itself. Maybe you have things you subscribe to on YouTube. Or perhaps your thing is the Netflix binge-watch.
Online video has not only changed the way we watch news, entertain ourselves, or even take part in production -- there are still so many horizons to be crossed as technology improves.
This week, it's an audio show about online video.
* * *
We kick it all off back in the days of extreme buffering issues and downloading things from Usenet as we talk about the first online videos we ever saw. After that, we leap to the present and share how often we watch videos online.
Next, we move on to the appeal of online video and how online content has changed the way stories are told with video cameras. We share some of our favorite online videos...stuff like this:
And this:
Made by Hand / No 2 The Knife Maker from Made by Hand on Vimeo.
And hell, even this:
Turns from Breakwater Studios Ltd. on Vimeo.
Oh, and why not this (Not Safe for Work):
Or this (We are not classy individuals):
After sharing some of our favorite online videos, we talk about videos we've made for online viewing.
While we've made videos and put them online, we are far from famous. Some people, though, have turned online video into very lucrative careers. We talk about the phenomenon of YouTube superstars and discuss if they are real celebrities...or something else entirely. We also chat about our feelings about something that seems to bother a lot of people: those who seem to constantly document their lives with video.
For some, online video is really about marketing. Online video changed content marketing; we discuss whether or not it's ever worked on us.
It seems there is always some new way of sharing video online. Find out if we think apps like Meercat (you remember that, right?), Periscope, Blab, and others will eventually give YouTube a challenge.
Online video has been around long enough that it has become a media staple. Now that it's been around a while, can it become as important as film or television? (Has it already reached that point, or even passed it?)
We end this episode as we typically do -- looking toward the future. What is the future of online video?
We'd love to hear your feelings about online video in the comments...and even see videos you've made or appeared in.
---
Wed, 21 May 2014
Men in Gorilla Suits Ep. 68: Last Seen...Talking Comedy
Humans love to laugh. In recent years, we've discovered that there is some truth to the adage: "Laughter is the best medicine." We pay to watch movies that make us laugh; most people live within a drive from a comedy club (or 2...or dozens). Some of the most popular podcasts out there are shows done by funny people. What is it about comedy that we love so much? That's what we're talking about on this week's episode of Men in Gorilla Suits.
We begin by discussing the very first thing we remember laughing at...and then, the very first joke we remember telling. (Spoiler alert: Christopher once memorized the entire 101 Elephant Jokes book.)
There are certain things that are synonymous with comedy -- we talk about what comes to our minds when someone mentions comedy, and then we discuss the funniest movies we've ever seen. Books can be funny as well; we devote a little time to funny books before discussing whether or not the Internet has been a good or bad thing for the development of comedy.
Want to know what stupid thing makes us laugh every time? Listen and find out...and also find out the most wrong things we find funny.
It's a great time for comedy, with podcasts and so many other ways funny people can reach an audience. Find out who we think is the most brilliant mind in comedy right now and what our go-to sources for comedy are when we're in search of a laugh.
We wrap the episode up discussing the funniest person we know personally and what was the last thing that made us laugh so hard that we almost had an unintentional body function occur.
We'd love to hear what you think is funny; as always, feel free to share in the comments.
---
Wed, 30 October 2013
Men in Gorilla Suits Ep. 39: Last Seen...Celebrating Halloween!
We begin the Halloween episode of Men in Gorilla Suits as we begin most episodes: by discussing our earliest memories of the topic. Find out when Halloween memories stuck in our brains. from there, it's on to our favorite costumes from our pasts. (This section had a beta listener rolling with laughter at Shawn's choice and our discussion of those cheap, vinyl costumes popular in the 70s and 80s.) The costume talk doesn't stop there, though...we reveal what we'd consider our ultimate costume if we had the talent to make them, and what creature we would want to be if we could change into a monster just like that.
But let's be honest: for many, Halloween is all about the candy! We discuss the best -- and worst -- things people dropped into our Halloween bags when we were younger. Find out if our candy was ever stolen from us [by a band of thugs dressed like the baseball gang from the movie, The Warriors], or if we were ever the ones doing the stealing.
For some, Halloween is about destruction. Find out how many pumpkins we've smashed in our time and any other mischief on October 31st we got into. For others, Halloween is all about entertainment. Find out what books, movies, and music we recommend for Halloween.
In recent years, Halloween has returned to its roots for some, and become seen as evil by others. We take a moment to discuss the religious side of what is largely a secular holiday, before wrapping the episode up with a couple favorite stories from past Halloweens -- and our plans for this year's festivities.
We'd love to hear some of your favorite Halloween memories in comments, so please share.
---
Thu, 17 October 2013
Men in Gorilla Suits Ep. 37: Last Seen...Addicted to Technology
Recently, Louis C.K. was on Conan O'Brien, talking about how smart phones destroy one's empathy. We begin talking about that, asking each other if we agree with Louis C.K.'s thinking. Then it's on to the physical ways smart phones make us feel when we ask each other if we've ever felt separation anxiety when not able to use our phones.
Like it or not, the Internet (and easy access to technology) has changed the way we do so many things. We talk about why we're online and, as writers, we take a few moments to ask if online promotion has been worth it for us...or if having a "brand," "platform," whatever we're calling it this week is all hype.
Speaking of hype, a lot has been written about how always having access to information has degraded human focus. We ask if we had more focus before or after technology became such an available thing. By reading this online, it's clear that on some level, the gorilla men are okay with technology, but what technology makes us cringe? Do we feel the need to keep up with everything? Can we make it through a lunch without checking for or answering a text message -- find out!
Back to technology's physical effects...we take a few minutes to ask if checking Facebook and other things is a reflex. Do we play games on our phones, or is that the line we draw where we say, "Nope, that eats up waaaaaaaay too much time!"? Then it's on to our biggest tech weakness and a discussion if we can -- or even want to -- change it. Have we ever been so connected that technology has affected our sleep?
Thoreau had Waldon; now, simply taking a one-week social media break is cause for writing articles...we discuss taking social media breaks and ask if we could sit in a cabin all weekend without any tech. Finally, we wrap it all up by asking what is gained (and lost) by always being connected.
If you're reading this and listen to the show, you obviously have feelings about technology and the way we've all come to use it. We'd love to hear your thoughts about this episode in the comments.
---
Wed, 18 September 2013
Men in Gorilla Suits Ep. 33: Last Seen…Watching the News
This Just In: the apes behind Men in Gorilla Suits are talking about the news this week!
Breaking Story: Men in Gorilla Suits ask, "When did the news become interesting to you?" Then those nutty monkeys talk about whether they prefer their news televised or if they'd rather find it online. They also ponder this: "Has 24-hour cable news added to the news or damaged it?" This pundit says it's all about money and is clearly right because the Gorillamen ask what influence advertisers have on the news -- and whether it's good or bad?
"LIBERALS!!!" (Calm down, Tex!) Does the word make your flesh crawl, or are you one of them? ("Serpent!") Doesn't matter; all that does: "Is there a liberal bias in the news?" And...what effect have pundits had on "news"? Also: is news from other countries better?
These days, news travels faster than ever. In a rush to be first with a story, do news stories suffer? If so, how? Then: "Social media as news — accurate or not?"
Why share
actual
news online when you can share..
.MISERY!!!
Interviews with grieving families, court cases that have no real effect on your life, and sensational stories you'll forget by next week -- is that news, or just a sensational grab for ratings? (Probably pretty clear where the Gorillamen stand on this one-- watch out for their hurled poo!)
But "the news" is really an easy target. Is the news to blame for the shift it's taken, or are we the problem?
"What's that? Some people avoid the news entirely?! HERETICS!!!" The Gorillamen talk about the movement to avoid the news. (Can you imagine that, avoiding the news? It's rumored one of the Gorillamen didn't even know about the Navy yard shooting that had the nation saying, "Oh, you wacky Mondays...does 12 dead even count as a mass shooting anymore?")
Really, it all comes down to this: does the news actually affect us, or is it presented in a manner to make us believe it does?
Is the news even important anymore?
If you don't listen, clearly...you don't want to be informed. So listen to this week's episode and express your rage, thoughts, or anything else you feel in the comments below. Because these days, the news is interactive, and even the slack-jawed knuckle draggers have a say!
(Views expressed are those of an unseen narrator and do not reflect those of Men in Gorilla Suits.
Maybe...)
---
Wed, 28 August 2013
Men in Gorilla Suits Ep. 30: Last Seen...Watching Reality TV
Reality TV: people seem to love it or hate it. People also seem to forget how long it's been around...and that even its critics have probably enjoyed some kind of reality programming. This week, we're all about versions of reality on television that succeed and fail, often in very strange ways.
We start out talking about early shows we recognized as "reality" programming before talking about the opposite ends of the reality TV spectrum. Is reality TV legitimate, or is it just lazy TV? We discuss the shows that have pulled us in, and those so bad, we were almost turned off to the medium entirely. We talk about the character of reality TV -- those we've loved, and those we loathed. The part that surprised us both: does reality TV have value? The answer may make you think twice about knocking reality TV and realizing it's like anything: there's good and bad and everything in between...
We'd love to hear about which reality TV shows you've loved, and even those you've hated...
---
Wed, 21 August 2013
Men in Gorilla Suits Ep. 29: Last Seen...Focusing on Priorities
In a time when smart phones and TV screens are everywhere, it can seem so hard to focus. This week, we discuss why people seem to yearn for these kinds of distractions in their lives and what they can do to regain focus on the things that matter to them. How has technology of all sorts made it easier than ever to procrastinate? Do programs and apps meant to keep people offline and away from distractions really work? If not, what can people do to keep their priorities before them?
The more we use quick and satisfying technology like social media sites, text messages, and email, the more we physically rewire our brains to crave more instant gratification. How do we wire our brains to focus on the things that matter in our hearts more than playing rounds of Words with Friends or Candy Crush?
Some people have gone as far as saying distractions have robbed us of our culture -- we address that and how it's really all a matter of priority. After discussing distractions in the workplace, we talk about ways people can focus more. As writers, we talk about how we focus on something as big as novels in an age of distractions -- and how those tips can carry over to anything people do.
We spend a bit of time talking on the power of solitude...how being alone and free of distractions for long periods of time leads to wonderful things! After that, we ask what's more important: focus or action...before finally wrapping it all up by asking if focus, priority -- or something else entirely -- is the most important thing when it comes to getting things done?
We're almost to our 30th episode. Without focusing on priorities, we'd have never gotten this far.
---
Wed, 14 August 2013
Men in Gorilla Suits Ep. 28: Last Seen...Being Extreme
There's a fire burning inside some people. We see the spark turn into a blast of heat in an instant when certain topics are brought up; just like that, the most normal person can let loose with a barrage of extreme views.
This week, we're talking about extremists: what constitutes an extremist, why people become so extreme about certain things, and...what we can do about it. Whether it's an angry group in the streets or people spewing anger on Facebook, extremism comes in many forms. There are the stereotypes: Islamic terrorists and other religious zealots hellbent of destruction and hate; eco-terrorists and racists. These are the extreme of the extreme, but everyday people are not immune to extremism.
Angry Christians and angry atheists are doing battle right now, online. Same thing with political battles and so many other topics. Ask for a long discussion about classic art online and you may not get a single reply, but type "Gun control: yes or no?" and watch the floodwaters rise. (And yep, we talk about gun control in this episode!)
We ask if there's an increase in extremism, or if it only seems that way because it's now so easy to be heard online. Are the most extreme people on different sides of an issue that different, or are they united by that fire burning deep within? We ask if there's ever a good reason for extremism and even ask ourselves if we have any extreme views. We chat about extremists many don't think to be extremists before discussing what we think is the most dangerous thing about extremism. Finally, we close it all out by asking what can be done to curb extremism.
Dare we say it -- this might be the most important episode we've ever done...
---
Thu, 8 August 2013
Men in Gorilla Suits Ep. 27: Last Seen...At the Movies
This week, it's all about movies! The first movies we remember seeing, and a bit about the people who got us into movies. There's talk about drive ins and multiplexes; the times before the rise of the blockbuster and what followed after blockbuster films became common. We discuss the difference between film and movies as well as the movies that made us both want to write screenplays one day. Are movies better or worse than they used to be? Yep, we cover that! Along the way, we talk about our favorite movie characters and the worst -- and best -- movies we've ever seen.
Quick Note: We recorded this over Skype, each running our own sound. Shawn doesn't have a buffer between his desk and recorder, so there are some bumping sounds throughout the podcast. In the spirit of this week's show, just imagine it's the footsteps of the t-rex from Jurassic Park!
---
Fri, 28 June 2013
Men in Gorilla Suits Ep. 21: Last Seen...Being Critical
This week's show is all about criticism. While it leans heavily toward writing criticism, we do talk about general criticism and criticism as it pertains to the arts and jobs in general. So here we go:
We begin with an important question: is criticism even helpful for writers and artists, or is it counterproductive to creating "pure" art? Along the way, we discuss how to offer criticism and take criticism that comes your way. We share some personal stories about criticism: the best and worst criticism we've received as well as some other tales of being criticized. With anyone with an Internet connection able to review someone's work online, the review has become a type of criticism. We discuss ways writers and artists can use reviews to see how people feel about what they are doing and maybe even improve their work. We close by looping back to the beginning and asking if criticism is a necessary component of art, or if great work can be created with no outside influence.
---
Wed, 1 May 2013
Men in Gorilla Suits Ep. 13: Last Seen...Managing Time
If you think you don't have time to listen to this episode of Men in Gorilla Suits...you probably need to listen to this episode of Men in Gorilla Suits. This week it's all about time management!
We'll tell you how to find the right time management system...for you! We discuss how having a day job can help you find time for your creative endeavors, and we praise the smart phone as a time management tool. (But probably not in the ways many "time management gurus" would tell us to use our phones.) We chat about time management tools and systems -- including how some can take up more time than they may be worth for your needs. We share ways to identify bad uses of time, and how sometimes you just gotta suck it up and not do the things you want to do because other things take priority in your life for awhile. Hell, we even discuss the importance of allowing yourself to occasionally give in to being lazy (i.e. the Netflix Marathon).
Christopher shares the big time management tip that helped him tame his to-do list, and Shawn's big tip for time management feeds itself each time he's busy. There's even a little Zen moment when we discuss if we're like concrete or water in the way we create. Also: is waiting for "The Muse" a good idea, or is she a massive time management killer? (Spoiler: she's really a succubus out to drain you of time you should just be creating!) Finally, we talk about the difference between multitasking (ick; you can't do it, even if you think you can!) and task stacking (Hooray for task stacking!!!).
We know it's asking a lot for an hour of your time, but that's the length of a commute for most of us. We hope that by the end of this episode, you'll get that hour back...and then some...
---
Wed, 24 April 2013
Men in Gorilla Suits Ep.12: Last Seen...Being Creative
Last week we talked about the independent pursuit of creative endeavors. Before you can get there, though, you have to make something -- and that usually means dealing with some level of creativity.
For many, creativity is an ominous thing, the fickle Muse that may or may not show up and shower you with inspiration. We're here to tell you that the Muse is BS and that creativity, like anything, can be attained by simply working hard. Some highlights from this week's show:
Tips for people who doubt they have creative abilities.
Rethinking what creativity is -- The Creative Physicist and Programmer.
The power of breaks from creative pursuits.
How to take breaks from the things that distract you from finding time to create.
Why we're not so enamored with those labeling themselves "Creatives." (Hint: actions speak louder than...well, you know...)
How to deal with those wanting to exploit your creativity. (What we really mean: those who want to exploit your willingness to actually do the work!)
Some of our creative heroes. (Including a bit about Shawn getting email from his hero.)
It's our hope that anyone doubting they have some creative ability in themselves will see that's not the case by this episode's end. As long as you're willing to work hard, it's amazing what's possible.
---
Wed, 17 April 2013
Men in Gorilla Suits Ep. 11: Last Seen...Being Indie-pendent
This week, we talk about the benefits and pitfalls of independent pursuits and the benefits and pitfalls of going the traditional route. Some sides are all or nothing: extolling independence over all, or shunning anything remotely done completely on one's own. With recent leaps in technology, though, the lines are blurred -- even people who have spent decades going the traditional route with the things that matter to them are finding success blending working with established companies and doing it themselves. In many ways, there's never been a better time to do your own thing, even though it might be harder to be seen in the crowd.
We'd love to hear about (or see) the stuff you make -- feel free to share stories and links in the comments.
---
Wed, 10 April 2013
Men in Gorilla Suits Ep.10: Last Seen...Being Positive (And Negative)
This week's podcast is all about the creative power that comes with being positive...and negative. This episode is about much more than just attitude's effect on productivity, though. We talk about the power of apathy as it can relate to happiness (or at least reducing stress from one's life). There's a bit about Pollyannas vs. Doomsayers, and how being extremely positive isn't always a good thing. We ask if one's attitude really is as simple as making a decision to be a certain way; also, how people use social media as a platform for their moods. Finally, the episode wraps up with a simple conclusion about life.
Disclaimer: We make a very clear distinction between negativity and depression in this episode. We know that negativity and depression are not synonymous, even though they sometimes move in each others' shadows. When we speak of negativity in this episode, we are talking about learned behavior or making a choice to be a certain way -- not the clinical reasons for some people's moods beyond their control. At various points in our lives, we have both struggled with depression. At various points in our lives, we were simply negative. We know the difference and do our best to make that distinction in this episode.
---
Wed, 3 April 2013
Men in Gorilla Suits Ep.09: Last Seen...Having Hobbies
This week, it's all about hobbies! Are they inherent things we're coded to do, or something that came about in more recent times? We discuss how people look at hobbies at different times in life, and how they can enrich all we do. We also talk about the downside of hobbies: when we become too involved in them or try making them a career and see that we sometimes lose the joy when a hobby becomes a job. Shawn and Christopher share their childhood hobbies, current hobbies, and talk about what hobbies they may find themselves doing in the future.
We want to know what hobbies you love -- please take a moment and tell us in comments.
---