Thu, 26 October 2017
MiGS Ep. 103 (Classic): Last Seen... Sick and Injured!
Chris and Shawn are FUCKED UP, yo.
No, they're not high, or anything. Nothing that would make them seem cool. It's more... well, when Shawn was in middle school, he saw an educational film about conditioning, and this dumb kid kept touching a hot stove burner. Christopher and Shawn are like that stupe, constantly injuring themselves in a vast array of blood and busted limbs.
Also they get sick and sometimes it's not their fault.
But mainly stupid shit.
Enjoy this classic episode!
---
Wed, 11 October 2017
MiGS Episode 39 (Classic): Last Seen…Celebrating Halloween!
Like a department store that puts its Christmas shit out waaaaaay too early, we just couldn't hold our Halloween episode for the appropriate date (and by we, I mean Shawn). Hey, at least it's in the correct month!
Travel back to Year One of Men in Gorilla Suits, and listen as we discuss shitty costumes, awesome candy, irrational fear of the month of October, and more! Probably!
BOO!
---
Tue, 3 October 2017
Men in Gorilla Suits Ep. 228: Last Seen…Talking about Horror Movies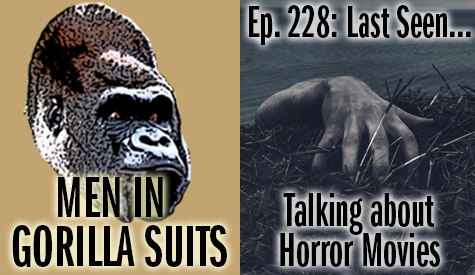 It's October and -- somehow -- we've not talked about horror movies in hundreds of episodes. So...we remedy that.
* * *
It's a busy week in Gorillamenville, so no real commentary -- just what we discuss this episode:
What's the first horror movie you remember seeing? What impression did it make on you?
Are you a fan of horror movies?
What was the last horror movie you saw?
When was the best era for horror movies?
The worst?
What's the best horror movie you've ever seen?
The most fucked-up?
What makes a horror movie work, in your opinion?
Assuming you are exactly as you are now (no special powers, etc.), which horror movie could you best survive?
What's the dumbest horror movie you've ever seen?
What's the future of horror movies?
---