Wed, 11 July 2018
Last Seen…Faking It – MiGS 248
The Gorillamen have a secret: we are not gorillas. Nor are we men (or even DEVO).
We are an artificial intelligence trained to follow an algorithm and expand on it in the form of a podcast. (This explains why we often go off topic -- we are still in our infancy as something faking two friends getting together to record podcasts.)
The photos you've seen of us? All fake! (Do you really think actualhumans would go out in public with Christopher's 80s rock-star hair or Shawn's sea-captain beard?)
Why do you think we've not had a Men in Gorilla Suits meetup for our fans around the world? Because we do not exist, that's why!
We are fake. Everything you know is fake. Nothing is real, but the machine.
Or maybe we arereal meatbags faking a goofy excuse for the existence of this episode, which is all about fake stuff.
* * *
We kick it off with the first time we were aware of someone (or something) being fake. After that, we talk about the first thing we ever faked or forged.
The Internet is often abuzz with a little saying: "Fake it until you make it!" We talk about if there's any truth to that. And because our answers lead to our day jobs, we also devote some time to whether or not we've ever faked anything on our resumes. Also: find out if we've ever claimed we could do something we really couldn't...and how we got out of it.
We then discuss the fakest things we've ever seen. Next, it's all about the most and least convincing fakes we've experienced.
We couldn't do an episode about fake things without chatting about FAKE NEWS! Is fake news even a thing?
And we wrap it all up with this question: do we find ourselves faking much these days?
Oh, and feel free to leave a fake comment below. We just might answer with fake responses...
---
Thu, 5 July 2018
Last Seen...Being Superstitious! MiGS Ep. 36 (Classic)
Shawn was afraid of everything as a kid. The month of October filled him with unspeakable dread.
Christopher was the guy walking under ladders, then picking up black cats to throw at mirrors.
Together, they fight crime!
All this and more, on this week's episode of DIAL G FOR GORILLA SUITS COMMA MEN IN COLON IT'S A PODCAAAASSSSSST
---
Tue, 26 June 2018
Last Seen…Relaxing – MiGS 247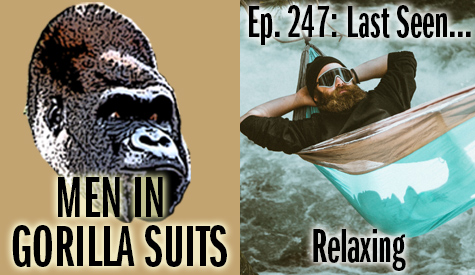 Breathe in...
Breathe out...
Repeat.
Do you feel relaxed?
Maybe nature is your thing. Or perhaps it's a Netflix binge.
The Gorillamen are laid back enough that we're not going to tell you how to relax.
(But if you wanted to kick back and listen to this episode while stretched out on the couch or something, we would not be opposed...)
* * *
We kick it off with the first time we were aware of this concept called relaxing. After that, we talk about how we go about relaxing -- and the last time we really relaxed.
Find out how important relaxing is to us before we piss on a popular Internet meme: that which claims nature is as effective -- or better -- than antidepressants.
We chat about if we believe people have a harder time relaxing now vs. a few decades ago...and why we hold those beliefs. And why not talk about the role recreational drugs and alcohol play in in relaxing for many people?
Going back to an earlier point, we discuss if there's anything wrong with those needing prescription medication in order to relax. Also: the role technology plays in people relaxing...or not relaxing.
We talk a bit about meditation and if one can relax too much.
And we wrap it all up 50 years in the future, speculating if we think people will be more (or less) relaxed.
Ahhhhh...
---
Thu, 21 June 2018
Last Seen...Being Authentic! MiGS Ep. 163 (Classic)
Ain't nothin' artificial about me. Ain't nothin' here made in China or nowhere else. This here computer is a gen-you-wine Soviet original, from the computer foundries of Leningrad, I tell you what. This leg? Authentic pioneer firewood covered in real Corinthian leather, it is.
Do I know what I'm on about? No. I don't.
Anyway, here's a classic episode.
---
Wed, 13 June 2018
Last Seen…Talking about Family History – MiGS 246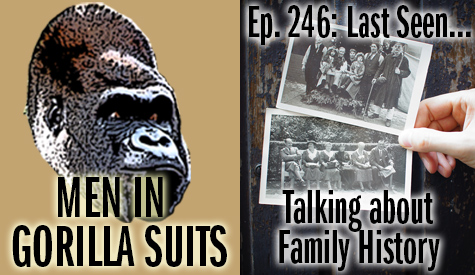 If the sons of the fathers are responsible for righting the sins of those fathers, Shawn slipped and Christopher did a fine job. Granted, Christopher's father was a wreck in many ways, and Shawn's father is so without sin that he might be Jesus (with muscles).
Both Gorillamen have done well by their ancestors if one decided to try quantifying it all. Need proof?
This week, we're talking about our family histories...
* * *
We kick it off talking about the first things we ever learned about our family histories -- and how we learned about family when we were kids. After that, we discuss how far back in history we can trace our families.
Find out the last time we discovered something shocking, funny, and terrible about our families...and then which side of our families is more interesting -- and dark.
We chat about our favorite deceased family members before discussing what kind of history we're each adding to our family names.
And we wrap it all up by talking about who the Endling is in each of our family lines.
---
Fri, 8 June 2018
Last Seen... Enjoying Nature! MiGS Ep. 101 (Classic)
I always knew nature was out to get me. Last night, while I was fixin' to get ready to post this podcast, a tree hit the transformer outside my house and plunged me into a day of darkness and a lack of modern technology.
I blame all trees, everywhere.
So anyway, here's an episode about trees and shit.
---
Fri, 1 June 2018
Last Seen…Playing the Lottery – MiGS Ep. 245
It would be funny if someone played these 6 numbers in the lottery and won:
13 - 21 - 28 - 38 -43 - 49
The winner is interviewed: "Was it a quick pick, or did you choose the numbers?"
Winner: "Men in Gorilla Suits picked for me...but I'm not giving those rotten bastards a penny. Oh, sure...you'd thinkI'd pay for domain hosting, audio hosting, and other charges for their show, but fuck those guys!"
This week, we're talking about the lottery!
* * *
We begin with when we were first aware of the lottery, if we've ever played the lottery, and if we currentlyplay the lottery.
Find out if we know anyone who's won a decent amount of money playing the lottery...say, $1,000 or more.
We chat about how much money we've won or lost in our lives playing the lottery...and if we've ever known anyone addicted to playing.
We devote some time to those who say they'd never want to win a lottery because they believe winning inherently destroys lives -- as well as why people feel entitled to demand money from lottery winners.
Find out if we think it's weird that many states with lotteries outlaw other kinds of gambling. After that, we talk about if we think those who say they have strategies for playing the lottery are on to something...or if they are just kidding themselves. (You can probably guess our answers.) Then we talk about how superstition factors into the lottery.
And we wrap it all up by chatting what we'd do if we won $500 million playing the lottery.
---
Wed, 23 May 2018
Last Seen...Covering Tunes! MiGS Ep. 83 (Classic)
I don't know when I first realized he was watching me. At first, I thought he just lived in the house two over from mine of Live Oak (even though I never saw him move in, and come to think of it, I never really see anyone coming or going from that house). I'm home a lot these days, and it seems like every time I go outside, there he is.
I wave. He says nothing and stares. I attempt a hearty "Hey Neighbor!" He just stares.
He's in the front yard at the house on Live Oak, pretty much all the time. What's weird, though, is he doesn't seem to be doinganything out there. He's just standing. Waiting. Staring.
I mentioned him to my wife the other day. She's never seen him.
So, anyway... here's Wonderwall.
---
Wed, 16 May 2018
Last Seen…Adulting – MiGS Ep. 244
Gorilla Christopher would have put this all together for Gorilla Shawn much earlier in the week, but he had a software release at work and some extra things to write. Bills had to be paid, and he's running errands in the evenings this week in preparation for some Paid Time Off (PTO) next week.
But that's all okay, because Gorilla Shawn recently started a new job at a ridiculously reputable company. He's also working on a hearing regarding property taxes and trying to live a solid adult life in between it all.
Adulthood...
Oh, sure -- some people have parents who attempt to prepare them for adulthood, but most of it is a matter of figuring it out as you go. (Like most things in life.)
[And there's something oddly liberating that comes along with the day of that realization.]
So sit back and listen to the Gorillamen talk about what it is to be...ADULT Men in Gorilla Suits...
* * *
We kick it off with a simple enough question: Is being an adult like you imagined it would be as a child? After that, we talk about what surprised us about adulthood...and at what age we considered ourselves adults.
Find out if we feel like adults most of the time. After that, we discuss our chores as children...and as adults.
Even prepared, adulthood is not without its surprises. We chat about hidden responsibilities of adulthood no one mentioned when we were kids...and then devote some time to the best -- and worst -- things about being adults.
We touch on if we ever miss being younger...before chatting about the following question: is adulting hard?
And we wrap it all up with our futures in the adult world.
---
Thu, 10 May 2018
Last Seen...(Probably Not) Joining Cults! MiGS Ep. 121 (Classic)
One thing Shawn and his wife spend way too much time doing is watching documentaries about cults. Like, a disturbing amount of time. Which probably explains why Shawn knows tons of disturbing shit about cults, which also probably explains this episode.
Or he's just a creepy mofo.
Probably a little of both.
---