Thu, 30 August 2018
Last Seen...Committing Crimes! MiGS Ep. 109 (Classic)
Contrary to popular belief, Christopher didn't do a dime in Joliet for armed robbery. He's also not at the Pizza Hut, so you can't find him there, so don't even look.
Shawn, however, did apparently smuggle meth in his bloodstream at some point, if his mug shot is any indication.
HEY LET'S TALK CRIME WHY NOT
---
Tue, 21 August 2018
Last Seen…Telling Lies – MiGS 251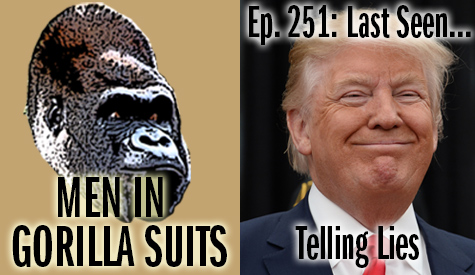 This is our last episode!
(That's a lie!)
We are "rebranding" to TrumpCast...an all-Trump, all the time podcast!
(That's a lie, too!)
We're liars, all right!
So...listen to us talk about lying for twelve hours!
(Or maybe an hour and change...)
(Damn Gorillamen liarheads! PANTS ON FIRE!!!)
(HATE those guys!)
Oh, but this is not a lie...you've heard us mention Curtis Hart many times on the show...perhaps, most notably, on the religion episode.
Well...his mighty-assed son had a medical setback. And, if it's in your heart to help out, you can...
On to the show...
* * *
We start with the first lies we remember hearing...and the first lies we ever told. After that, we go there: "Were you ever a habitual liar?" (Oh, Christopher...you sad, sad thing...) And then, find out the most outrageous lies we ever told.
But the past is the past: find out if we still lie today? (And why we might have stopped.)
We chat about why we think people lie...before talking about if we've ever been manipulated by lies. (Oh, Christopher...you poor, dear lad. Holy shit, that is TRAGIC!!!)
Hey, it's the day Cohen turned on Trump and Monafort went down on eight guilty counts (with more to [probably] come). So...how dangerous is it having a president who lies daily? (Yeah, we go there!)
After talking about the Circus-Peanut-Colored shit-lord of a president, we ask this simple question: Is it ever okay to lie?
Like it or not, there's a line between tiny lies many tell and BIG lies. We discuss where that line is, and then ask if society conditions people to lie...even a little bit.
And we wrap it all up with what advice we'd give to someone who lies a lot...
(Share YOUR lies in the comments below...)
(We believe you...)
---
Wed, 15 August 2018
Last Seen…Babbling – MiGS 250b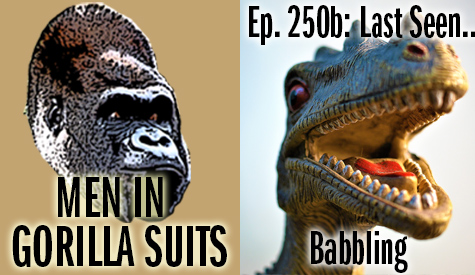 Before recording the Cruelty episode, the Gorillamen babbled as they often do.
In the past, when we've shared our more general pre-recording discussions, some people have liked listening in.
So...here's a mini episode instead of the usual between-weeks Classic episode...
* * *
Photo by Umanoide.
---
Wed, 8 August 2018
Last Seen…Being Cruel – MiGS 250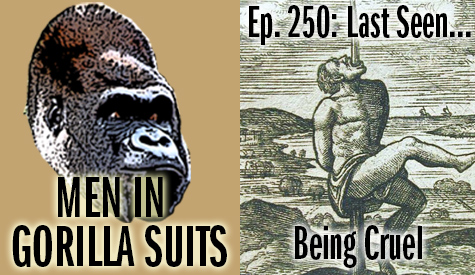 In honor of our 250th episode of Men in Gorilla Suits, we get happy...and talk about cruelty.
Of course, we try making the show fun -- and it's still a bit lighthearted for such a potentially dark topic -- but much of the humor comes from acknowledging what a dark subject it is this time around.
But hey, you get to find out the cruelest things the Gorillamen have done to other people, and we do address ways of dealing with and preventing cruelty. So there's that...
Obviously, this episode also gets a bit political...'cause, ya know...separating kids from their parents and not reuniting them is cruel.
You've been warned...
* * *
We kick it all off with the first time somebody did something cruel to us. Then we move on to whether or not we've ever done anything cruel to someone else...and why. (Please don't fear us!)
After all that, we chat about the cruelest things we've seen lately, and answer this question: is cruelty on the rise?
We talk about the Internet's role in modern cruelty -- and if cruelty and stupidity are linked.
We get a little more chipper when talking about the least cruel people we know, so there's that. And then we discuss why cruelty is more heinous than ordinary meanness.
And we wrap it all up with these two questions:
Is cruelty damaging us?
How do we fight cruelty?
But seriously, as dismal as the topic for our 250th episode is, it still has some very funny moments. Also, as we hit a fairly big milestone with this episode, if all you've ever listened to is this episode and are then like, "Fuck those gorilla guys -- they suck!" thank you for your time. Many podcasts never see episode 25, so we appreciate anyone who's listened to any of our 250 episodes...
---
Thu, 2 August 2018
Last Seen...Turning 25! MiGS Ep. 25 (Classic)
Who'da thunk this little ol' podcast that could would make it to TWENTY-FIVE whole episodes? Not me, dagnabbit. I'm just a crusty ol' Colorady prospector who keeps on finding pyrite in these here hills. I ain't got time to be patting myself on the back like these bandits here. THERE'S GOLD IN THEM THAR HILLS or so they tell me but I ain't found shit yet except these here TWENTY-FIVE episodes of this here podcast.
(Sometimes even I don't know what happens in my brain. Yes, I will seek some help. I'm lying, of course. I won't.)
See you back here next week for Episode 250!
---