Tue, 24 November 2015
Men in Gorilla Suits Ep. 147: Last Seen…Procrastinating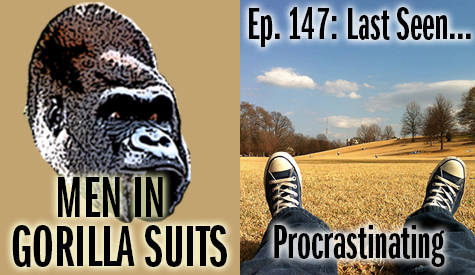 When we started Men in Gorilla Suits, we made an agreement to post episodes on Thursdays. It works out that we usually post on Wednesdays, though...with the rare Thursday posting.
With a holiday week in the states, we're posting on a Tuesday. It is not wasted on us that there's a certain humor in us posting an episode about procrastination two days early.
* * *
We begin this episode talking about if we are (or have ever been) procrastinators. After that [spoiler alert] we discuss the reasons we procrastinate -- going as far as chatting about the worst thing we've put off for later.
If you listen that far into the episode, you'll know we see strength in proper procrastination. We devote some time to when procrastination has been the best course of action in our lives before talking about the last thing we put off.
If you've ever wondered, "Who is the worst procrastinator the Gorilla Men know?" -- we answer that question. We also answer this one: "Why do humans procrastinate?"
We close out the episode discussing whether or not procrastination is generally a good or bad thing.
As always, the comments section awaits your feedback; you know, whenever you get around to it...
---
Wed, 18 November 2015
Men in Gorilla Suits Ep. 146: Last Seen…Being Powerful
The power we wield because of this podcast is staggering. We stand like two gods above the masses, our voices swaying your every thought!
Okay, so not really to any of that. We're just two guys with a podcast. (No one's ever done that before!) Some might say the listeners hold power over us; that if you didn't listen, we would have nothing. (Of course, if you listen regularly, you know we'd do this even if no one showed up. This podcast is simply about a good friendship, which -- to us -- is one of the most powerful things out there. We're like My Little Pony, without all the colors and cutie marks...although we both have tattoos (Shawn far outnumbering Christopher...we might even talk about that in this episode...we record often enough that it all kind of runs together. Sometime, recently, we talked about tattoos.))
Anyway...this week is the power-talk mashup. We talk about power as a thing many crave, but we also talk about power as physical strength and even pure energy. You even get to hear tales of minor (and not so minor) electrocutions. (Self inflicted, at that! We never claimed the power of intelligence, but where the power of curiosity lies, we are thunder!)
Christopher loved that damn game...
* * *
We begin this episode with our first memories of something powerful...and then go right into whether or not we crave power. After that, we talk about how we deal with powerful people.
Then we hop into time machines and discuss what act of power in history we would love to go back to witness. Want to find out the most powerful things we've ever done? We cover that before sharing stories of our [stupid] encounters with electricity. (If nothing else, our heads seem fairly impervious to electric shocks. But not really. And those shocks so close to our brains might explain a thing or two about the show.)
Find out not only what super powers we'd love to have, but why we'd choose them. And then we throw out another random power topic: what's the most powerful animal? We also share when we feel our most powerful.
We get a little serious and talk about how much a problem the abuse of power is in society...and the best ways to prevent those abuses. And we wrap it all up with how power of all sorts will change in the future.
You have power of your own in the comments if you so choose to make that power known...
---
Wed, 11 November 2015
Men in Gorilla Suits Ep. 145: Last Seen…Being Philosophical
How do you know you're really reading this right now? (We mean, other than you are sitting there reading and comprehending it.) So scratch that opening -- that kind of thing is not what we're into when talking about more philosophical things. We understand that at some point, many of those kinds of questions needed to be asked, but...that's not the kind of philosophy we're chatting about this week.
Every week, we drag philosophy into the show...even when dedicating an hour [and a special added interview with Christopher's mom] about poop! But it's not philosophy in the way you remember it in high school or college. Chances are, you have been philosophical about something today. And you will be tomorrow. So...we decided to finally dedicate an entire show to philosophy!
* * *
We begin by talking about the first time we were aware that there were different schools of thought in life, and then we jump right to what "philosophy" means to us. After that, we discuss the major school of philosophy we most -- and least -- identify with.
Some people consider religion and philosophy separate things (funny thing, semantics). Find out if we believe that, or if we think religions are just other philosophies. Then we chat about whether or not a philosophy can become a religion (and how it happens).
We tackle whether or not philosophy is a scalable thing (or if it's meant to be personal), before moving on to what personal codes we live by. Next, we talk about which or our core tenets have changed as we've moved through life...and which have remained the same.
As we near the end of the episode, we discuss whether or not we've taken any formal philosophy classes (and if they helped in some aspect of our lives), and then we wrap it all up with this question: "Is philosophy still relevant in today's society?"
We'd love to hear your philosophical thoughts in the comments.
---
Wed, 4 November 2015
Men in Gorilla Suits Ep. 144: Last Seen…Talking about Tools
These are just some of the tools we use to create an episode of Men in Gorilla Suits:
Our brains
Smartphones
Web-based email
Cars
2 Audio Technica ATR-2100 microphones
2 Gator Frameworks tabletop boom mic stands
Zoom H6 digital recorder
Computers
The World Wide Web
Adobe Photoshop
morguefile.com or unsplash.com (for images)
Skype (on occasion -- like this episode)
Audacity
Auphonic
This website
Libsyn
Tools can be as complex as the International Space Station or as simple as a stick used to dig holes or defend yourself. What some deem as tools, others claim are something else. (Are our brains really tools?) But there's not a person alive who won't use a tool of some sort today. So...we decided to dedicate an entire episode to the things that make life a little better.
* * *
We begin this week's episode talking about the first tool we remember seeing, and then...the first tool we ever used that helped define who we are.
After that, we discuss a tool we regularly use that many might not consider a tool. Next, it's back to school, where we ask if the use of traditional tools was taught to us at any point during our educations.
Most people associate tools with work. We dedicate some time to talking about working jobs where we've used what most would consider traditional tools, and then we jump to the one tool we cannot live without.
We constantly find new ways of doing things, and that usually involves new tools. We talk about some recent tools we've incorporated into our lives in recent years before chatting about the most badass, tough tool we've ever used.
It's not uncommon to use tools to make new tools to fit one's needs. Find out if we've ever invented or repurposed tools for other things, and also listen to us discuss out favorite tools of the trade. After that, it's on to the one tool we do not own that we'd love to have in our possession.
We close out this week's episode talking about the future. (Big surprise, huh?) Find out if we think humans will use more tools -- or fewer tools -- in the future.
And please consider the comments section your tool for telling us what you think about this episode.
---