Tue, 16 October 2018
Last Seen…Talking about Archaeology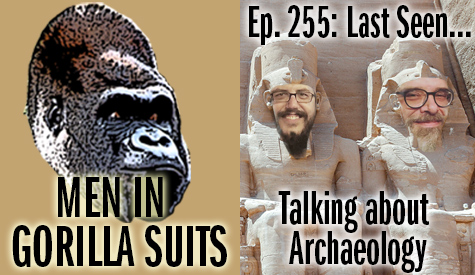 They are podcasters found in strata, fossils of a bygone era when people posted on the Interwebs series of tubes to be heard by 12 people. That was podcasting c. 2018.
The fossil record shows two enlarged skulls surrounded by microphones. Analysis determines two males 9 years apart. But when factoring in audible records, the younger of the two repeatedly claimed he looked older than the one called Old Man Christopher. (Some speculated Gorilla Shawn was a wizard.)
Records indicate that c. 2018 was the year people determined Young Old Man Shawn transformed from a sea captain look to that of Ivy League anthropology professor.
Their organs stuffed in jars determine two small and one medium to large size dog chewed on what once made them work, but enzyme samples show they regurgitated the organs, smart canines they were. Their podcast was their pyramids, two bespectacled gentlemen hoping the sands of time would hear what they had to say.
But they were no forgotten Ozymandiuses; in fact, we -- representatives from Planet Bolvoid-2-5872, in the year 5279 -- determined that when they released their 300th episode of The Gorillas in Man Suits Last Seen on Earth, that they arose to the status of audio gods.
So it is with great pleasure that we study their tiny bones -- especially their...well, you-know-what bones (huhuhuhuhuhuhuhuhuhuhuh), and learn all we can about the two who had the courage to cast the pods and be heard by a people...
* * *
We kick it off with our earliest memories of archaeology, and quickly discuss if we ever wanted to be archaeologists.
Find out if we have met, or are friends with, any archaeologists. After that, we talk about metal detectors...mostly so Christopher can gush about the TV show, Detectorists! (Seriously, people...watch it!) Sticking to that point, find out if we've ever found signs of human life no one else knew about. (Oh, and at this point...we find out Christopher has found three separate couples screwing in the woods. He failed to mention that he once found out he was in a room where two people on the floor quietly knocked boots! A story for another episode, perhaps.)
Next, we talk about the best big-time archaeology finds we've seen in person...and the best low-key finds. We chat about if we think archaeologists defile the dead and whether or not we think technology ruins (0r enhances) the search for lost civilizations.
We talk about fiction...specifically, the story we most love featuring an archaeologist or archaeological find. And then we babble a bit about what we consider the greatest (or simply: most favorite) archaeological find.
And we close it all out with the future of archaeology!
And seriously, people...watch Detectorists!
---