Fri, 28 April 2017
Men in Gorilla Suits Ep. 217: Last Seen…Talking about Advice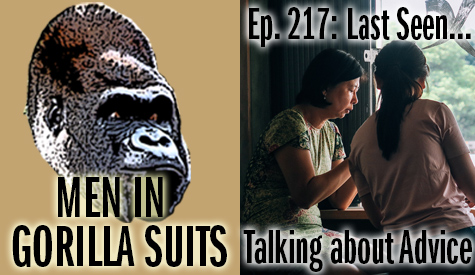 From a young age, most of us heard advice. Maybe some of it was actually good. But there comes a time when, later in life, you've either figured things out or you're simply not going to. And there are enough people doing marginally better than you who love to tell you and others how to live life...because they aren't doing such a great job with the adulting thing themselves. Knocking you makes them feel better about their lives.
And then there's us, two guys who offer one bit of advice at the end of every show. We don't expect you to take it, though...as you'll hear, we're not the biggest fans of advice...
* * *
Christopher is headed into the storms of East Texas for the annual writing retreat he does with a friend. So, in an effort to get the episode out, here's what we discuss this week:
What is the first advice you remember hearing?
Why do you think people like giving advice?
How do you go about giving advice?
Do you like receiving advice?
What's the best advice you've ever received?
What's the worst advice you've ever received?
What are your thoughts on unsolicited advice?
Where (or who) do you go for advice?
Has advice ever changed your life or the way you look at things?
How has the Internet -- particularly social media -- changed advice?
What are some problems with giving or receiving advice?
If you could give your younger self one bit of advice, what would it be?
Is there one bit of advice you'd give for society in general?
---
Fri, 21 April 2017
MiGS55 (Classic): Last Seen…Believing Urban Legends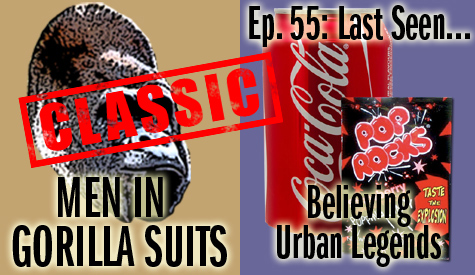 This Men in Gorilla Suits Classics episode goes back to Episode 55: Urban Legends...
* * *
The stories often seem too perfect ("...and then the doberman was choking...on the burglar's finger!"); the reassurance it's fact is shoddy at best ("I'm serious -- it's true! It happened to my cousin's best friend's boss' daughter's tuba instructor!")
The urban legend.
What is it that makes some stories endure for lifetimes, and how does the Internet play a part in their spread today? That's what we're talking about this week.
We begin the episode by discussing the most recent urban legend we've heard; in Christopher's case, it was told the night before recording this episode, proving that far-fetched stories are definitely not a thing of the past. In fact, we discuss how we live in the golden age of half-truths and bogus stories; in part, because they are so easy to share through social media. After discussing why we believe urban legends are so easy to spread, we talk about how urban legends can still endure when sites like snopes.com and other sources for answers exist.
Urban legends endure despite how ridiculous many of the stories are -- belief is more important than fact where they are concerned. We ask (and answer): "What human need do urban legends serve?" Then we step back in time and share the first urban legends we ever heard.
Some urban legends cross the line and become not just stories to share, but deep beliefs people insist are true to the end. Dispute these people's claims or present facts and it doesn't matter -- they are all in and nothing can change them. After devoting some time to that, we discuss a couple urban legends we've believed, if only for a short time. Moving on from there, we share the craziest urban legends we've ever heard.
It's clear urban legends are a big part of the human experience. Many tales, even before the age of the Internet, spread and became things people insisted were true all around the world. With Shawn and Christopher both moving about in their youth, they saw it first hand: almost every town seemed to have their own weird killers killing in the same manner as the town where they lived before, and on the outskirts of those towns there always seemed to be railroad tracks where -- if you turned your car off and sat on the tracks as a train came your way (usually at midnight) -- ghostly children who died in a bus crash would push your car to safety. We close out the episode asking each other if urban legends will ever die?
We'd love to hear the craziest urban legends you've ever heard -- share away in the comments!
---
Fri, 14 April 2017
Men in Gorilla Suits Ep. 216: Last Seen…Doing It Themselves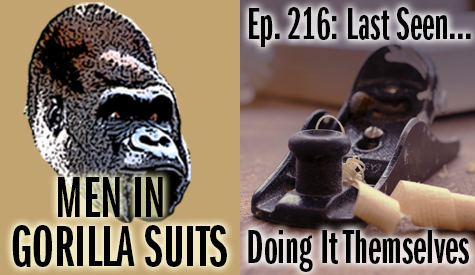 On February 7, 2013 we decided to do something on our own: start a podcast. In that time, we've started other shows, made things, and learned new stuff.
With access to so much information, it's fairly easy to learn the basics of even difficult repairs and builds. Maker culture seems to hang in the air; we, as a species, simply like making and repairing things.
Consider the many TV channels dedicated to home improvement. Hell, there's a channel called DIY.
DIY is not simply an 80s punk ethic. Every day, so many people make and repair things on their own...or with the help of a community of like-minded people. Doing it yourself is the topic of this week's show.
# # #
Here's what we talk about this week:
When's the first time you did something yourself that someone else usually did for you?
Do you consider yourself DIY?
Is DIY synonymous with thriftiness? Are all DIYers cheap?
What's the coolest DIY project you've ever seen?
The worst?
What was the thing you tried to do yourself that you really shouldn't have? Were you successful?
What was your most successful DIY project?
What's something you've never done yourself that you think you could easily do, but don't for whatever reason?
What's one project you'd like to try doing for yourself?
Does technology make DIY easier?
What's the future of DIY?
---
Wed, 5 April 2017
MiGS38 (Classic): Last Seen…Helping Themselves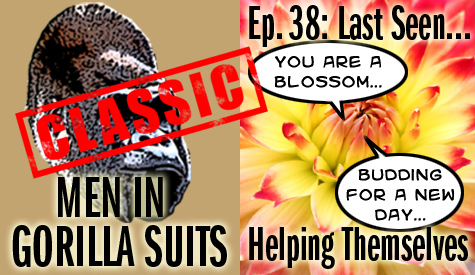 Oh, hello there, you wonderful, magical being, you. What's that sour face for -- don't believe us? You are magical...and...if you have just $99.99 to spare for our 20-cassette self-help system, you'll realize your full potential! Don't buy it, and continue to be miserable: the choice is yours. Salvation is just a credit card number away...

This week, we're all about self help! Now, we should clarify that there's nothing wrong with wanting to better yourself...even pay for help if needed. It's just, if you're going to take that step, it would seem a professional therapist might be a bit better than someone making up a pile of bullshit about how quantum physics works in an effort to sell you on yet another self-help system...
We begin the episode by talking about what image comes to our minds when we mention "self help." Then, we discuss whether or not any self-help book or system has ever helped us. After that, we leap into self-help things we've been subjected to in some manner. (It's probably pretty clear at this point that we're not the biggest fans of people preying on desperate people and selling them "help" in Holiday Inns across the country. In fact, Christopher is one degree away from someone fairly well known who "helps" people, but is really just out to take people's money...so we speak from some certain experience.)
While on the subject of self help, why not talk about Scientology and other religions that are little more than a pyramid scheme? Are they really out to help people, or is it all about pushing their own agenda? On a smaller level, we ask if there are self-help gurus who actually want to help people more than they want their money. Then we ask if self-help systems have a high percentage of success, or if they are just a scheme to help those running a system make a lot of money.
Then it's time to talk about some of the more outrageous claims made in the self-help industry. You could probably call this section of the podcast, "It's no secret how Christopher and Shawn feel about The Secret!" While hammering those who know nothing about science (but use junk science to back their claims), we roll all over certain health gurus who also make ridiculous claims in their grab for cash.
But while we don't spare the majority of an industry from ridicule, we do acknowledge the marketing machines behind the self-help industry...and how they have used social media to expand their empires. After discussing how easily people are swayed by "facts" that aren't facts, we ask the biggest question of all: "Is there any value at all in the self-help industry?"
We'd love to hear what you think about self help in the comments, and...we hope this episode of Men in Gorilla Suits helps you. If nothing else, we offer it for free!
---