Wed, 22 February 2017
Men in Gorilla Suits Ep. 212: Last Seen…Talking about Ideas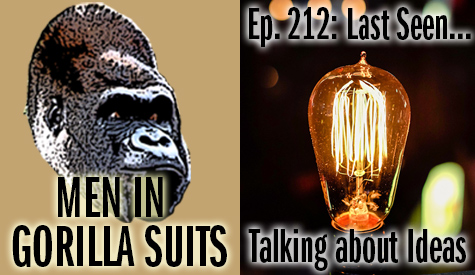 Men in Gorilla Suits started with an idea: "We should do a weekly podcast."
Then we came up with a variety of names...just random things that sounded cool. Shawn liked Christopher's idea to call the show "Men in Gorilla Suits." And that triggered an idea in Shawn: to name every episode beginning with "Last Seen..." as though we are not only Men in Gorilla Suits, but FUGITIVES ON THE RUN in Gorilla Suits.
That's it...that's the idea behind it all. Well, that and, "We can just talk about a geeky topic a week..."
Of course, that idea could have gone nowhere without effort. But 212 episodes into the show, we're finally talking all about ideas!
* * *
Here's what we discuss this episode:
What's the first original creative idea you remember having?
Where do you get your ideas?
Do you do anything with most of your ideas?
I've heard people say the ideas are the important part (i.e., I have the idea, you write the book, and we split the profits!). Do you agree?
How important are ideas?
What's the best idea you've ever had, creatively?
What about in life?
What's the worst, creatively?
In life?
Has anyone ever stolen your ideas?
What was the last idea you executed on?
What's more interesting: ideas or execution?
---
Thu, 16 February 2017
Men in Gorilla Suits Ep. 211: Last Seen…Being Weird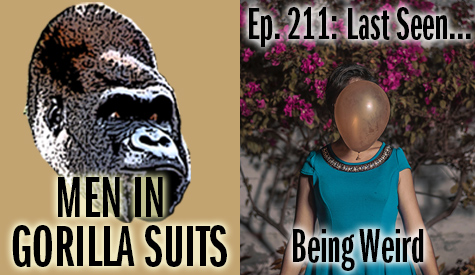 A list of the weird things we talk about this week...as we talk about...weirdness:
When did you first become aware of weirdness or weird people?
Have you ever been called weird?
Do you think you're weird?
I've met people who try to be weird. What would motivate a person to be weird – and does weirdness for the sake of weird work for you?
Who is the weirdest person you know?
What is the weirdest thing you've ever experienced?
Why are people attracted to weird things?
What are some of your favorite weird things?
Describe yourself when you were at your weirdest?
Can weird things ever become normal or even mainstream?
Over time, have you become more normal or more weird? (Why?)
Will there come a point where nothing is weird anymore?
---
Thu, 9 February 2017
Men in Gorilla Suits Ep. 210: Last Seen…Talking about Talent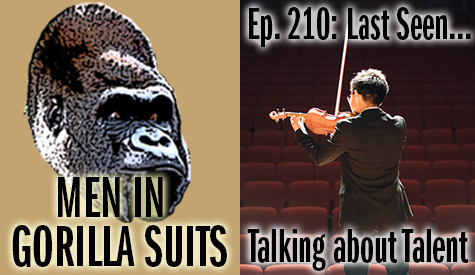 This week's talking points:
What was the first talent you discovered you had?
What was the first talent you wish you had?
Can talent take the place of hard work and practice?
Can hard work and practice eventually trump talent?
Who is the most talented person you know?
Who is the hardest worker you know?
Is there one that's better than the other (talent vs. hard work)?
Which do you possess more of? Talent Or work ethic?
Is it better to be lucky than good?
Is it better to be good than prepared?
Is it better to be prepared than trained?
What's one talent you'd like to develop?
---
Thu, 2 February 2017
Men in Gorilla Suits Ep. 209: Last Seen…Talking about Fan Fiction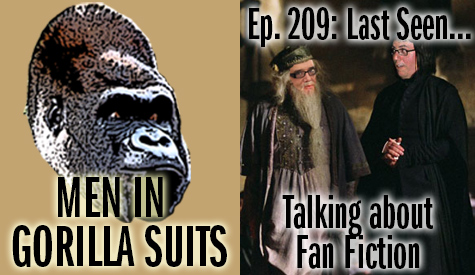 Busy week this week, but there was still time to turn us into Dumbledore and Snape for the episode art! Here's what we're talking about this week: Fan fiction!
* * *
When did you first become aware of fan fiction?
Why do you think people create and consume fan fiction?
Do you consume much fan fiction? Why or Why not?
Have you written fan fiction?
If you could only write fan fiction -- and only from one property at that -- what would you choose to focus on?
Fan fiction has a bit of a reputation as being sub-par writing. Do you find that to be true?
More than a couple writers have taken issue with fan fiction from their work...while others don't care. As a writer yourself, where do you stand on that?
How much does emotion play into the success of a work of fan fiction?
All right, let's go there. Slash/shipping/whatever we're into this year. What's up with that?!
A lot of people have consumed fan fiction and not known it. Any examples of mainstream pieces of fan fiction.
What's your favorite work of fan fiction?
What's the future look like for fan fiction?
---