Mon, 22 August 2016
Men in Gorilla Suits Ep. 186: Last Seen…Talking about Cleanliness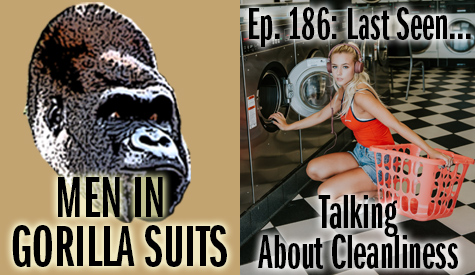 Everything...in its right place...
Cleanliness is next to Godliness...
Cleanliness has its place. It keeps us healthy, until it makes us sick if we take things too far.
Need something fast, organization and cleanliness gets you there quickly. Electronically or physically, there's no denying that cleanliness has its place.
So...we are keeping this description tidy and letting you all know this week's topic is all about cleanliness!
* * *
We kick it off by talking about the first time we realized there was this thing people did called "cleaning." After that, we talk about our cleanliness factors in the following times:
Childhood
Teen Years
Current Days
Find out where we place ourselves on a scale of 1 - 10 (with 10 being obsessively clean) when it comes to personal hygiene. Also find out if we are so clean that we deliberately avoid situations that can leave us muddy, dusty, or sweaty.
Ever lied awake at night thinking, "I wonder the longest the Gorillamen have gone without properly bathing?" We give you that answer...and then talk about how clean (or dirty) we keep our vehicles.
We then discuss whether or not Americans are obsessively clean (they are, at least where showering is involved).
There are conceptual phases of cleanliness. Find out if we have dirty minds...or if we keep clean processes when it comes to writing and other things in our lives.
And we close out this week's show with this: Have become clean to the point that we've made bacteria stronger? What role will cleanliness play in the future?
Let us know how clean (or not-so-clean) you are in the comments below...
---
Thu, 18 August 2016
Men in Gorilla Suits Ep. 185: Last Seen…Talking about War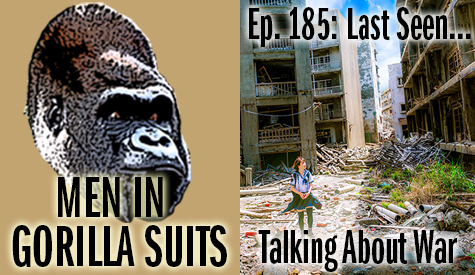 That wacky war, all good for the economy and giving nationalistic asshat Americans tiny hard-ons!
But is it all that bad? Have there been justified wars? Or is it all just proof that humans are a waste of carbon?
We talk all about war on this week's episode of Men in Gorilla Suits.
* * *
We begin this week's show on a happy note: talking about when we first became aware of war. (Fortunately, it was not in the same manner so many children have learned about war...by actually being in the middle of a friggin' war! WTF, adults?!) Then we discuss our reactions upon learning that we could die by enemy gunfire or a burst in the sky.
We then jump to whether or not we think any of America's [recent] wars have been justified...or any of our wars at all!
Things get even sadder when we chat about what has shaped history more: war or peace? Then it's on to family members who went to war, died in war, and what those who returned from war were like.
Find out if either of us have ever worked for the military-industrial complex, and then listen to us prattle on about whether or not war is good for the economy...and whether or not the American economy could survive without wars.
What's the next war we think we'll see America step into or start? We talk about that. And then we almost laugh (and cry) when answering this: do we think we'll see an end to war in our lifetime?
We wrap it all up on this happy note: is war ever necessary?
Hit the trenches, and leave a comment below if you are so inclined.
---
Tue, 9 August 2016
Men in Gorilla Suits Ep. 184: Last Seen…Taking Photos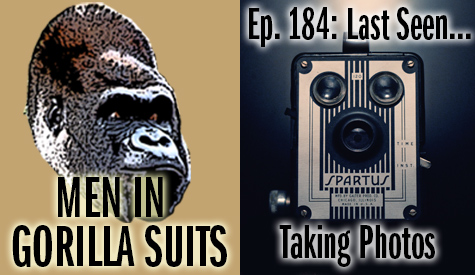 We don't know how many photos were taken worldwide in the time it took to write this sentence, but we're guessing it was a ridiculous amount.
With all the professional cameras, amateur cameras, security cameras, and smartphones, the number of photos taken in a day [even in small towns] must be high -- let alone, all around the world.
Camera technology changes quickly; the ability to take quality photos from things we carry in our pockets is beyond imagination to those who once looked at Fotomat kiosks as the epitome of convenience.
Oh, snap: the topic this week -- obviously -- is photography!
* * *
We begin by going back in time to talk about the first photos we remember affecting us...and then jump to whether or not we took many photos when we were younger. Find out what our first decent cameras were...and also if we've ever made money with photography. There's no denying times have changed when it comes to photography...we discuss whether or not shooting (and processing) film is somehow more "real" than shooting digital images.
We chat about why we think photography is such a popular form of art, and even devote time to whether or not we think photography is generally on par with painting, music, and writing. Sticking to that kind of thinking, we talk about whether or not photography gear matters in capturing good images.
It seems you can't go more than 10 minutes without seeing a selfie. We discuss whether or not the ability to share images through social media has made us vain...and how having cameras with us at all times (smartphones) has changed photography.
Find out how important photos are in our lives...as well as some of our all-time favorite photographs.
And we wrap it all up in the future...chatting about what photography will be like in the years to come.
---
Wed, 3 August 2016
Men in Gorilla Suits Ep. 183: Last Seen…Appropriating Cultures
Few things say "cultural appropriation" like a thin, white model -- barely dressed -- and wearing a warbonnet on her head. At the same time, there are so many things from other cultures people don't think twice about in America. Some will argue that appropriation of any kind is terrible; others claim it's bound to happen in a place where many people come together...that it can even help others come to understand what they may have once feared.
Cultural Appropriation is the topic of this week's episode of Men in Gorilla Suits.
* * *
We begin with whether or not we identify as white -- and what it means to be a white guy in America. After that, we talk about whether or not we identify as American -- and what that means to us. Next, we chat about whether or not we fit wholly within what most consider a white, male American...or if we've borrowed traits and ideas from other races and cultures.
We discuss the first thing we remember admiring about a different culture -- and whether or not we attempted to appropriate what we admired into our lives.
We've all appropriated something from other races and cultures...find out what we've brought into our lives and why we chose to focus on those things. (As always, it's mostly about all kinds of food with us!)
Using a scale of 1 - 100, we talk about how much we think we've personally been influenced by other cultures...as well as how much Americans in general have been influenced by others.
For some, cultural appropriation is much more than simply cooking a meal originating elsewhere in the world. We chat about extreme example of cultural appropriation, and then jump to the best -- and silliest -- uses of cultural appropriation we've seen.
Near the end of the episode, we discuss the one idea or concept from another culture we would like to see adopted in America, and then wrap it all up with this: In the future, do we think cultures will borrow from each other more or less?
---