Wed, 13 June 2018
Last Seen…Talking about Family History – MiGS 246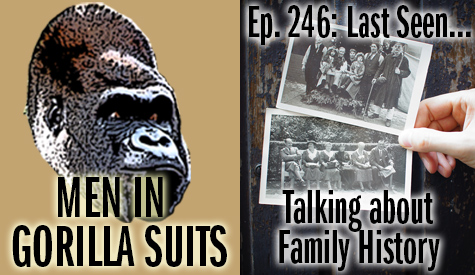 If the sons of the fathers are responsible for righting the sins of those fathers, Shawn slipped and Christopher did a fine job. Granted, Christopher's father was a wreck in many ways, and Shawn's father is so without sin that he might be Jesus (with muscles).
Both Gorillamen have done well by their ancestors if one decided to try quantifying it all. Need proof?
This week, we're talking about our family histories...
* * *
We kick it off talking about the first things we ever learned about our family histories -- and how we learned about family when we were kids. After that, we discuss how far back in history we can trace our families.
Find out the last time we discovered something shocking, funny, and terrible about our families...and then which side of our families is more interesting -- and dark.
We chat about our favorite deceased family members before discussing what kind of history we're each adding to our family names.
And we wrap it all up by talking about who the Endling is in each of our family lines.
---