Tue, 28 November 2017
Men in Gorilla Suits Ep. 232: Last Seen... Fucking Up!
Greetings and Felicitations, noble pod-people! Yes, I think I carried that off quite well. No way I fucked up that greeting! I am totally passing for one of you hew-mans!
Today on the magical internet radiola programme, we're talking about all the times we fucked up! See, there's times when you just don't get it right, and it's kinda your fault. But that's OK! The Gorillamen aren't here to judge, because, as you will learn in this podcast, we're kind of masters of fucking up.
We start, of course, with the first time we remember fucking up, before moving to our most recent fuckups. Then we shift gears a little bit to reminisce about the last time each of us was totally effed up on chemicals or booze or the like, and cover any embarrassing things we did while in our fucked-up states!
Then we move to the last times our bodies fucked up on us, which is pretty recent for at least one of the Gorillamen. We cover our biggest fuckups, our funniest fuckups, and the worst fuckups to which we've borne witness, all before discussing the role of technology in fucking up and (hopefully) coming up with plans to fuck up less in the future.
Got a time when you really fucked up? Share it in the comments!
---
Sat, 25 November 2017
MiGS Ep. 82 (Classic): Last Seen...Addicted!
Apologies for the late post and no new intro to this week's classic episode. It's been a busy week! And due to certain medical issues, it's the first day in a long while your old pal Shawn hasn't had any caffeine. He is addicted to caffeine.
Hmmm.... addiction would make a good episode topic! And if there's one thing about having done 250 episodes or so, it's that you've probably talked about a thing before! So this week, sit back, relax, and enjoy this classic Men in Gorilla Suits episode about addiction.
---
Thu, 9 November 2017
MiGS Ep. 95 (Classic): Last Seen...Surviving Apocalypses!
This is Gorilla 4-1 transmitting on frequency 1-1-5. I have no idea if this transmission is reaching you in the intended year of 2016, but be warned: the future is an apocalyptic hellscape now. You remember New York in the 70s? Like that, but with slightly more mutation.
Oh. Well, shit. My scientists are telling me that the furthest back we can reach is 2017. I really wish they'd mentioned that earlier. Sooooooo...
Mmmyep.
That first thing I told you? Eh, go ahead and forget that. It was all...well, it was all true, but you can't do shit about it now anyway. They're saying we have like an hour of transmitting time left, so...I dunno. Here's an old episode of Men in Gorilla Suits. Sucks that they both died when the thing happened...
I've said too much. End transmission.
---
Wed, 1 November 2017
Men in Gorilla Suits Ep. 230: Last Seen…Appropriating Cultures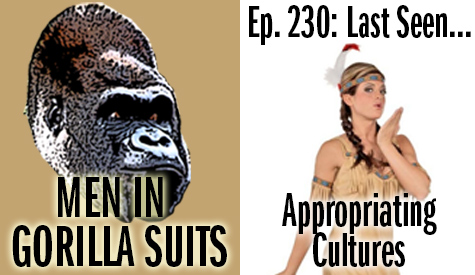 The Gorillamen took long weekends off work, but they did manage to record their first Skype episode in some time. About Cultural appropriation.
This is what they talked about:
When was the first time you heard the term cultural appropriation? What was the context?
My iPhone now auto-corrects cultural appropriation. Is that a sign of our times?
Have you ever appropriated another culture?
What is cultural appropriation to you?
Is cultural appropriation a huge problem in today's world?
What's the weirdest complaint of cultural appropriation you've seen?
The dumbest?
The most egregious example of cultural appropriation you've seen?
How common is cultural appropriation?
Where do we draw the line?
How do we fix the problem of cultural appropriation?
---