Tue, 9 January 2018
Last Seen...Talking about Ghosts – MiGS Ep. 235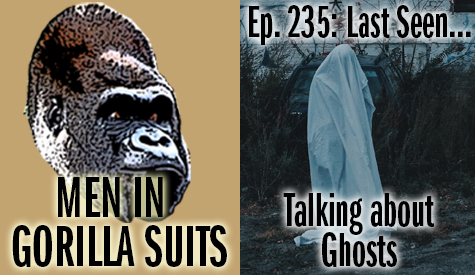 BooooOOOOOOoOooOooOOOOoooooOOooooooo...
G-g-g-ghoooOOOooOOooOOOoOOOOOoooooosts...
SpooOOOOooOOOOOOOOOOoooOOOOOOoooky...
We have cereal named after ghosts. Some of our biggest movies are about ghosts. As a species, we're obsessed with ghosts.
So this week, we strap on our proton packs and go a-ghost huntin'!
* * *
Right away, we establish if we believe in ghosts...or think they're bullshit. After that, we chat about people close to us who believe in ghosts...and if we've ever had strange experiences that made us question if ghosts are real.
We talk about why some people believe in ghosts, and then leap to our favorite ghost stories. Sticking to the thought of ghosts as entertainment, we discuss our thoughts about ghost hunting TV shows.
Ghosts work in certain ways according to legends. We devote a bit of time to the weird aspects of the popular mechanics of how ghosts haunt shit on up, and then we talk about some of the shittiest people on the planet: mediums who claim to channel the spirits of the deceased.
Ever lied awake at night wondering, "I wonder if the Gorillamen have ever used Ouija boards?" Well, finally, you will get your answer!
After all that, we talk about what we'd be like if we died and got to come back as ghosts.
And we wrap it all up with this question: Do you think people will always believe in ghosts?
Feel free to haunt the comments with your thoughts about this week's episode...
---