Tue, 7 March 2017
MiGS16 (Classic): Last Seen...Working Obsolete Jobs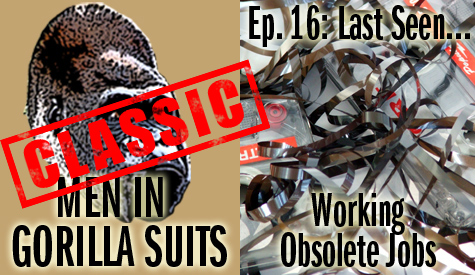 Welcome to Men in Gorilla Suits Classic: an old episode as Christopher finishes a book...and while Shawn gets even more buff at the gym.
Oh, sure, Shawn might play the humble card and be like, "No big..." but he's lifting closer to 20 tons a night than 15 -- enough that Christopher started lifting puny weights on work breaks today.
Speaking of that Christopher guy...thanks to all those who understand that him finishing his book is important. He really hates missing a week of Men in Gorilla Suits. In fact, he ALMOST posted the episode recorded a couple days ago and was then about to email Shawn saying, "If we get back to getting things done by mid-week and even double up on episodes, we can stick to the weekly thing!"
Because this IS a pretty impressive unbroken chain.
At the very least, you get this old episode...
Thanks for understanding...
* * *
Ah, to live the life as a National Hockey League rover, or to entertain the cigar-rolling masses as a Lector. To pump gas or serve as the director of photography on pornographic movies. To open your own Blockbuster Video store franchise or manufacture cassette tapes. These are jobs...some totally obsolete, some on their way out...
This week, it's all about jobs that no longer exist: some long gone, and some we've seen die in our own time. We talk about jobs that are fading, many jobs shoved into one catch-all job, and even discuss why outsourcing may not be the evil many believe it to be. (We might not be in the majority on this one.) We discuss how the "Good ol' days," were only good for some, and why our jobs these days is to simply figure things out. Of course, Shawn works Star Trek into the discussion, and Christopher entertains what a future in which computers write novels might be like. (Smash Gerbils reference goes to Deacon McClendon.)
We wrap it up by discussing how the Internet and nostalgia have brought some obsolete or dying jobs back -- kind of a grudging praise for...the Hipster! Also, wanna be a blacksmith? It's still a better option than many jobs that are on the way out! Don't believe us? Then give this episode a listen!
Note: This episode was recorded under the influence of copious amounts of caffeine (Shawn) and a couple Martinis (Chris). It's a bit frantic and wacky, and that, dear listeners = fun!
---