Wed, 1 March 2017
Men in Gorilla Suits Ep. 213: Last Seen…Drinking Coffee and Tea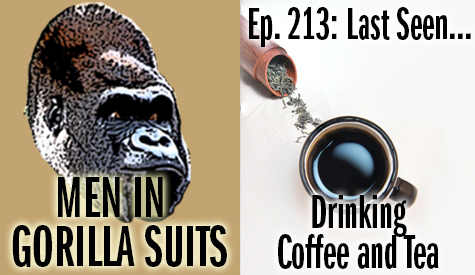 6:00 a.m.
You wake up in the dark. You don't want to get out of bed. You move in silence to the kitchen to remedy all that ails you with coffee.
Ah, the afternoon. The morning's coffee has worn off. Some return to coffee, but many others resort to tea.
Tea and coffee are the most popular drinks in the world following water. (And, some will argue, behind milk.) But even before sodas and juices, coffee and tea are kind.
Coffee and tea often fuel the Gorillamen, so...we dedicate this week to the beverages of the gods...
* * *
Before we get to coffee and tea, though, a quick note. After 213 episodes, we're temporarily moving Men in Gorilla Suits to an every-other-week schedule. Christopher is moving his other podcast, Not about Lumberjacks, to an every-other-month schedule as he gets his current novel into readable shape. To allow him a bit more focus, we're adjusting the Men in Gorilla Suits schedule until Christopher is done with the book.
And then things will resume as usual.
* * *
What we discuss this week:
What's your first memory of coffee?
What's your first memory of tea?
When was the first time you remember having coffee?
When was the first time you remember having tea?
Do you have a preference: coffee or tea?
Why do you think coffee and tea are such popular drinks?
What's the best cup of coffee you've ever had?
What's the best cup of tea you've ever had?
Have you ever gone a long time not drinking coffee?
When it comes to iced tea: sweetened or unsweetened?
Do you think people rely on coffee and tea a bit too much?
What's the future look like for coffee and tea?
---