Tue, 21 March 2017
MiGS32 (Classic): Last Seen...Talking History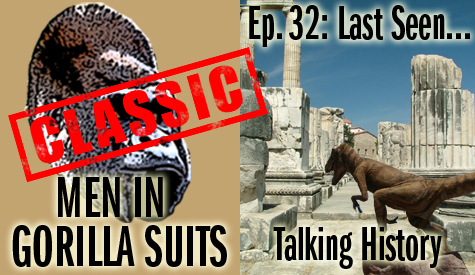 We once stepped back in time for this classic episode...
And, for those of you wondering, "When will Christopher be done with his damn book?!" it's flowing...but new chapters are happening as well. So...who knows. (But words are piling up!)
* * *
This isn't a boring history lesson, or an episode chock full o' trivial things like, "Hey, did you all know the first person to kill at the Battle of Hastings -- in 1066 -- was a juggler?" (<----- That's for real, right there! Don't mess with jugglers!) This episode is about our relationships with history. What many deem to be a boring subject really isn't when you consider how much the human mind lives in the past, whether it's a head full of nostalgia or thinking about your place in the universe...that's all history!
We begin the episode with a bit of personal history, discussing the first time we remember even thinking about the topic. Also, who (or what) got us interested in history? With that beginning, we move on to our favorite periods of American history and world history. Many "man on the street" interviews make it look like Americans know very little about history...we spend some time discussing if that's true before moving on to what history even is.
History takes hold more when it's presented as a story rather than a bunch of dates and events we must commit to memory. We talk about how this affects our perception of history, and then move on to how history is covered: is history really written by the winners, or are there places one can go to find all sides of a story? What are the best sources for understanding history -- and what are the worst? Where do we go when we're in a mood to take in some history? We close it out with the best representation of history -- and the worst -- we've seen in popular media.
If you're a history buff, we'd love to hear your thoughts about history...and if you think history is just a boring subject, we just might change your mind...
---