Wed, 15 March 2017
Men in Gorilla Suits Ep. 214: Last Seen…Talking about Texas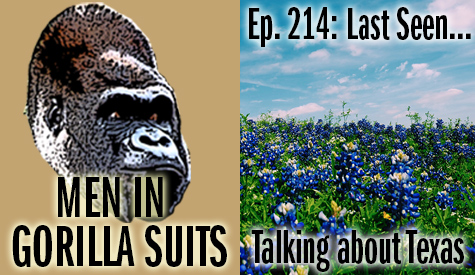 If you've lived in Dallas long enough, you see a certain pleasure in this episode about Texas being #214 (the classic Dallas area code). But is Dallas indicative of the Lone Star State, or for a true taste of Texas does one need to gaze upon a field of longhorn cattle? Is Ft. Worth more "Texas" than San Antonio, or must we all bow before the capital of Austin? Or is Texas something else entirely?
This week we're talking about Texas in all its glory (well, most of its glory). Like any state, it has its problems -- but a place so large really is like a country unto itself full of many wonderful things...
* * *
We begin with a simple topic: when did we first move to Texas? We each moved to Texas young enough to have experience with Texas public schools. Find out if we were impressed with the educational quality of the schools we attended.
After that, we chat about the various parts of Texas we've lived in...and visited. Keeping with that theme, we also devote time to the best town in Texas in which to live...and the best place to visit.
People from other places have their own ideas about what Texas is like. When they visit, it's often up to people living in the state to show them the "true" side of Texas. Find out where we take people to show them what the Bluebonnet State is all about.
After that, we talk about the best -- and worst -- things about living in Texas. And we wrap it all up with the weirdest thing about the state.
---