Tue, 27 June 2017
Men in Gorilla Suits Ep. 221: Last Seen…Talking about Design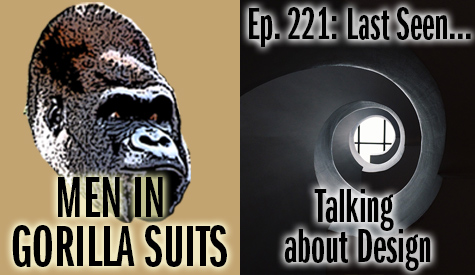 There is design to this page. There is design in most things you interacted with today...probably without your recognition.
Whether it's advertising or truly functional user experience; the place you live, or even your thoughts...many people put great effort into influencing others with design.
Hell, some people do it all simply for the sake of design.
This week, we're all about the D!
* * *
We begin with our earliest memories of people putting in an extra effort into this thing called design. After that, we chat about how aware we were of the effort put into everyday design. (Shawn's epiphany in and Arby's is rather beautiful!)
We chat about whether or not we've designed cool things...and what those things might be.
How does design affect mood? We talk about that...as well as how environment and upbringing affect design.
We get all hypothetical and chat about if we could be a designer of any sort...what we'd make. Then we talk about our favorite designers and what they've done.
How important is technology to design -- we chat about that! We also chat about how important design is to advertising. (Spoiler: it DRIVES advertising in every way!)
Some people love what they know. Are some designs so sacred that we should never alter them? We talk about that before wrapping it all up with the future of design...
These show notes are designed to filter down to driving people to a call to action in the comments. We understand that there's enough going on in our lives that commenting on a podcast blog is a thing of the past, but if you are so inclined...we will listen!
---
Fri, 23 June 2017
MiGS Ep. 110 (Classic): Last Seen... Talking About Rap and Hip-Hop
I know what really keeps you up at night. You're wondering, most of all, what two middle-aged white guys think about hip-hop and rap music.
There, there. It's all right. Your brilliant and not unattractive gorillamen are here to help, yo. Christopher and Shawn, the two whitest men on the planet, got together to talk about hip-hop, and now you get to hear it all over again. So pour yourself a gin and juice and enjoy this classic Men in Gorilla Suits Episode.
Word to your mother.
---
Wed, 14 June 2017
Men in Gorilla Suits Ep. 220: Last Seen…Talking about Metal Music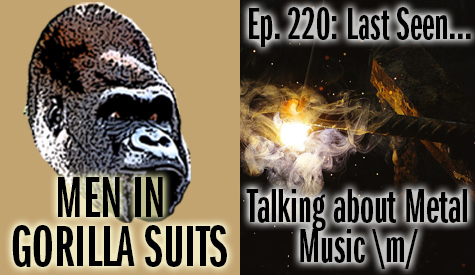 For the past couple years, Gorillaman Shawn has done another show -- a weekly look at metal bands and their influences called Metal DNA. While Christopher doesn't listen to much music these days, he was once rumored to rock out to Twisted Sister opening for Iron Maiden on Maiden's Powerslave tour in the mid-ish 80s. So it's a bit surprising that it took 220 episodes to talk about METAL!!!
And, because it must be shared whenever metal is mentioned, there's this:
* * *
We kick it off with the first metal songs we ever heard...as well as how we heard the tune (i.e. who got us into metal). After that, we talk about the best -- and worst -- genres and eras of metal for us.
We devote a bit of time to our all-time favorite metal bands, and then we jump into our fave metal tunes of all time.
Metal fans are a dedicated breed of all kinds of people, but there's definitely a stereotype for metalheads. Do they live up to that stereotype? We chat about that before discussing some metal shows we've seen live. (As well as a story about Christopher's one and only sad blind date.)
We like talking about time machines on Men in Gorilla Suits. Find out what metal concert we'd see if we could go back in time. And in the present, we talk about the most recent metal we've heard.
As [almost] always, we wrap up this episode with a look to the future, discussing what the coming years look like for metal and its fans.
Feel free to rock out in the comments if that's your kinda thing \m/
---
Fri, 9 June 2017
Men In Gorilla Suits Classic Episode 63 - Last Seen... Working
In this classic episode, we revisit the far-off land of April 2014, when Shawn was a drone at Microsoft and Christopher was a responsible adult holding down a real job. We get to hear the massive number of jobs the gorillamen have had, revisit their worst jobs, and hear them plug their writing, because that's what they did in the past.
Sho' Nuff!
---
Mon, 29 May 2017
MiGS92 (Classic): Last Seen…Talking about Death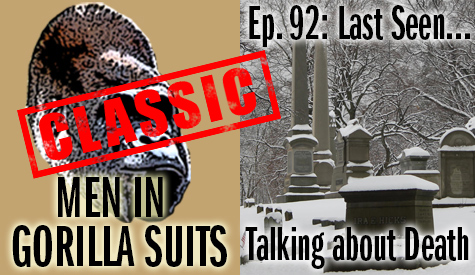 This classic Men in Gorilla Suits episode is about...Death!
Guess what? One day, you will die.
Shawn will die; Christopher will die.
Everybody dies.
It's such a cheery little topic, we decided to talk about death this week!
We begin by talking about our earliest memories that life one day ends -- and what caused that realization for us. Then we jump to discussing if we've ever been present when somebody has dies...and how it affected us.
Death can come slowly or instantly, and the way it hits people can vary. We dedicate some time to that before moving on to a short question: are you afraid to die?
Next, we take on the roll of a psychic and predict the ways we think we will die. Keeping the snowball of happiness rolling, we ask each other if we've ever thought about taking our own lives and...if we could find out when and how we will die, would we want to know?
As serious as death is, sometimes the way people die is strange...even funny. We talk about some of the stranger and humorous ways we've heard about people dying and then talk about movies.
Death is often the focal point of stories because we've all experienced someone dying. We talk about the best movies deaths we've seen. (We'd love to hear your answers in the comments below.)
There are usually rituals after someone's passing. We ask each other if there's a proper way to mourn one's death, and then talk about what we believe happens to us after we die.
We close out this week's episode by talking about what we would do differently with our lives if we found out we only had a year to live.
As always, we'd love to hear your thoughts about death and this episode in the comments.
---
Wed, 24 May 2017
Men in Gorilla Suits Ep. 219: Last Seen…Lashing Back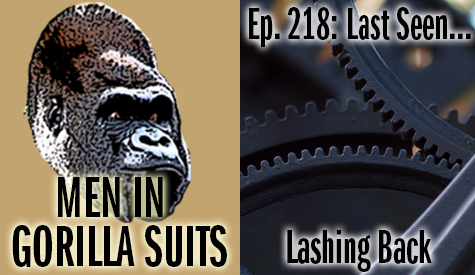 It seems one can't go more than a day without seeing somebody react to something out of a backlash reflex.
Why, you might even be saying, "I am tired of sweeping generalizations like that!" -- backlash responses are not that common!
(Thank you for proving our point.)
We all push back for so many reasons...or at least enough to put together an episode of Men in Gorilla Suits about backlash.
* * *
We begin by talking about our earliest memory of backlash -- and then move on to something we once liked, but no longer do, because of a backlash reaction.
We chat about why we think people push back at things over time. After that, we discuss whether or not we've experienced backlash over something we liked or did.
How important is backlash to politics -- and even society? We talk about that a bit. We also devote a bit of time to how social media has affected backlash.
We also discuss ways in which backlash is dangerous...as well as awesome -- and we talk about something we'd like to see face backlash.
Sometimes backlash is just a weird thing...you never know what will set someone off. We chat about that, and then wrap up this week's show with the future of backlash.
(In response to us asking you to leave a comment, be sure not to leave one, just because you're tired of being told what to do by people online...)
---
Mon, 8 May 2017
Men in Gorilla Suits Ep. 218: Last Seen…Being Anxious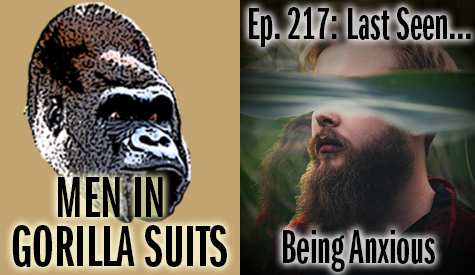 Because the last couple episodes have been loaded later in the week, we figured we'd load this one early. Here's why:
Sometimes we record episodes and, while making the damn thing, we know it's going to be a bit better than most episodes. Sometimes we're actually funny; other times, we're quick to thoughts and sound like we know what we are doing. Sometimes, we are very open about things -- maybe even too open for some.
This episode might be a bit of all those things as we talk about something not unknown to the world: anxiety!
* * *
We begin with this: have we ever had problems with anxiety? (That anxiety is this week's topic, the answer should be pretty evident.) After that, we talk about the first person we knew who struggled with anxiety.
Find out what makes us panic...and if we've ever had all-out panic attacks. Then we talk about how we deal with anxiety.
We're guessing we all know somebody who struggles with anxiety to various degrees. We chat about what we do to try to help those people...and then discuss the dumbest things that have caused anxiety in our lives.
Lives eventually end. Death is a source of stress for many people. We talk about whether or not we often think about death -- and if it makes us anxious when it's on our minds.
Finally, we wrap it up with this: what is the cure for anxiety (or does a cure even exist)?
As always, feel free to comment on this week's episode below.
---
Sat, 6 May 2017
MiGS123 (Classic): Last Seen…Aging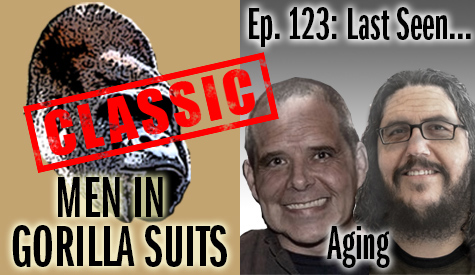 This Men in Gorilla Suits Classic episode is about aging...
As you read this sentence, you're getting older. Now you're even older than when you started reading this entry. You can step away and turn your head, hoping to not be reminded that you are aging, but time marches on.
Forward...
Always...
This week, we're talking about aging!
We begin by talking about the first time we realized that childhood was temporary -- that one day we would become adults. But aging is not all bad...we discuss the first time we were aware of our bodies aging in positive ways. After that, though, we talk about some negative things we're felt or experienced as we've aged. We also talk about age-related problems we've noticed...and age-related problems that scare us.
Hundreds of years ago, we'd probably be dead by now. We devote some time to the positive and negative effects of longer lifespans in modern times -- and then talk about how old we want to live to be.
We also chat about some benefits of getting older and whether we consider ourselves old, middle aged, young, or something else entirely.
We wrap up this episode on the front lawn (chasing off those damn kids!) to discuss whether or not we are, indeed, getting "too old for this shit!"
As always, we'd love to hear your thoughts about aging in the comments.
---
Fri, 28 April 2017
Men in Gorilla Suits Ep. 217: Last Seen…Talking about Advice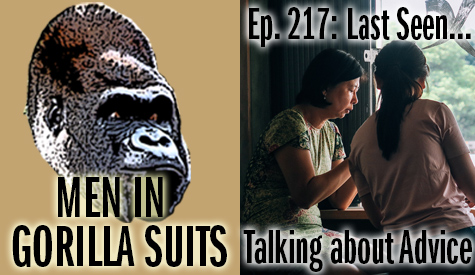 From a young age, most of us heard advice. Maybe some of it was actually good. But there comes a time when, later in life, you've either figured things out or you're simply not going to. And there are enough people doing marginally better than you who love to tell you and others how to live life...because they aren't doing such a great job with the adulting thing themselves. Knocking you makes them feel better about their lives.
And then there's us, two guys who offer one bit of advice at the end of every show. We don't expect you to take it, though...as you'll hear, we're not the biggest fans of advice...
* * *
Christopher is headed into the storms of East Texas for the annual writing retreat he does with a friend. So, in an effort to get the episode out, here's what we discuss this week:
What is the first advice you remember hearing?
Why do you think people like giving advice?
How do you go about giving advice?
Do you like receiving advice?
What's the best advice you've ever received?
What's the worst advice you've ever received?
What are your thoughts on unsolicited advice?
Where (or who) do you go for advice?
Has advice ever changed your life or the way you look at things?
How has the Internet -- particularly social media -- changed advice?
What are some problems with giving or receiving advice?
If you could give your younger self one bit of advice, what would it be?
Is there one bit of advice you'd give for society in general?
---
Fri, 21 April 2017
MiGS55 (Classic): Last Seen…Believing Urban Legends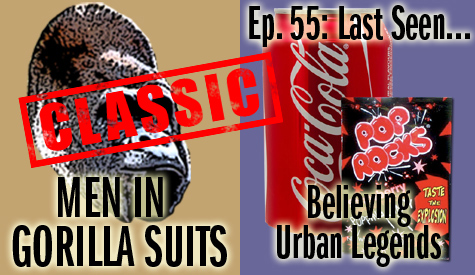 This Men in Gorilla Suits Classics episode goes back to Episode 55: Urban Legends...
* * *
The stories often seem too perfect ("...and then the doberman was choking...on the burglar's finger!"); the reassurance it's fact is shoddy at best ("I'm serious -- it's true! It happened to my cousin's best friend's boss' daughter's tuba instructor!")
The urban legend.
What is it that makes some stories endure for lifetimes, and how does the Internet play a part in their spread today? That's what we're talking about this week.
We begin the episode by discussing the most recent urban legend we've heard; in Christopher's case, it was told the night before recording this episode, proving that far-fetched stories are definitely not a thing of the past. In fact, we discuss how we live in the golden age of half-truths and bogus stories; in part, because they are so easy to share through social media. After discussing why we believe urban legends are so easy to spread, we talk about how urban legends can still endure when sites like snopes.com and other sources for answers exist.
Urban legends endure despite how ridiculous many of the stories are -- belief is more important than fact where they are concerned. We ask (and answer): "What human need do urban legends serve?" Then we step back in time and share the first urban legends we ever heard.
Some urban legends cross the line and become not just stories to share, but deep beliefs people insist are true to the end. Dispute these people's claims or present facts and it doesn't matter -- they are all in and nothing can change them. After devoting some time to that, we discuss a couple urban legends we've believed, if only for a short time. Moving on from there, we share the craziest urban legends we've ever heard.
It's clear urban legends are a big part of the human experience. Many tales, even before the age of the Internet, spread and became things people insisted were true all around the world. With Shawn and Christopher both moving about in their youth, they saw it first hand: almost every town seemed to have their own weird killers killing in the same manner as the town where they lived before, and on the outskirts of those towns there always seemed to be railroad tracks where -- if you turned your car off and sat on the tracks as a train came your way (usually at midnight) -- ghostly children who died in a bus crash would push your car to safety. We close out the episode asking each other if urban legends will ever die?
We'd love to hear the craziest urban legends you've ever heard -- share away in the comments!
---