Thu, 9 November 2017
MiGS Ep. 95 (Classic): Last Seen...Surviving Apocalypses!
This is Gorilla 4-1 transmitting on frequency 1-1-5. I have no idea if this transmission is reaching you in the intended year of 2016, but be warned: the future is an apocalyptic hellscape now. You remember New York in the 70s? Like that, but with slightly more mutation.
Oh. Well, shit. My scientists are telling me that the furthest back we can reach is 2017. I really wish they'd mentioned that earlier. Sooooooo...
Mmmyep.
That first thing I told you? Eh, go ahead and forget that. It was all...well, it was all true, but you can't do shit about it now anyway. They're saying we have like an hour of transmitting time left, so...I dunno. Here's an old episode of Men in Gorilla Suits. Sucks that they both died when the thing happened...
I've said too much. End transmission.
---
Wed, 1 November 2017
Men in Gorilla Suits Ep. 230: Last Seen…Appropriating Cultures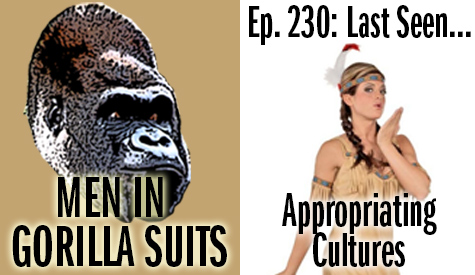 The Gorillamen took long weekends off work, but they did manage to record their first Skype episode in some time. About Cultural appropriation.
This is what they talked about:
When was the first time you heard the term cultural appropriation? What was the context?
My iPhone now auto-corrects cultural appropriation. Is that a sign of our times?
Have you ever appropriated another culture?
What is cultural appropriation to you?
Is cultural appropriation a huge problem in today's world?
What's the weirdest complaint of cultural appropriation you've seen?
The dumbest?
The most egregious example of cultural appropriation you've seen?
How common is cultural appropriation?
Where do we draw the line?
How do we fix the problem of cultural appropriation?
---
Thu, 26 October 2017
MiGS Ep. 103 (Classic): Last Seen... Sick and Injured!
Chris and Shawn are FUCKED UP, yo.
No, they're not high, or anything. Nothing that would make them seem cool. It's more... well, when Shawn was in middle school, he saw an educational film about conditioning, and this dumb kid kept touching a hot stove burner. Christopher and Shawn are like that stupe, constantly injuring themselves in a vast array of blood and busted limbs.
Also they get sick and sometimes it's not their fault.
But mainly stupid shit.
Enjoy this classic episode!
---
Wed, 11 October 2017
MiGS Episode 39 (Classic): Last Seen…Celebrating Halloween!
Like a department store that puts its Christmas shit out waaaaaay too early, we just couldn't hold our Halloween episode for the appropriate date (and by we, I mean Shawn). Hey, at least it's in the correct month!
Travel back to Year One of Men in Gorilla Suits, and listen as we discuss shitty costumes, awesome candy, irrational fear of the month of October, and more! Probably!
BOO!
---
Tue, 3 October 2017
Men in Gorilla Suits Ep. 228: Last Seen…Talking about Horror Movies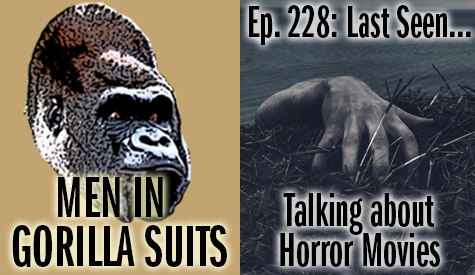 It's October and -- somehow -- we've not talked about horror movies in hundreds of episodes. So...we remedy that.
* * *
It's a busy week in Gorillamenville, so no real commentary -- just what we discuss this episode:
What's the first horror movie you remember seeing? What impression did it make on you?
Are you a fan of horror movies?
What was the last horror movie you saw?
When was the best era for horror movies?
The worst?
What's the best horror movie you've ever seen?
The most fucked-up?
What makes a horror movie work, in your opinion?
Assuming you are exactly as you are now (no special powers, etc.), which horror movie could you best survive?
What's the dumbest horror movie you've ever seen?
What's the future of horror movies?
---
Thu, 28 September 2017
Men in Gorilla Suits Ep. 231: Last Seen…Being Laid Off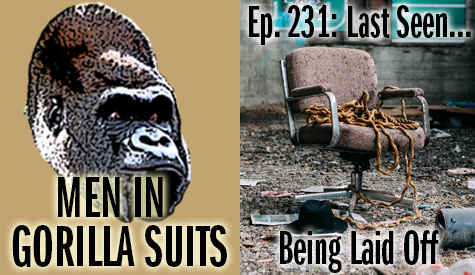 Layoffs are a way of life in America. It seems that one of the easiest ways to make 4th quarter numbers is to cut a bunch of people at the end of the 3rd quarter.
The days of working at a place for 30-40+ years is long gone...today, you're lucky to see five years at a job.
Right now, the company where Christopher works is dealing with more cuts...so...it seemed like a good topic for the week!
* * *
We kick it off with this: who is the first person we remember being laid off from a job? After that, we discuss why we think layoffs have become more common in recent years.
There was a time you walked into a job, were willing to work, and retired at that place. That kind of situation is a thing of the past, however. Find out, if it were possible, if we'd work at a job for 30 years like "the good old days?" -- or if we'd be more like mercenaries and jump to better incomes and different job duties?
We chat about how layoffs factor into job loyalty...or a lack of it -- and then go into how many times we've been laid off. We also share some funny layoff stories, and then talk about whether we've ever been fired from a job...and how that's different than a layoff.
Find out how we prepare for layoffs...and how long we typically work at a job before layoffs come around.
We discuss whether or not layoffs are hard on us -- and why we think they are so hard on some people.
And we wrap it all up with the future, wondering if we will ever stop laying off so many people...or if this is just the way it is today...
Feel free to share your layoff stories in the comments...
---
Thu, 28 September 2017
Men in Gorilla Suits Ep. 229: Last Seen…On the Water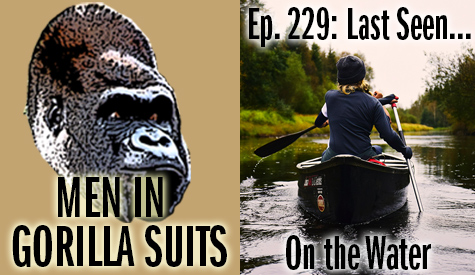 Summer's gone, and that means some lakes will soon be covered in ice. Memories of swimming and boating will have to carry some through to next year. But others have warm oceans that offer underwater dreamscapes year-round -- and it's rare in a place like Texas that a lake will ever ice over, allowing for some forms of water recreation any month of the year.
We came from water, so it's no surprise we spend so much time returning to it as well. So, this week, we're talking about water recreation...
* * *
We kick it all off with memories of our first swimming experiences -- as well as our first memories of being in a boat.
Find out if we're big fans of water recreation, or if we like having our feet planted firmly on land.
After that, we talk about the last time we did something on, in, or under water -- and things humans do in water that blow us away.
The cruise industry is pretty ridiculous, and we devote some time to chatting about if we've ever been on a cruise (or would like to).
Find out the dumbest thing we've done in the water -- and the fastest we've ever traveled across it.
Do the Gorillamen SCUBA dive (or would they like to learn)? Find that out -- as well as our most memorable experiences on the water.
Water freezes in some places...and the Gorillamen have lived in those kinds of places. We chat about things we've done on ice -- and then wrap it all up talking about something we'd like to do on, in, or under water someday...
Feel free to share some of your best water memories in the comments section.
---
Wed, 27 September 2017
MiGS Ep. 135 (Classic): Last Seen… Watching True Crime TV
What's creepier than a clown in a sewer that eats children? How about a middle-aged Kentucky Fried Chicken Franchise Operator who kills children, stashes them in his floorboards, and sometimes *dresses* like a clown?
This week, we talk about what Shawn calls Murder Shows, but the rest of the world calls True Crime TV. Marvel at bad impressions, and our heroes treating the most serious of subjects — actual people who were actually murdered — with the same tact and compassion with which they treat everything.
So you *know* that's not gonna go well.
---
Thu, 21 September 2017
Men in Gorilla Suits Ep. 227: Last Seen…Adapting
We come from the water. We change...adapt.
We learn new ways of doing things...more times than not, better ways.
We adapted so well that we now adapt the things we adapted -- a strange mental and biological origami move that we will never stop...everything folding in and over on itself until new forms emerge.
So, with this in mind, this week the upright(ish)-striding Gorillamen talk about adaptations in many various forms...
* * *
We kick it off talking about the first things we remember adapting to...before moving on to how well we adapt to change (and what's been the hardest things we've had to adapt to in life).
Next: people often fume about adaptations of entertainment -- like books to movies. We discuss adaptations better than their original material, our favorite adaptations...and the worst. We also take some time to talk about something we'd love to see adapted from one thing to another.
Find out what animal adaptation we'd take...and how well we believe we -- as a species -- have adapted to technology.
We get a bit more serious in discussing if we think there will ever be a point at which we will all adapt to changes in climate, hatred, and other things that ail us as a species.
Then, we devote a bit of time after that to how well we think humans have adapted to growing as a species...and if we're ready to adapt to life deeper in space.
And we wrap it all up in the future, wondering if we're ready for all it holds.
---
Thu, 14 September 2017
MiGS Ep. 102 (Classic): Last Seen… Talking Fantasy Football!
If Christopher's score this week in Fantasy Football is X, Shawn's score can be equated thusly:
(x/2)+5.51
Which is bad. Because Shawn is bad at Fantasy Football, and he should feel bad. But he doesn't. Because it's all just fun and games, right?
Right?!
The Gorillamen explore these questions and (at least one) more in this week's classic episode!
---