Thu, 9 February 2017
Men in Gorilla Suits Ep. 210: Last Seen…Talking about Talent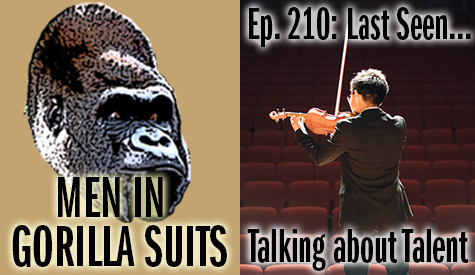 This week's talking points:
What was the first talent you discovered you had?
What was the first talent you wish you had?
Can talent take the place of hard work and practice?
Can hard work and practice eventually trump talent?
Who is the most talented person you know?
Who is the hardest worker you know?
Is there one that's better than the other (talent vs. hard work)?
Which do you possess more of? Talent Or work ethic?
Is it better to be lucky than good?
Is it better to be good than prepared?
Is it better to be prepared than trained?
What's one talent you'd like to develop?
---
Thu, 2 February 2017
Men in Gorilla Suits Ep. 209: Last Seen…Talking about Fan Fiction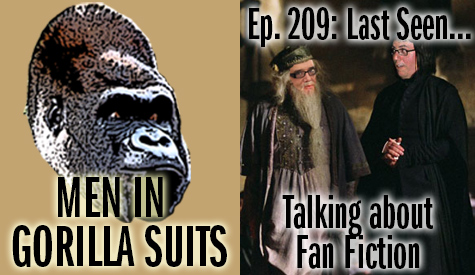 Busy week this week, but there was still time to turn us into Dumbledore and Snape for the episode art! Here's what we're talking about this week: Fan fiction!
* * *
When did you first become aware of fan fiction?
Why do you think people create and consume fan fiction?
Do you consume much fan fiction? Why or Why not?
Have you written fan fiction?
If you could only write fan fiction -- and only from one property at that -- what would you choose to focus on?
Fan fiction has a bit of a reputation as being sub-par writing. Do you find that to be true?
More than a couple writers have taken issue with fan fiction from their work...while others don't care. As a writer yourself, where do you stand on that?
How much does emotion play into the success of a work of fan fiction?
All right, let's go there. Slash/shipping/whatever we're into this year. What's up with that?!
A lot of people have consumed fan fiction and not known it. Any examples of mainstream pieces of fan fiction.
What's your favorite work of fan fiction?
What's the future look like for fan fiction?
---
Thu, 26 January 2017
Men in Gorilla Suits Ep. 208: Last Seen…Talking about Other Dimensions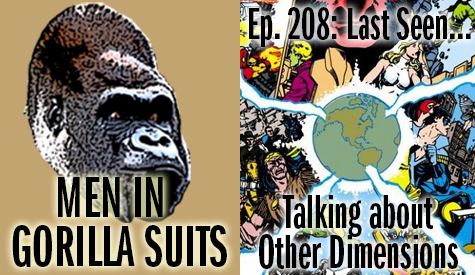 Christopher might be writing this from Earth-13. But in Earth-27, Shawn is Christopher...but he might be a minotaur in a trenchcoat who starred in Earth-975's version of Highlander. Because really, that's all I (I mean Shawn) has ever aspired to being (and doing).
But in Earth-4,285,792, everything happened exactly like this, but Christopher is a black lab hoping you believe that Shawn is a minotaur.
The best thing about Earth-4,285,792? Obama is still president...and Abe Vigoda is still alive. (Almost as great as Earth 7,926, where Abe Vigoda is president!)
This week, we're talking about other dimensions...
* * *
We kick it off talking about our understanding of the Mandela Effect, and then jump to discussing if we believe in parallel universes/multiverse theories.
Find out how we conceive alternate realities, and find out if we believe we are all moving among different realities all the time.
Then we talk about something we can prove is real: stories about alternate realities. (At least in the dimension/reality in which you are listening to this. Unless it's a dimension where you can listen to podcasts from other dimensions. Anyway...) We talk about the best, worst, and silliest works of alternate realities fiction.
After that, we chat about what advice we'd hope other versions of ourselves would offer us if we somehow visited other dimensions where other versions of us exist.
Then we discuss whether or not we find much credibility in the conspiracy theory that "aliens" are from an alternate dimension (disclaimer: credibility AS COMPARED TO the conspiracy theory where they come from other planets)?
We talks about what the best -- and worst -- versions of ourselves might be doing in other dimensions. And we wrap it all up with a discussion about our belief (or disbelief) that science will find a way to not only prove, but view/visit other planes in the multiverse?'
In another dimension, you've already left a comment below, but in this reality you have not. Feel free...we do not bite!
---
Wed, 18 January 2017
Men in Gorilla Suits Ep. 207: Last Seen…Talking about Architecture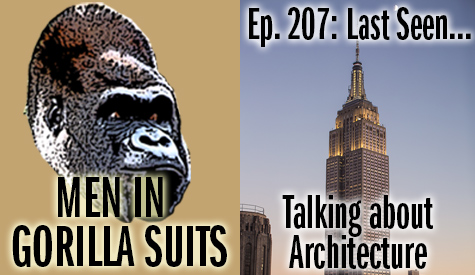 In honor of talking about architecture this week, we share with you the framework this episode was built upon:
When did you realize there was this thing called architecture?
What is your favorite thing about architecture?
Your least favorite?
Do you have a favorite architectural period? When?
What are some of you favorite architectural works (or even architects)?
Neither of us live in architectural masterpieces, but...there are cool things about where we live. What are some of your favorite architectural aspects of your home and neighborhood?
If money and location were no issue, what would your dream home look like?
Does architecture matter? i.e. Why make something visually appealing vs. simple boxes?
Has the architecture of a place of employment ever affected the way you looked at work?
Places like Dubai are known for its architecture. But can such grand places be sustained for decades to come?
Amazon filed a patent for floating distribution centers. How do you think advances in technology will affect architecture in the near future?
What is the future of architecture?
---
Sun, 8 January 2017
Men in Gorilla Suits Ep. 206: Last Seen…Talking about Winter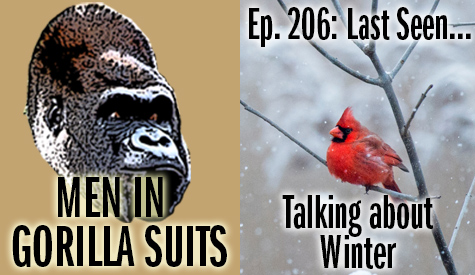 Friday, it even snowed in Texas. (It was enough that many blow-hards who ignored recent days in the low to mid 80s are saying, "Haw haw haw, to much for climate change!")
Much of the nation, all the way down to Florida, is in the grip of cold and snow and ice.
It seemed like a good time to talk about winter.
* * *
We kick this week off talking about the first winters we remember, and then leap to where winter ranks for us compared to other seasons. After that, we talk about the worst -- and best -- winters we remember. Sticking to best and worst, we also share our favorite winter memory...as well as a winter horror story.
Find out the coldest winter weather we've ever experienced...and what we like most -- and least -- about winter.
We discuss how winters have changed for us since childhood before chatting about some of our favorite winter activities...and the winter activities we aren't so fond of.
And we wrap it all up with why we love (or hate) winter.
You're probably cold and maybe even snowed in; it's a good time to leave a comment below...
---
Tue, 3 January 2017
Men in Gorilla Suits Ep. 205: Last Seen…Talking about 2016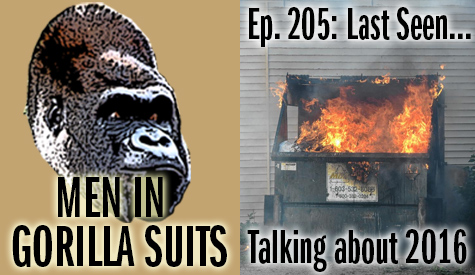 According to many people, 2016 was a dumpster fire. A lengthy election season in the US and a bunch of dead celebrities didn't help matters. Others didn't see it as bad.
For our first episode of Men in Gorilla Suits of 2017, we take a look back at the year that was...
* * *
We begin with how we rang in 2016. From there, we jump right to our best memory of 2016.
A lot of celebrities died in 2016. We talk about the celebrity death that hit us hardest -- and then we chat about how we plan to deal with the results of the 2016 election this year...and beyond.
We discuss things we discovered in 2016, and then devote some time to our favorite -- and least favorite -- things about the year.
We talk about things we brought into our lives in 2016...and some things we shed.
After that, we talk about our favorite accomplishments of the year...and chat about some of the trips we took.
As nice as it is looking back, we like to end by looking toward the future. We wrap up the episode with our feelings about 2017 holds.
How was 2016 for you? Any resolutions or plans for 2017?
---
Wed, 28 December 2016
Men in Gorilla Suits Ep. 204: Last Seen…Telling the Truth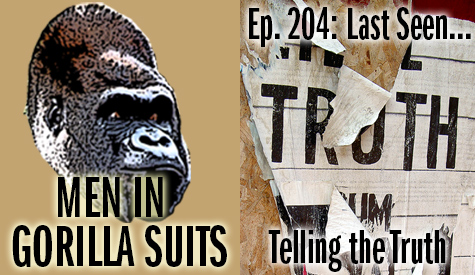 It's easy to say, "Nobody's honest anymore!" but were we ever honest to begin with? Or has, perhaps, the ability to research fact from fiction made us more honest?
Why people tell the truth -- or lie -- is this week's topic.
* * *
We begin back in the past, when we first became aware of truth and lies. Find out if we were honest or liars as children...and how we fare as adults. We also devote some time to whether or not the people we know (or whom we're even close to) tell the truth.
Truth in media has become a hot topic of many conversations. Does truth in media exist anymore? Also: has truth always been nebulous, or is that a recent development?
Then we get a bit deeper and talk about whether it's even possible to know the truth about anything at all.
Do people in power sometimes have to lie? We devote some time to that before moving on to whether or not there is a Real Ultimate Truth™ in the universe.
And we wrap it up by discussing if there will ever be a time humans are truthful...or if some form of lying will always be with us...
---
Fri, 23 December 2016
Men in Gorilla Suits Ep. 203: Last Seen…Talking about Speculative Fiction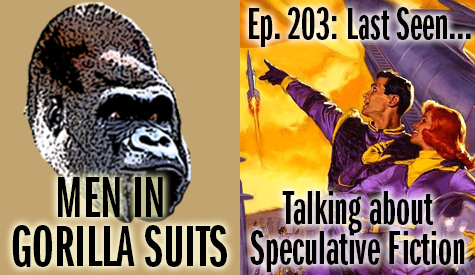 In the year 2000, flying cars will take us to work and robots will babysit our children and walk our dogs. We will vacation on the moon and Mars; all our needs will be taken care of. Our only fear is an attack from Galagaxian-7...or maybe a portal opening from a fantasy realm and dragons loose in the streets. Lines blur between Macondo, City of Mirrors and our world; somewhere in northern Wisconsin, an English bulldog controls the forces of gravity.
Speculative fiction is often viewed as the genre of pulps, but so many classics we're used to are speculative works -- even though we do not see them as such.
This week, we devote an episode to speculative fiction...
* * *
We begin by defining what speculative fiction is to us, and then talk about the first speculative work we fell in love with. After that, it's on to why people love speculative fiction so much...while others hate it.
Find out if we have ever written speculative fiction...and if we think there's room for speculating in literary novels (or if here are already speculative literary novels out there).
Next, we discuss the differences (or similarities) of speculative fiction and magical realism...and whether or not we should consider all fiction speculative fiction.
We run through some of our favorite works of speculative fiction before chatting about what speculative fiction does that other forms of fiction can't.
Finally, after devoting a bit of time to things we've not seen done with speculative fiction that we'd like to see, we speculate about what the future of speculative fiction looks like.
Feel free to speculate all you want in the comments below...
---
Thu, 15 December 2016
Men in Gorilla Suits Ep. 202: Last Seen…At the Mall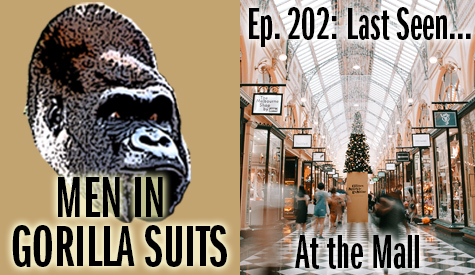 "Duuuuuuuuude! Where'd you get that gnarly shirt?"
"Chess King!"
"Excellent!"
"Where you headed?"
"Gonna get me an Orange Julius and then wander Spencer's Gifts..."
"Awesome. I'll catch up with you after I pick up the new Van Halen album at Camelot Music..."
This week, we're talking about malls!
* * *
We kick it off with our first trips to mall and our impression of the places as kids. After that, we talk about our main memories of 80s mall culture.
Find out if we were those kids who hung out at the mall (spoiler: we were!) and which malls we considered our home bases for rampant consumerism.
We chat about the best places to hang out in malls...as well as some of the more ridiculous mall stores we've encountered.
Malls come and go; in honor of that, we devote a little time to chatting about dying malls and what it's like to be inside an abandoned mall. After that, we talk about some of the reasons why malls shut down.
But there are places where malls are still a thing. We discuss why that is before moving on to out favorite malls ever.
If you listen to the show regularly, you know that Shawn volunteers quite a bit this time of year...and sometimes, his volunteering takes him to malls. We chat about how often we find ourselves in malls before wrapping it all up with the future of the shopping mall.
---
Wed, 7 December 2016
Men in Gorilla Suits Ep. 201: Last Seen…Being Immediately Patient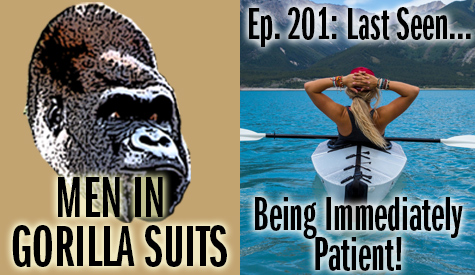 We live in hurried times. Text messages, email, and many other things vie for our attention. At work, managers ask, "How's that coming along?" sometimes just hours after you've given them an update about a task.
It would seem to many that patience is a thing of the past. But is it really?
People still wait for things. Granted, in many instances, we've figured out ways to make those waits shorter, but if you are human, you've probably waited for something this week. And even if you turned to your smartphone or some other distraction...really, that's another form of patience. (You've still accepted the wait.)
But then there are those weird people like Christopher, who still take pleasure in simply sitting and waiting. He'd argue, though, that there's not much difference between the thoughts in his head and someone going to their phone to pass the time. Some might say, "Well, he's patiently waiting and thinking about story ideas, instead of wasting time on his phone," but Shawn has written multiple novels on his phone.
This is all getting a bit off topic...
This week, we talk about patience (and the need for immediacy).
* * *
We begin by talking about the first thing we remember "needing" right away...and whether or not we were patient kids. Also, we discuss whether or not we are patient adults.
Has the Internet affected patience and people's need for immediacy? We chat about that before moving on to how patience and immediacy have affected trends in productivity.
Next, we talk about how patience and immediacy factor into the work most people do. After that, find out if we prefer a slower or faster pace of life.
We often talk about Millennials on the show. Many older people say Millennials lack patience, but is that lack of patience truly real; and if so, is it truly the domain of that generation...or has the urge for immediacy affected other generations as well?
We discuss whether or not patience and immediacy are mutually exclusive ideas, and whether immediacy ever has its place and if patience isn't always such a virtue.
And we wrap it all up in the future: will we find more ways to do all the things right now, or will we become more patient for some reason?
---