Wed, 7 December 2016
Men in Gorilla Suits Ep. 201: Last Seen…Being Immediately Patient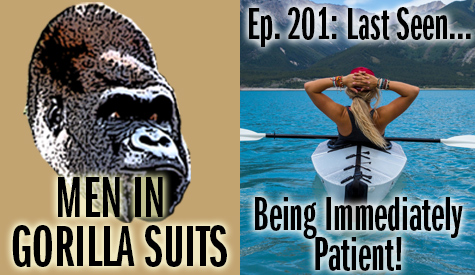 We live in hurried times. Text messages, email, and many other things vie for our attention. At work, managers ask, "How's that coming along?" sometimes just hours after you've given them an update about a task.
It would seem to many that patience is a thing of the past. But is it really?
People still wait for things. Granted, in many instances, we've figured out ways to make those waits shorter, but if you are human, you've probably waited for something this week. And even if you turned to your smartphone or some other distraction...really, that's another form of patience. (You've still accepted the wait.)
But then there are those weird people like Christopher, who still take pleasure in simply sitting and waiting. He'd argue, though, that there's not much difference between the thoughts in his head and someone going to their phone to pass the time. Some might say, "Well, he's patiently waiting and thinking about story ideas, instead of wasting time on his phone," but Shawn has written multiple novels on his phone.
This is all getting a bit off topic...
This week, we talk about patience (and the need for immediacy).
* * *
We begin by talking about the first thing we remember "needing" right away...and whether or not we were patient kids. Also, we discuss whether or not we are patient adults.
Has the Internet affected patience and people's need for immediacy? We chat about that before moving on to how patience and immediacy have affected trends in productivity.
Next, we talk about how patience and immediacy factor into the work most people do. After that, find out if we prefer a slower or faster pace of life.
We often talk about Millennials on the show. Many older people say Millennials lack patience, but is that lack of patience truly real; and if so, is it truly the domain of that generation...or has the urge for immediacy affected other generations as well?
We discuss whether or not patience and immediacy are mutually exclusive ideas, and whether immediacy ever has its place and if patience isn't always such a virtue.
And we wrap it all up in the future: will we find more ways to do all the things right now, or will we become more patient for some reason?
---
Tue, 29 November 2016
Men in Gorilla Suits Ep. 200: Last Seen…Turning 200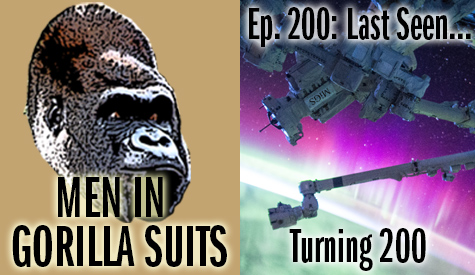 On February 7, 2013, two of the greatest [and humblest] minds mankind has ever known sat down in front of a Zoom H2n portable digital recorder and...talked.
About acting grown up.
It is the one event in history more impressive than putting an American flag on the moon.
Two hundred episodes later, the Men in Gorilla Suits are still going strong...
* * *
Instead of the usual single topic being the focus of the episode, we take a look back, seeing how our feelings have changed regarding older topics...
From Episode 3, we discuss how conspiracy theories have not only gone more mainstream than ever...but how they are, at least in part, responsible for the current President-Elect of the United States of America.
Then it's a step back to the first episode, in which we not only discuss how our perceptions about being adult geeks have changed...but whether or not we are happier with our adult lives.
Episode 89 found us chatting about patriotism, which ended up being largely about nationalism. We look back and see how much has changed in that regard in just two years. (Hell, even in the last two weeks!)
In episode 54, we talked about entitlement. Find out if we think it's a bigger (or smaller) problem than it used to be. (Really, we didn't mean for this episode to be largely about the 2016 US Presidential Election!)
We discussed podcasting in episode 105, and we do so again today by devoting a bit of time to how much podcasting has changed in the past couple years.
Episode 108 was [largely] a celebration of apathy. Find out if we've been able to continue practicing focused apathy to better our lives since recording the episode.
We devoted Episode 168 to motivation. We chat about whether or not our drive for things has changed much since then...and if we've seen others more or less motivated to do the things they want to do in life.
Episode 153 was all about being American (and what it means to be American). We talk about what that means to us -- and the world -- has changed recently.
What we didn't tell you is that this entire episode was recorded 200 years in the future. Which is convenient because we also like to talk about Star Trek. According to the Trek timeline, last year (2215) saw the Drema Quadrant mapped for the first time...and we're just years away from making first contact with the Klingon Empire. Find out how accurate Star Trek was in predicting the universe in which we now live, in 2216.
Also: we hate to break it to you all, but Earth is long gone. We wrap up Episode 200 discussing whether or not we're better off without that little rock and leaving the solar system in which we were born long behind us.
* * *
Last week was Thanksgiving in the United States. Whether you've listened to just part of one episode of Men in Gorilla Suits or allowed us to steal away roughly 235 hours of your life (almost 10 entire days!), thank you so much!
(We probably shouldn't have put it in that way...now that you know how much time you've lost listening to us babble, we'd fully understand if you never listened again...)
---
Wed, 23 November 2016
Men in Gorilla Suits Ep. 199: Last Seen…Following Fads and Trends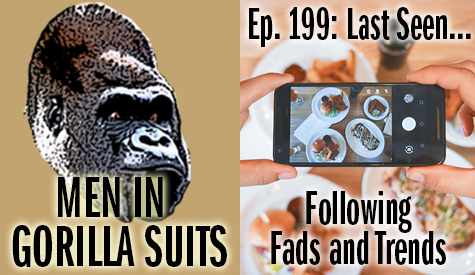 The frantic nature of the Harlem Shake may have given us the Mannequin Challenge. Others choose to express themselves by trying to eat a spoonful of cinnamon without choking...or they throw it in Mom's face and jump off bridges because all their friends are:
Humans love doing stupid things because others are doing them. And sometimes those things aren't so stupid and catch on. We incorporate them into life so they become trends.
Fads and trends is the topic this week on Men in Gorilla Suits.
* * *
We kick it off with the first fad we remember seeing...and then the first fad we took part in. After that, we establish the difference between a fad and a trend.
Find out if we ever kept up with trends -- and if we do so now (and why). After that, we talk about the last time we considered ourselves trendy.
Shawn once started a fad in his school. (Trust us, you'll want to find out what it was!)
We devote some time to the dumbest -- and coolest -- fads we've ever seen. After that, we talk about what we'd like to see become a fad or trend.
And we wrap it all up with the future of fads and trends.
---
Wed, 16 November 2016
Men in Gorilla Suits Ep. 198: Last Seen…Being Disappointed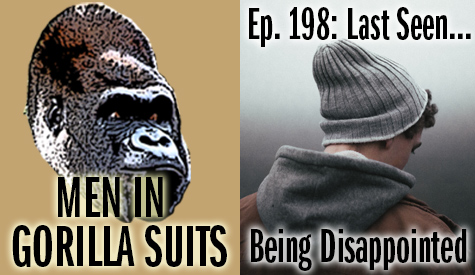 So...that election. You know, the one that said, "Hey, you might not claim to be a bigot or racist, but if you voted for the doughy orange one, you're at least okay with bigotry of sorts." At the very least, in the words of Hasan Minhaj:
You personally may not be a racist, sexist xenophobe, but that comes with the package. So if you take that deal, what you're telling me is, 'Hey, man, I don't hate you. I just don't care about you.'
Because the Gorillamen are disappointed that people voted -- at least in part -- for these things, disappointment seemed like a fitting topic this week.
# # #
We kick off the week's talk with the first time we remember being disappointed, and then jump to whether or not we were often disappointed as children...and even today, as adults.
Find out our biggest disappointments in life and the most recent thing to disappoint us.
After that, we talk about how we deal with disappointment -- and why some people seem to deal well with disappointment, while it destroys the lives of others.
We chat about how expectations and reality factor into disappointment before discussing whether or not we agree with quotes about disappointment like, "Disappointment just means something better is around the corner."
Is it possible to do everything right in one's approach to an endeavor and still see nothing come from it? We devote some time to that thought, and then talk about how often we're disappointed in other people.
And we wrap it all up with advice we'd give someone who is often disappointed.
Feel free to share any of your thoughts about this week's topic in the comments below.
---
Wed, 9 November 2016
Men in Gorilla Suits Ep. 197: Last Seen…Talking about Time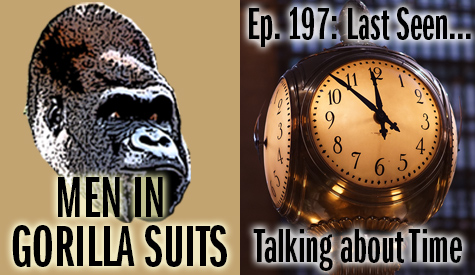 It's funny that this week's show is about time. Shawn's recently been busy, so we didn't record on our usual night. Then Christopher had an early day in the office on Tuesday, so Monday night recording was a no-go. Tuesday night in America was election night. (You might have heard a thing or two about that...)
So, it's funny that we're talking about time when this is the third week in a row with little commentary and Christopher just cutting and pasting our talking points for the episode below.
Tick...tock... Tick...tock...
# # #
When did you first become aware of the nature of time?
What's the weirdest time schism you've experienced?
When did/does time pass the slowest for you? The fastest?
Do you believe time is a thing that must be kept guarded, safe from waste?
Are you time-obsessed?
Do you believe humans can manipulate time?
Do you think time moves forward in a linear fashion?
As you get older, do you notice any changes in the passage of time?
What do you spend the most time doing, generally?
What would you like to spend more time doing?
What's the most annoying thing to you about time?
---
Thu, 3 November 2016
Men in Gorilla Suits Ep. 196: Last Seen…Being Annoyed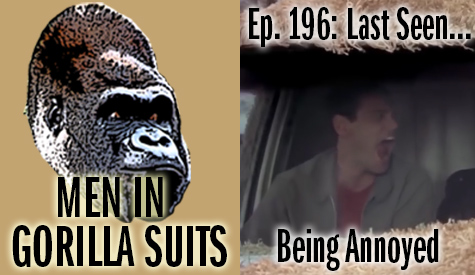 We recorded way later than usual this week, and to top that off, game seven of the World Series went into extra innings...so Christopher didn't get to put the episode together after recording. But here it is, all shiny and chrome the morning after the Chicago Fuckin' Cubs won the Motherfuckin' World Fuckin' Series!
# # #
Just the list, again, since the show is going up a bit later and there's a bit of a rush this week with other things...
What is the first thing you remember annoying you?
What is the thing that annoys you today?
Are you easily annoyed these days?
How do you handle annoying people?
Have you ever been accused of being annoying? (And was the accusation accurate)?
What is the last thing that annoyed you?
People say technology is the greatest thing…when it's working correctly. Do you think technology has added to our annoyances? (If so, how?)
Do you think people look for reasons to be annoyed? (If so, why?)
"First world problems" has become a rallying cry by those who are annoyed by people who are annoyed over little things. But…are there annoyances (even those deemed "first world problems") that are justified? (If yes, what are some of those things?)
Most of us have seen a news story about people who reached a certain point where something minor was the last straw for them snapping. How bad are accumulated annoyances?
For those who are easily annoyed, what are some things you'd suggest for letting some of that stress go?
In the coming years, do you think humanity will become more annoyed by things, less annoyed by things, or just stay the same level we're at now?
---
Wed, 26 October 2016
Men in Gorilla Suits Ep. 195: Last Seen…Having Phobias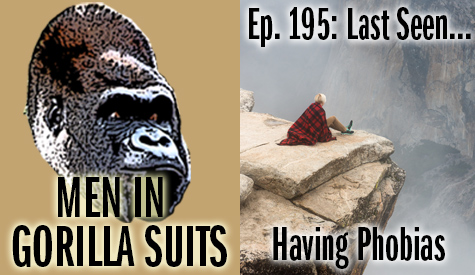 It's a really busy week, so no commentary -- just our talking points in a nice, neat list:
How old were you when you first experienced irrational fear?
What was your first phobia?
Have you ever had a debilitating phobia?
Have you known anyone who had a debilitating phobia?
Who has the strangest phobia that you know?
Have you ever gotten over a phobia? How?
Are you currently phobic about anything?
Are phobias something we're born with, or something we're taught?
Can phobias serve any useful purpose?
Has a phobia ever stopped you from doing something?
If you had to take on a severe, incurable phobia, which one would you choose? Why?
---
Wed, 19 October 2016
Men in Gorilla Suits Ep. 194: Last Seen…Being Outdoors-y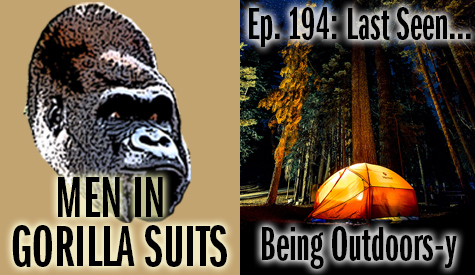 Some of us love the call of the wild and sleeping beneath the stars; some of us live for take-out and convenience.
This week, we dedicate an hour and change to the great outdoors...
* * *
We begin as we often do: back in the past. We talk about the first kind of outdoor recreation we remember doing, and then leap to our favorite things to do outside as kids...and now, as adults.
Find out if we think outdoor activities are important to the development of kids...and our favorite things to do outside today. Also, we discuss whether or not we feel being outside is important beyond levels of simple personal satisfaction...and then we share some of our favorite outdoor memories.
We chat about outdoor activities and trips we'd love to do, including what we'd do if money and time were no object.
We live in a fast-paced world where we hear some people even listen to podcasts at 2X speed to take more in. Find out if we think we lose anything by living such hurried lives often away from nature. Sticking to that idea, also listen to us talk about the role the Internet and technology play in how we interact with the natural world.
And, as always, we wrap it up in the future; this time, chatting about what the future holds for outdoor recreation.
---
Thu, 13 October 2016
Men in Gorilla Suits Ep. 193: Last Seen…Talking about Authority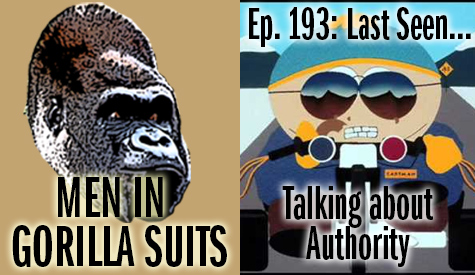 You will do as we say. If you do not do as we say, there will be consequences.
For many, that's what authority is -- someone with perceived power ruling over others.
But authority is also just being the person who has the authority to sign off on documents...things like that.
Really, though...we stick more with the first example of authority this episode...
* * *
We begin by talking about the first authority we recognized in life...and then whether or not our parents were seen as authority figures when we were growing up. We stick to that a bit more and discuss how our parents compared to friends' parent where authority was concerned.
Find out if we have a problem with authority [yes, we do] and when the problem started for each of us. We also chat about why we think authority can make us bristle a bit.
We devote some time to current authority figures in our lives, and whose authority we refuse to recognize -- as well as who we will listen to.
Many people say we must have authority for a society to survive, but is that true? We devote some time to that before talking about whether we follow authority more or less than others we know. And find out what gives someone enough authority that we will actually follow them.
We wrap it all up with the future of humanity's relationship to authority.
Now...respect our authority and leave a comment below!
---
Wed, 5 October 2016
Men in Gorilla Suits Ep. 192: Last Seen…Being Pretentious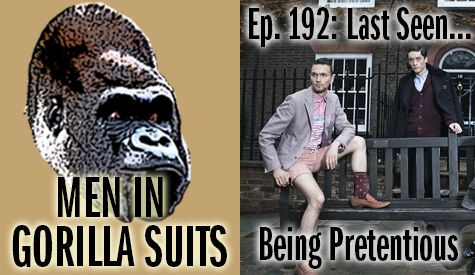 Really, podcasting is beneath us -- we only do this to be ironic. Our true fans listen to us on vinyl while drinking craft beer you've never heard of in exclusive bars meant to look like dives, even though they aren't. All your thoughts are provincial; you simply don't have what it takes to run with us.
We're sooooooo over The Decemberists, Grizzly Bear, and Bon Iver -- you know, the bands you're just now discovering. Our background music is a single note from Velvet Underground's "Lady Godiva's Operation" extended for hours while an Icelandic band only three people know of sings about the plight of being so misunderstood.
It's not that we're better than you, but...we're simply better than you!
If that makes us pretentious, well, then...call us pretentious. We're not so pretentious that we refuse to do a podcast about the subject...
* * *
We begin by talking about the first time we became aware of this thing called pretension, and then jump to how pretentious we are on a scale of 1-10. Find out what does bring out certain pretensions in us -- and why we think hipsters are so pretentious.
Then we chat about what is wrong about being pretentious...and whether or not anything good can come from pretension.
After a discussion about why we think pretensions are important to people, we devote some time to whether or not becoming more pretentious as a society comes with being civilized.
Find out if we think being pretentious lends itself to also becoming a bully -- and who stands as the most pretentious group or person we know.
We devote a little bit of time talking about if it even matters to us to put pretentious people in their places...and what we do in those rare instances.
And we wrap it up pondering whether or not Americans will grow more pretentious in the future -- as well as the rest of the world.
If you like bands no one's ever heard of, or feel you're better than others simply for what or who you know, leave a comment below!
---