Mon, 4 July 2016
Men in Gorilla Suits Ep. 179: Last Seen…Being Responsible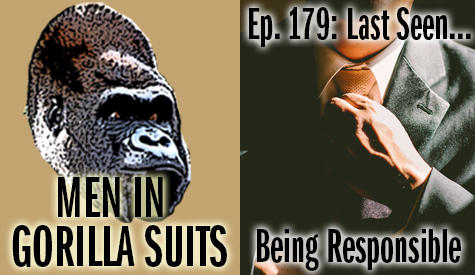 For many of us it came with chores. Others, with school. Later, it carried over to our first jobs...and then when we found ourselves out on our own.
Responsibilities.
What is seen as responsible to some is seen as taking on too much for others. In turn, some people look at a person making riches surfing or skateboarding and claim that person isn't responsible...because they aren't in an office job with standing. (Perhaps that's just jealousy that someone figured out a way to make millions doing what they love, while most people are stuck in jobs they'd not do were they independently wealthy.)
What constitutes responsibility is an interesting thing, so that's the topic for this week's episode of Men in Gorilla Suits.
* * *
We begin by talking about our first responsibilities and then move on to when we actually became aware of this thing called responsibility.
Find out if we actively seek out responsibilities today...and if we consider ourselves responsible people. After that, we chat about whether or not we currently have a lot of responsibilities.
We devote some time to discussing the times in our lives when we were the least responsible -- and the most! Sticking to that thought, we get more specific and talk about the least responsible thing we've ever done...as well as the most.
Perception can be a strange thing. We wrap up this episode discussing whether we think people see us as responsible adults or overgrown children...and whether or not those two things are mutually exclusive.
Feel free to do the responsible thing and leave a comment about this episode.
---
Wed, 29 June 2016
Men in Gorilla Suits Ep. 178: Last Seen…Performing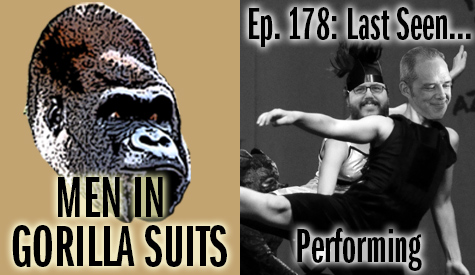 If we say, "What do you think of when you think about performers?" you probably think of an actor, musicians, or maybe even [God forbid] a clown or mime. But chances are you spent your day around performers: people holding back what they really want to say or that guy at work who honestly thinks his desperate attempts to suck up to managers isn't recognized as the corporate version of jazz hands that it is!
We all perform...whether it's looking out over the audience from a stage and overacting in the hope that your father will see in what you do the same thing you do, or saying to your kids, "This breakfast you made is yummy," when it tastes like Play-Doh and cat urine. (Hint: you probably just ate Play-Doh and cat urine.)
Performing of all sorts is the topic this week, so step into the spotlight and claim your 15 minutes!
* * *
We kick it off talking about the first performance we remember actually impressing us, and then talk about performing before others we've done.
Find out if we believe live performances are better than other kinds of performances -- as well as the worst performances we've ever seen. After that, we chat about the last thing we did that we consider performing.
Enough theater and movies -- we jump to talking about work...specifically, what role performing plays when we're at our day jobs. From there, we move on to the role performing plays on social media.
While it's evident that many people take up performing as a desperate attempt at getting attention, are all performers inherently seeking acceptance and attention? And does performing (as entertainment or even at work) inherently mean one is being fake?
We list some of our favorite performers and then chat about how the Internet has changed performing in recent years.
We wrap it all up by talking about what the future holds for performing.
For an encore: wave those jazz hands loud and proud and leave an interpretive dance in the comments.
---
Wed, 22 June 2016
Men in Gorilla Suits Ep. 177: Last Seen…Being Manly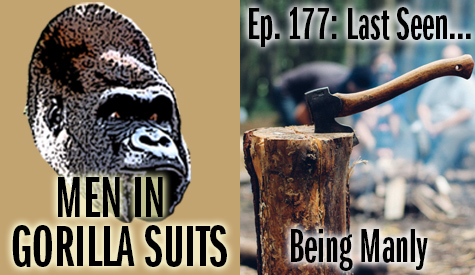 "I remember it as though it were yesterday: the first time I wiped my butt with a log. It was after I beat up 12 men in a drunken brawl and zipped off with a bunch of strippers in the old Pontiac GTO I restored with my bare hands. Did I ever tell you about that time I punched a moose so hard in the head that it went mad and destroyed a lumber camp? Those bark-skinned pussies didn't know what hit them! But it was out in those woods, living off the land, when a log was all I had at my disposal. You know what it's like when you eat nothing buy protein 'cause yer in the gym all day, pumpin' iron and getting all swole for your next big fight. You may as well be shitting steel girders! Or maybe you don't know, 'cause yer not a real man like me..."
What it is to be "manly" varies over the years and depends who you ask. Some would say there's not even a need for manliness in modern society. It's an interesting enough topic -- what it is to be "manly" -- that we decided to dedicate this week's episode to "manliness."
* * *
We kick it off by defining what manliness means to us -- and then talk about when the concept of "being a man" was introduced to us.
We chat about the most stereotypical manly things we've ever done...as well as the least manly things.
Most males are taught by their fathers what it is to be masculine. Find out if manliness was important to our fathers when we were kids...for themselves (and for us).
Also find out if we consider ourselves manly...and what someone wanting to be more manly would have to do to achieve our version of the concept.
After that, we discuss whether or not the concept of manliness is old fashioned...and if it should become obsolete.
We also talk about if traditionally defined manliness is useful...or if it's actually damaging.
And we wrap it all up with what it will mean in the future to be "manly."
So grit your teeth and let us know what you think about manliness in the comments.
---
Thu, 16 June 2016
Men in Gorilla Suits Ep. 176: Last Seen…In Restaurants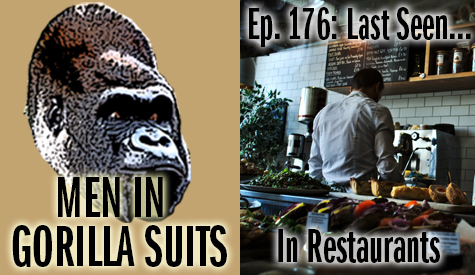 More Americans than not ate at a restaurant this week; in some cases, multiple times.
People begin their day with a stop for coffee and a bite to eat. At lunch, we head out with coworkers to get away from work (and often, depending on the group, talk about work while eating...for the record, we hate those kinds of lunches). Dinners out with family and friends -- it's easier than cooking, after all...or at least it feels that way at the end of a long day when you don't want yet another list of tasks to contend with.
It's just not Americans -- all around the world, from cities to even rural areas, people make a living cooking for others. Because we're fans of restaurants (and have even worked in them), we decided to chat about eating away from home on this week's show.
* * *
We begin with the very first restaurant we remember and then move on to how frequently we went out to eat with family when young -- and today.
We talk about working in restaurants, and then share our favorite local restaurants -- as well as our favorite restaurants anywhere.
Celebrity chefs are big draws, and their restaurants further bolster their coffers. Find out what we think about them. And while on the subject of chefs, there was a time when culinary school was almost deemed just one mere step above prison, but now it's seen as an admirable pursuit. We talk about why we think views have changed over the years.
We share whether or not we prefer fancy restaurants to dives -- and why. Also find out the most expensive meal we've paid for (and even the most expensive meal on someone else's dime).
We close out this week's show chatting about why there are so many restaurants -- and if there's a limit to how many places we can build in honor of food.
We'd love to hear your thoughts about this week's show in the comments.
---
Thu, 9 June 2016
Men in Gorilla Suits Ep. 175: Last Seen…Talking about Holidays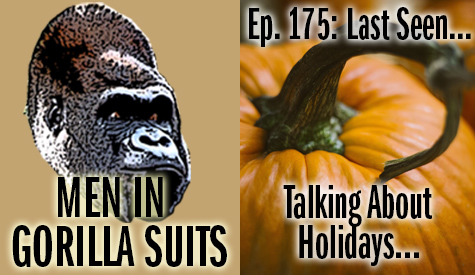 Christopher is currently sick, so all you get this week is a notice that he's sick and our runsheet. (Cheerier show notes next week.)
* * *
What is the first holiday you remember celebrating?
What was the "big" holiday in your household growing up?
What's your favorite holiday now?
What was your favorite holiday as a kid?
What's the stupidest federally recognized holiday?
What's the stupidest non-recognized holiday?
What isn't a holiday that should be?
Why do you think there are so many holidays?
What holiday do you think Americans should co-opt from another country/culture?
Whose birth or death should be a national holiday?
What do you like most about holidays?
What do you dislike?
---
Thu, 2 June 2016
Men in Gorilla Suits Ep. 174: Last Seen…In Trouble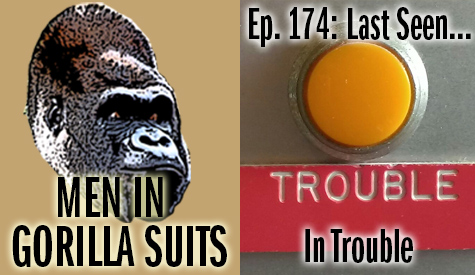 On Memorial Day, Christopher saw a couple cop cars behind a truck with a couple kayaks in the back. Christopher was going to buy beer, a substance that has led to more than a few fights in the drink's history. On the way back, the cops were searching the vehicle.
It's not right to stereotype people, but Christopher guessed that maybe they had a little marijuana on them...a substance that has not contributed to nearly as much violence over the years as alcohol.
And yet, the dudes with the kayaks were in trouble from the looks of things. (This point made very well with this video by The Streets)
Trouble is a strange concept to us, so we decided to devote an episode to it. We hope you like it, but if you don't -- worry not because...you're not in any trouble...
* * *
We begin by discussing the first trouble we remember getting into, and move quickly to the last bit of trouble that came our way (as well as the worst trouble we've ever been in).
Next, we get a bit more philosophical and ask if getting in trouble can ever serve a purpose. We also chat about the appeal of getting in trouble.
Find out the who the biggest troublemakers we've ever known are -- and what activity right now gets people in trouble that we don't think should be a big deal. (Hint: If legalized, we'd still not smoke it.)
We discuss whether or not rules and laws prevent trouble...and whether or not society deals with troublemakers well (or generally treat them terribly).
What is it about troublemakers some people are attracted to -- and at what point do troublemakers cross the line for us? Find out right before we end this week's show by asking if we think people will get into more or less trouble in the future.
You won't get in trouble for not leaving a comment, but we'll definitely be happy if you choose to share your thoughts about trouble or this episode.
---
Wed, 25 May 2016
Men in Gorilla Suits Ep. 173: Last Seen…In Pain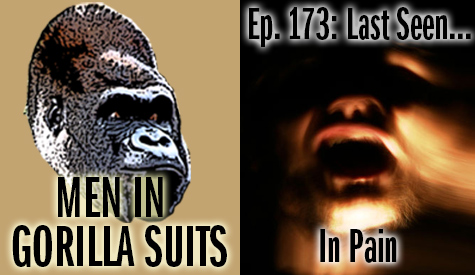 Bumping your head into cabinets or stubbing toes; chainsaw accidents and car wrecks; mauled by wild animals: All painful things.
But pain goes beyond physical injuries. Emotional pain can lead to physical pain.
Hell, many people believe life is pain.
Whether it's a chronic illness or feelings that cannot be shaken away, part of being human is experiencing pain. So that's the topic for this week's show.
* * *
We begin by talking about the first time we remember being in severe physical pain, and then get even happier by jumping to the first emotional pain we remember experiencing. Then we leap to the present day and discuss the last thing that caused us pain.
We're both getting older (this episode is being loaded the day before Christopher turns 47, and Shawn trails Christopher by 9 years), so we wondered: do we believe we experience more or less pain than most men our ages?
After that, we chat about the worst pain we've ever experienced -- as well as how we deal with pain and reduce its effect on us.
Some say that modern life is an attempt at the avoidance of pain. Find out if we believe there's any truth to that...and if we'd want to live a painless existence.
We wrap it all up by wondering if there is value in pain.
Leaving a comment doesn't hurt; if you are so inclined, have your say about pain!
---
Thu, 19 May 2016
Men in Gorilla Suits Ep. 172: Last Seen…Being Corporate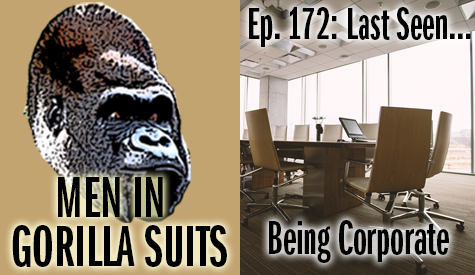 When we aren't recording podcasts, writing, or doing the other things we do on our own, we're busy working corporate jobs. Corporate America gets a bad rap by many, but it affords us enough security to approach episode 175 of a weekly podcast without an end in sight (or ever missing a week). It has provided us with a higher income than we made at more menial jobs. Some places we've worked have even offered some great perks we'd never have imagined when we first started working in offices.
But we've also seen more than our fair share of layoffs. We've worked long hours to cover the mismanagement of tasks and other things. We've had to hear people complain and gossip about jobs that -- for us -- are a far cry from the days in corn fields, on warehouse floors, and in restaurants being yelled at as an entire team by irate managers. We've seen work/life balance blur in an always-connected society.
We've lived the life for years, so it seemed time to devote an episode to corporations.
* * *
We begin by talking about when we first became aware of these things called corporations (and the jobs that came with them). We then move on to our first corporate jobs; as well as our best -- and worst -- corporate day gigs.
Many people view corporations as inherently evil things, but...is that true? Are they better, worse, or the same as "Mom and Pop Shops"?
There is no denying the reach of corporate interest into politics and the power big companies wield over nations. We discuss Citizen's United (i.e. the corporation as person), and move on to whether or not corporate tax havens and loopholes should be stopped.
Whew...got serious there for a moment! After that, we chat about a movie that seems like a documentary: Office Space. Hear some of our funniest and saddest corporate stories.
We did an entire episode about buzzwords and buss phrases early on; we revisit that when we talk about "corporate speak" leading to a potential problem with communication as a whole...and then we ask if corporate America is getting worse?
And we wrap it all up by discussing the future of corporations.
Fill out your TPS Report and drop it in the comments to have your say!
---
Thu, 12 May 2016
Men in Gorilla Suits Ep. 171: Last Seen…Consuming Stuff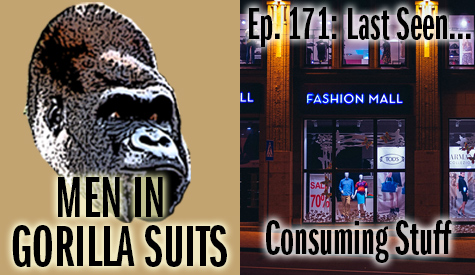 Chances are, you were bombarded by advertising today -- you probably didn't even realize it. Many of you probably bought stuff today as well. Looking around your home, it's probably full of stuff.
Marketers do what they can to get you to buy, while others tell us all to be appalled by consumerism.
This week, we chat about buying stuff!
* * *
We begin by talking about the first things we bought on a regular basis -- and what we spend the most on today.
We make it clear from the start that yes, we consume stuff; in fact, we chat about how often we go into stores for one thing and come our with a dozen things...and what we do if a store is out of the thing we are there to buy. What then? (And where do we go to buy our stuff?)
If you ever lost sleep thinking, "I wonder how often Shawn and Christopher shop for groceries, clothes, and other things?" then this is your lucky day! We also discuss whether or not we've gone out to purchase something in a major metropolitan area like the Dallas/Ft. Worth Metroplex and failed at the task. (i.e. Is the Metroplex full of all one can hope to buy?)
We chat about people who stockpile purchased items -- and whether or not there's ever a reason to stockpile goods. Are we members of warehouse clubs, or do we feel there's simply no need for them? Find out!
We come right out and answer this question: Do we consider ourselves consumers? (And then we talk about what we consume most.)
Find out what brands we would gladly promote...before we wrap it all up with this question: What is the future of consumerism?
It costs nothing to leave a comment, and the joy you will receive in doing so far exceeds that of buying a gold-plated pony! (So have at it!)
---
Wed, 4 May 2016
Men in Gorilla Suits Ep. 170: Last Seen…Scheduling Things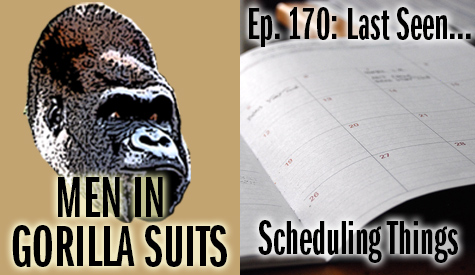 Nothing happens to us if we don't get this show out weekly, but we told ourselves from the start that we would get episodes online by Thursday of every week. 170 episodes in, we've never missed a deadline; in fact, it's not uncommon to post episodes early.
We usually record episodes on Sundays. If recording in person, it's an 11:00 a.m. start time. If we don't meet in person, it's 9:00 p.m. Sunday night on Skype.
While one could argues these are deadlines more than schedules, we both schedule things to various degrees (erring quite heavily toward the side of no real schedules -- just hitting deadlines and remembering the bodies of work we have created to drive us to create even more). Others schedule things down to the seconds (which helps if, say...you're launching a rocket into space -- but it's probably not necessary for daily life).
This week we are on schedule and...talking all about schedules.
* * *
We kick off this week's show talking about the first schedules we remember. Oh, wait...Christopher had his runsheet out of order, so we really begin in the middle, talking about whether or not we prefer schedule things by time or by necessity to complete the thing. After that, we leap to how important schedules are to completing our creative endeavors -- and how important schedules are in our lives.
We devote some time to discussing how we schedule things in our lives (if we use any apps, planners, or other things), and what kinds of schedules work best for us.
Many people swear by books like Getting Things Done and productivity blogs. Find out if any of those things have ever helped us with scheduling; then we chat about whether or not people can go too overboard with their schedules. And sticking to that topic, we talk about whether or not people generally give their kids too much to do.
We've all had to deal with someone not only heavily into scheduling, but also wanting others to follow their methods for scheduling things. We discuss how we deal with those people, and then move on to some commonly scheduled things that could use a revamp. (Okay, so we mostly hammer on the 40-hour work week.)
Finally, we wrap it all up by talking about what advice we'd give people where scheduling is involved.
And right on schedule...we ask that you leave a comment if you are so inclined to discuss this topic further.
---