Thu, 21 April 2016
Men in Gorilla Suits Ep. 168: Last Seen…Being Motivated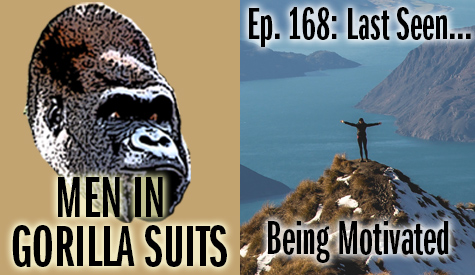 Do sayings like this motivate you?
If you dream it, you can achieve it...

Problems are not stop signs, they are guidelines.

Life is 10% what happens to you and 90% how you react to it.
Or does it take something more, like a mentor constantly checking on your progress?
Maybe you hate someone and are like, "I'll be damned if that son of a bitch is successful before me!"
Or perhaps you simply enjoy doing something, so you do it.
There are many reasons people seek out motivation; probably as many as there are to be motivated. That's our topic for this week's episode...
* * *
We begin back in the past, talking about the things that naturally motivated us as children -- and the things for which we needed motivation in order to do.
Find out what motivates us today -- and what we need motivation in order to do even as adults.
After that, we discuss how we feel about motivation as an industry, and why we think many people will pay good money to be motivated by another person.
Clearly, some people are naturally motivated, while others need assistance to do their things. We chat about why that might be before we move on to whether or not people have ever come to us to be motivated.
We talk about groups that are meant to motivate each other (writers groups, meetups, etc.), and then discuss how we stay motivated while working from home.
Is using anger a good or bad way to motivate oneself? (e.g. "That guy will not make it before me, and I will succeed before him if it's the last thing I do!")
And we wrap it all up with this: is there a point at which motivation can be bad?
As always, we'd love to hear your thoughts in the comments.
---