Wed, 6 April 2016
Men in Gorilla Suits Ep. 166: Last Seen…Swearing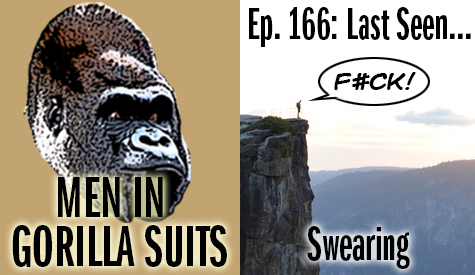 Oi, ya c@unts -- we f&cking did it! We went an entire f@cking episode of our sh$tty podcast without any G!d-d%mned swearing! That's cooler than sh*t -- especially because the motherf%cking episode is about f#cking SWEARING!!!
And it wasn't easy because our f#cking signoff is "Chill the f*ck out, and make the d@mn thing!" No s%it -- look at that motherf@cking image up top!
We're badass b%stards for not dropping so much as a b%tch, @ss, or other sh%tty word that's okay of f!cking television...let alone f&ck and c@nt and other words that make people cringe like sh$t-monkeys!
So open your f@cking earholes and listen to our only "clean" f&cking episode to date!
* * *
We kick it all off with our first memory of swearing -- and then talk about the first time we swore (and if we got in trouble).
After that, it's on to places we don't swear (if they even exist) -- or people around whom we refuse to swear.
This whole episode came to be after reading that Adam Carolla is doing a couple "clean" shows to attract big advertisers. Some podcasters say swearing limits audience size. We discuss our thoughts on that, and then chat about whether we have (or would) not swear in order to get a specific deal.
We discuss if certain words cross the line (fuck and cunt vs. shit and damn) -- and whether or not that makes any sense to us.
By the time we get to it, we've established things, but we talk about when we were "allowed" to swear at home...and if we dare swear around our parents today.
Some say that swearing is a sign of low intelligence...but is that shit fucking true? Hell, there are even advantages to swearing -- and we talk about that shit!
Is a corporate environment elevated to the point that swearing is wrong, there, or is it as okay to speak in an office as though you're on a factory floor?
Bleeping words we all know or writing F#ck instead of Fuck. Is that shit goofy, or does it make sense -- even though we know what's being written or said?
We close out this episode by talking about how violence is far more accepted by many people who will storm out of a movie in which someone says fuck. Is there a certain hypocrisy to that, or is watching a hero put down 30 bad guys more acceptable than someone stubbing their toe and saying shit?
Leave a fucking comment if you want. Or don't if you're like, "Screw those @ssholes and their f&cking potty mouths!"
---