Wed, 13 April 2016
Men in Gorilla Suits Ep. 167: Last Seen…Talking about Paranormal Things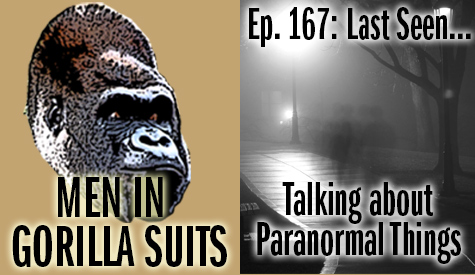 Ghoooooooooooooooooooooosts!!!
SpooooOOOOOOoooOOoOOOooooOOoooooky things!
The OTHER side...
The truth is out there...and...it's not what they want you to believe.
This is the episode in which you will hear Christopher almost come unhinged. This is the episode you will see (and hear) the Gorillamen fly the "No Ghosts" banner -- but they are not Ghostbusters...
And yet...they have experienced "paranormal things."
That's the topic of this week's episode.
(You might even walk away from it being like, "Okay, I do NOT want to push that Christopher button...holy hell - I can't believe he said that about one of his favorite people of all time!)
* * *
We kick it all off by talking about the first time we were introduced to...THE PARANORMAL!!!
Find out if we believed in ghosts when we were kids, and what -- if we believed -- those ghosts were (are).
Déjà vu. We've all experienced it, but does it mean we're psychic? What is that feeling that we've not only been here before, but that we can predict...the FUUUUUUUUTURE (at least for 5-15 seconds -- but rarely longer)?
Find out if we have ever experienced precognition...and also: if we believe any psychic powers exist (and if so, which ones).
If you know us, you know this is not a favorable episode if you believe in paranormal things. Find out what we think are the silliest paranormal things to us (this is where Christopher may have crossed a line and angered someone very dear to him), and also: if we know of any paranormal claims that defy explanation.
We wrap it all up with what we'd need in order to actually believe a paranormal claim.
Feel free to leave a comment...while it's probably clear we lean toward the side of skepticism -- as long as you don't insist our experiences are "something more," we won't bite...
And in honor of this episode, the best "ghost" thing Christopher has ever seen...posted by Shawn on social media...
GHOST PEE!!!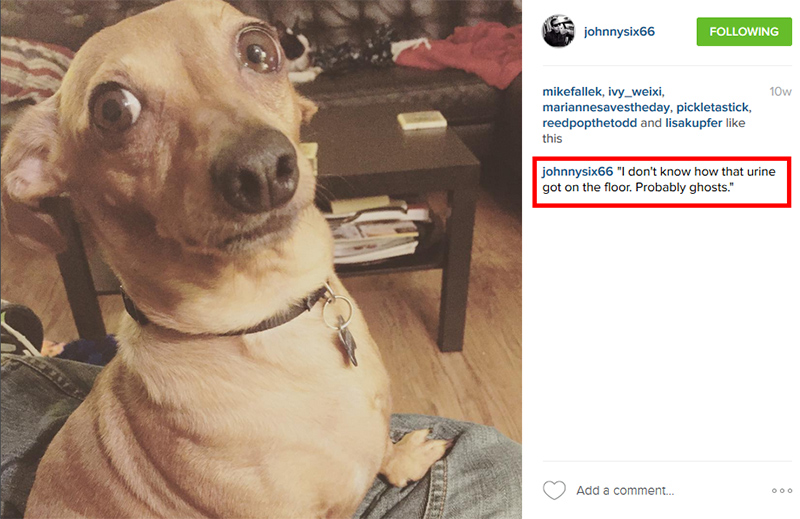 Oh yeah...that sound in the background near the end of the episode? Not ghosts -- but a snoring Boston terrier!
---