Tue, 3 October 2017
Men in Gorilla Suits Ep. 228: Last Seen…Talking about Horror Movies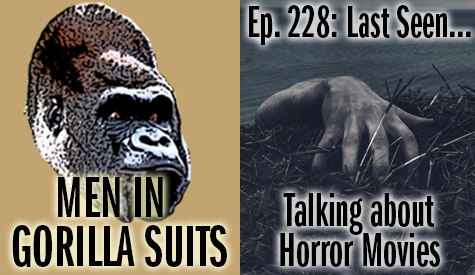 It's October and -- somehow -- we've not talked about horror movies in hundreds of episodes. So...we remedy that.
* * *
It's a busy week in Gorillamenville, so no real commentary -- just what we discuss this episode:
What's the first horror movie you remember seeing? What impression did it make on you?
Are you a fan of horror movies?
What was the last horror movie you saw?
When was the best era for horror movies?
The worst?
What's the best horror movie you've ever seen?
The most fucked-up?
What makes a horror movie work, in your opinion?
Assuming you are exactly as you are now (no special powers, etc.), which horror movie could you best survive?
What's the dumbest horror movie you've ever seen?
What's the future of horror movies?
---
Thu, 28 September 2017
Men in Gorilla Suits Ep. 231: Last Seen…Being Laid Off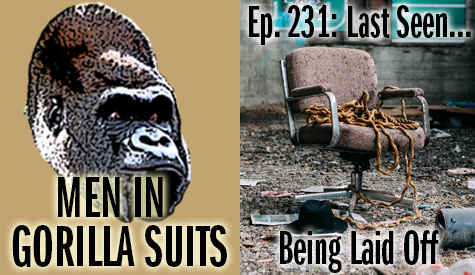 Layoffs are a way of life in America. It seems that one of the easiest ways to make 4th quarter numbers is to cut a bunch of people at the end of the 3rd quarter.
The days of working at a place for 30-40+ years is long gone...today, you're lucky to see five years at a job.
Right now, the company where Christopher works is dealing with more cuts...so...it seemed like a good topic for the week!
* * *
We kick it off with this: who is the first person we remember being laid off from a job? After that, we discuss why we think layoffs have become more common in recent years.
There was a time you walked into a job, were willing to work, and retired at that place. That kind of situation is a thing of the past, however. Find out, if it were possible, if we'd work at a job for 30 years like "the good old days?" -- or if we'd be more like mercenaries and jump to better incomes and different job duties?
We chat about how layoffs factor into job loyalty...or a lack of it -- and then go into how many times we've been laid off. We also share some funny layoff stories, and then talk about whether we've ever been fired from a job...and how that's different than a layoff.
Find out how we prepare for layoffs...and how long we typically work at a job before layoffs come around.
We discuss whether or not layoffs are hard on us -- and why we think they are so hard on some people.
And we wrap it all up with the future, wondering if we will ever stop laying off so many people...or if this is just the way it is today...
Feel free to share your layoff stories in the comments...
---
Wed, 23 August 2017
Men in Gorilla Suits Ep. 225: Last Seen…Talking about Anniversaries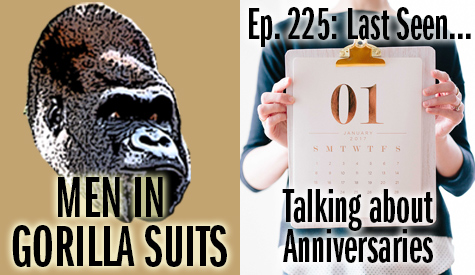 This is episode 225. Some people would celebrate that. Why? Because humans look for things to memorialize or celebrate.
We remember the dates we're born, as well as the dates that will live on in infamy. Good, bad, and everything in between -- if humans can connect something deemed important to a date or passage of time, it seems we will do so. And, to that end, we decided to make August 23, 2017 the first annual Men in Gorilla Suits podcast about anniversaries...
* * *
We kick it all off talking about cake. Seriously. Our first memories of anniversaries coincidentally involve cake. And then we move on to whether or not work anniversaries mean much to us. Also: find out how long the Gorillamen have been with their wives -- and what we usually do for our anniversaries.
We chat a bit about if it's important to recognize anniversaries -- and if birthdays are important to us.
Some anniversaries are gloomy affairs; we talk a bit about if those kinds of dates are important to remember. But after the gloom, we move on to cheerier things: the strange anniversaries we recognize.
Men in Gorilla Suits started on February 7, 2013. Find out if the upcoming 5th anniversary of the show is an important thing to us. Then we jump over to how some dates of remembrance fall from favor...and why some people get uptight about that. To that point, we devote some time to wondering if there is a time we, as a society, will ever forget 9/11...and if even people a generation or two below us are wrong not to care so much.
And we close it all out with two things: wondering if there are any anniversaries we think should be celebrated...and what we'd love to celebrate in the future.
---
Wed, 9 August 2017
Men in Gorilla Suits Ep. 224: Last Seen…Talking about Real Estate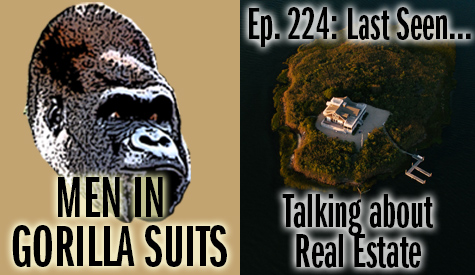 The American Dream has always been tied very closely to housing. The small house in the suburbs is what we were sold, even though -- for many -- it might be owning an apartment in a large city or off the grid in the middle of nowhere. The dream of owning a home has been exploited, leading to financial crisis -- but it's also been an indicator of financial health when all is well.
Entire networks dedicated to house hunting and restoration have popped up on television, and books and magazines (and websites and independent video channels) ensure we can consume our love for real estate any time we want. So it only made sense that we finally talked about buying houses! (Well, that -- and Shawn closed on a house yesterday...and that's been on his mind for more than the last month!)
* * *
We begin with the first time it hit us that people bought houses. After that, we talk about how old our parents were when they first purchased a house. We also chat about whether or not we've ever set out to purchase a home...and share odd stories about our hunts.
We discuss what made us want to buy a house and -- in the case of Christopher -- why he passed on one years ago. Next, we devote some time to what surprised us about the house-hunting/house-buying process...as well as the most annoying aspects of looking for a home.
We pause to describe our ideal dream houses -- and then jump to whether or not we think home ownership is on the decline (and if so, if it's the fault of Millennials...because if headlines tell us nothing else, it's that this may be the last podcast you listen to before nuclear war with Korea...and that Millennials kill all the things!)
And, as always, we wrap it all up with a look toward the future, this time speculating about what the coming years hold for home ownership.
---
Tue, 27 June 2017
Men in Gorilla Suits Ep. 221: Last Seen…Talking about Design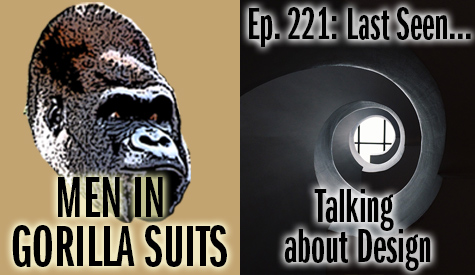 There is design to this page. There is design in most things you interacted with today...probably without your recognition.
Whether it's advertising or truly functional user experience; the place you live, or even your thoughts...many people put great effort into influencing others with design.
Hell, some people do it all simply for the sake of design.
This week, we're all about the D!
* * *
We begin with our earliest memories of people putting in an extra effort into this thing called design. After that, we chat about how aware we were of the effort put into everyday design. (Shawn's epiphany in and Arby's is rather beautiful!)
We chat about whether or not we've designed cool things...and what those things might be.
How does design affect mood? We talk about that...as well as how environment and upbringing affect design.
We get all hypothetical and chat about if we could be a designer of any sort...what we'd make. Then we talk about our favorite designers and what they've done.
How important is technology to design -- we chat about that! We also chat about how important design is to advertising. (Spoiler: it DRIVES advertising in every way!)
Some people love what they know. Are some designs so sacred that we should never alter them? We talk about that before wrapping it all up with the future of design...
These show notes are designed to filter down to driving people to a call to action in the comments. We understand that there's enough going on in our lives that commenting on a podcast blog is a thing of the past, but if you are so inclined...we will listen!
---
Wed, 14 June 2017
Men in Gorilla Suits Ep. 220: Last Seen…Talking about Metal Music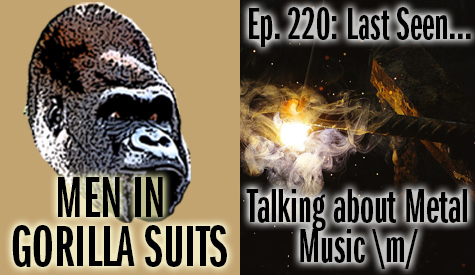 For the past couple years, Gorillaman Shawn has done another show -- a weekly look at metal bands and their influences called Metal DNA. While Christopher doesn't listen to much music these days, he was once rumored to rock out to Twisted Sister opening for Iron Maiden on Maiden's Powerslave tour in the mid-ish 80s. So it's a bit surprising that it took 220 episodes to talk about METAL!!!
And, because it must be shared whenever metal is mentioned, there's this:
* * *
We kick it off with the first metal songs we ever heard...as well as how we heard the tune (i.e. who got us into metal). After that, we talk about the best -- and worst -- genres and eras of metal for us.
We devote a bit of time to our all-time favorite metal bands, and then we jump into our fave metal tunes of all time.
Metal fans are a dedicated breed of all kinds of people, but there's definitely a stereotype for metalheads. Do they live up to that stereotype? We chat about that before discussing some metal shows we've seen live. (As well as a story about Christopher's one and only sad blind date.)
We like talking about time machines on Men in Gorilla Suits. Find out what metal concert we'd see if we could go back in time. And in the present, we talk about the most recent metal we've heard.
As [almost] always, we wrap up this episode with a look to the future, discussing what the coming years look like for metal and its fans.
Feel free to rock out in the comments if that's your kinda thing \m/
---
Mon, 29 May 2017
MiGS92 (Classic): Last Seen…Talking about Death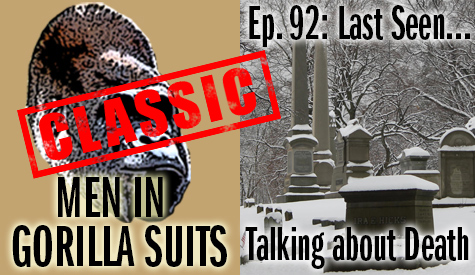 This classic Men in Gorilla Suits episode is about...Death!
Guess what? One day, you will die.
Shawn will die; Christopher will die.
Everybody dies.
It's such a cheery little topic, we decided to talk about death this week!
We begin by talking about our earliest memories that life one day ends -- and what caused that realization for us. Then we jump to discussing if we've ever been present when somebody has dies...and how it affected us.
Death can come slowly or instantly, and the way it hits people can vary. We dedicate some time to that before moving on to a short question: are you afraid to die?
Next, we take on the roll of a psychic and predict the ways we think we will die. Keeping the snowball of happiness rolling, we ask each other if we've ever thought about taking our own lives and...if we could find out when and how we will die, would we want to know?
As serious as death is, sometimes the way people die is strange...even funny. We talk about some of the stranger and humorous ways we've heard about people dying and then talk about movies.
Death is often the focal point of stories because we've all experienced someone dying. We talk about the best movies deaths we've seen. (We'd love to hear your answers in the comments below.)
There are usually rituals after someone's passing. We ask each other if there's a proper way to mourn one's death, and then talk about what we believe happens to us after we die.
We close out this week's episode by talking about what we would do differently with our lives if we found out we only had a year to live.
As always, we'd love to hear your thoughts about death and this episode in the comments.
---
Wed, 24 May 2017
Men in Gorilla Suits Ep. 219: Last Seen…Lashing Back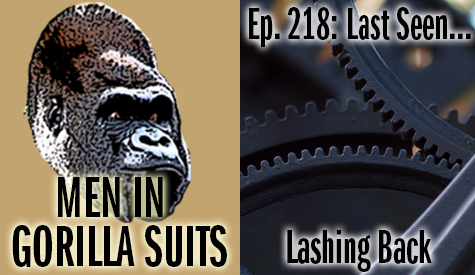 It seems one can't go more than a day without seeing somebody react to something out of a backlash reflex.
Why, you might even be saying, "I am tired of sweeping generalizations like that!" -- backlash responses are not that common!
(Thank you for proving our point.)
We all push back for so many reasons...or at least enough to put together an episode of Men in Gorilla Suits about backlash.
* * *
We begin by talking about our earliest memory of backlash -- and then move on to something we once liked, but no longer do, because of a backlash reaction.
We chat about why we think people push back at things over time. After that, we discuss whether or not we've experienced backlash over something we liked or did.
How important is backlash to politics -- and even society? We talk about that a bit. We also devote a bit of time to how social media has affected backlash.
We also discuss ways in which backlash is dangerous...as well as awesome -- and we talk about something we'd like to see face backlash.
Sometimes backlash is just a weird thing...you never know what will set someone off. We chat about that, and then wrap up this week's show with the future of backlash.
(In response to us asking you to leave a comment, be sure not to leave one, just because you're tired of being told what to do by people online...)
---
Mon, 8 May 2017
Men in Gorilla Suits Ep. 218: Last Seen…Being Anxious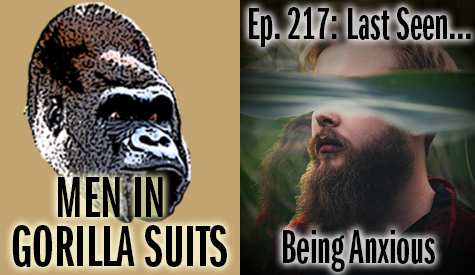 Because the last couple episodes have been loaded later in the week, we figured we'd load this one early. Here's why:
Sometimes we record episodes and, while making the damn thing, we know it's going to be a bit better than most episodes. Sometimes we're actually funny; other times, we're quick to thoughts and sound like we know what we are doing. Sometimes, we are very open about things -- maybe even too open for some.
This episode might be a bit of all those things as we talk about something not unknown to the world: anxiety!
* * *
We begin with this: have we ever had problems with anxiety? (That anxiety is this week's topic, the answer should be pretty evident.) After that, we talk about the first person we knew who struggled with anxiety.
Find out what makes us panic...and if we've ever had all-out panic attacks. Then we talk about how we deal with anxiety.
We're guessing we all know somebody who struggles with anxiety to various degrees. We chat about what we do to try to help those people...and then discuss the dumbest things that have caused anxiety in our lives.
Lives eventually end. Death is a source of stress for many people. We talk about whether or not we often think about death -- and if it makes us anxious when it's on our minds.
Finally, we wrap it up with this: what is the cure for anxiety (or does a cure even exist)?
As always, feel free to comment on this week's episode below.
---
Sat, 6 May 2017
MiGS123 (Classic): Last Seen…Aging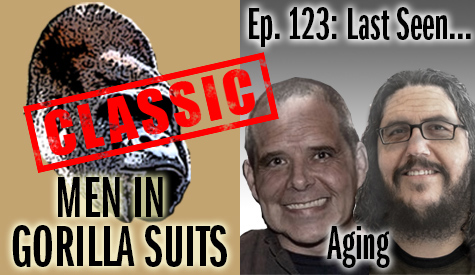 This Men in Gorilla Suits Classic episode is about aging...
As you read this sentence, you're getting older. Now you're even older than when you started reading this entry. You can step away and turn your head, hoping to not be reminded that you are aging, but time marches on.
Forward...
Always...
This week, we're talking about aging!
We begin by talking about the first time we realized that childhood was temporary -- that one day we would become adults. But aging is not all bad...we discuss the first time we were aware of our bodies aging in positive ways. After that, though, we talk about some negative things we're felt or experienced as we've aged. We also talk about age-related problems we've noticed...and age-related problems that scare us.
Hundreds of years ago, we'd probably be dead by now. We devote some time to the positive and negative effects of longer lifespans in modern times -- and then talk about how old we want to live to be.
We also chat about some benefits of getting older and whether we consider ourselves old, middle aged, young, or something else entirely.
We wrap up this episode on the front lawn (chasing off those damn kids!) to discuss whether or not we are, indeed, getting "too old for this shit!"
As always, we'd love to hear your thoughts about aging in the comments.
---