Wed, 22 February 2017
Men in Gorilla Suits Ep. 212: Last Seen…Talking about Ideas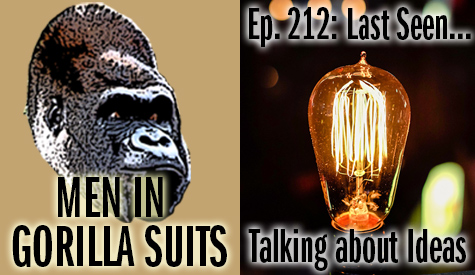 Men in Gorilla Suits started with an idea: "We should do a weekly podcast."
Then we came up with a variety of names...just random things that sounded cool. Shawn liked Christopher's idea to call the show "Men in Gorilla Suits." And that triggered an idea in Shawn: to name every episode beginning with "Last Seen..." as though we are not only Men in Gorilla Suits, but FUGITIVES ON THE RUN in Gorilla Suits.
That's it...that's the idea behind it all. Well, that and, "We can just talk about a geeky topic a week..."
Of course, that idea could have gone nowhere without effort. But 212 episodes into the show, we're finally talking all about ideas!
* * *
Here's what we discuss this episode:
What's the first original creative idea you remember having?
Where do you get your ideas?
Do you do anything with most of your ideas?
I've heard people say the ideas are the important part (i.e., I have the idea, you write the book, and we split the profits!). Do you agree?
How important are ideas?
What's the best idea you've ever had, creatively?
What about in life?
What's the worst, creatively?
In life?
Has anyone ever stolen your ideas?
What was the last idea you executed on?
What's more interesting: ideas or execution?
---