Wed, 26 October 2016
Men in Gorilla Suits Ep. 195: Last Seen…Having Phobias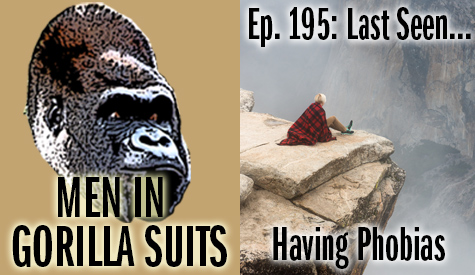 It's a really busy week, so no commentary -- just our talking points in a nice, neat list:
How old were you when you first experienced irrational fear?
What was your first phobia?
Have you ever had a debilitating phobia?
Have you known anyone who had a debilitating phobia?
Who has the strangest phobia that you know?
Have you ever gotten over a phobia? How?
Are you currently phobic about anything?
Are phobias something we're born with, or something we're taught?
Can phobias serve any useful purpose?
Has a phobia ever stopped you from doing something?
If you had to take on a severe, incurable phobia, which one would you choose? Why?
---