Wed, 19 October 2016
Men in Gorilla Suits Ep. 194: Last Seen…Being Outdoors-y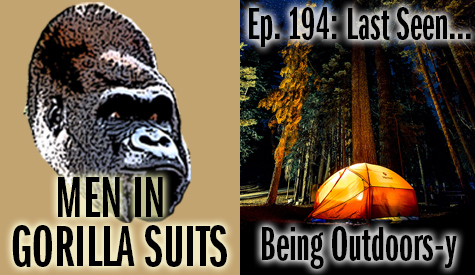 Some of us love the call of the wild and sleeping beneath the stars; some of us live for take-out and convenience.
This week, we dedicate an hour and change to the great outdoors...
* * *
We begin as we often do: back in the past. We talk about the first kind of outdoor recreation we remember doing, and then leap to our favorite things to do outside as kids...and now, as adults.
Find out if we think outdoor activities are important to the development of kids...and our favorite things to do outside today. Also, we discuss whether or not we feel being outside is important beyond levels of simple personal satisfaction...and then we share some of our favorite outdoor memories.
We chat about outdoor activities and trips we'd love to do, including what we'd do if money and time were no object.
We live in a fast-paced world where we hear some people even listen to podcasts at 2X speed to take more in. Find out if we think we lose anything by living such hurried lives often away from nature. Sticking to that idea, also listen to us talk about the role the Internet and technology play in how we interact with the natural world.
And, as always, we wrap it up in the future; this time, chatting about what the future holds for outdoor recreation.
---