Wed, 5 October 2016
Men in Gorilla Suits Ep. 192: Last Seen…Being Pretentious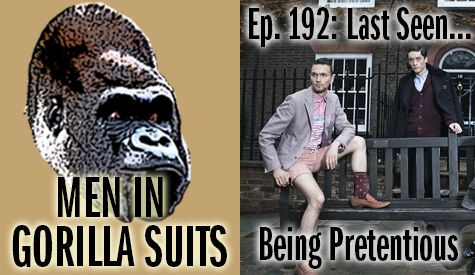 Really, podcasting is beneath us -- we only do this to be ironic. Our true fans listen to us on vinyl while drinking craft beer you've never heard of in exclusive bars meant to look like dives, even though they aren't. All your thoughts are provincial; you simply don't have what it takes to run with us.
We're sooooooo over The Decemberists, Grizzly Bear, and Bon Iver -- you know, the bands you're just now discovering. Our background music is a single note from Velvet Underground's "Lady Godiva's Operation" extended for hours while an Icelandic band only three people know of sings about the plight of being so misunderstood.
It's not that we're better than you, but...we're simply better than you!
If that makes us pretentious, well, then...call us pretentious. We're not so pretentious that we refuse to do a podcast about the subject...
* * *
We begin by talking about the first time we became aware of this thing called pretension, and then jump to how pretentious we are on a scale of 1-10. Find out what does bring out certain pretensions in us -- and why we think hipsters are so pretentious.
Then we chat about what is wrong about being pretentious...and whether or not anything good can come from pretension.
After a discussion about why we think pretensions are important to people, we devote some time to whether or not becoming more pretentious as a society comes with being civilized.
Find out if we think being pretentious lends itself to also becoming a bully -- and who stands as the most pretentious group or person we know.
We devote a little bit of time talking about if it even matters to us to put pretentious people in their places...and what we do in those rare instances.
And we wrap it up pondering whether or not Americans will grow more pretentious in the future -- as well as the rest of the world.
If you like bands no one's ever heard of, or feel you're better than others simply for what or who you know, leave a comment below!
---