Tue, 5 January 2016
Men in Gorilla Suits Ep. 153: Last Seen…Being American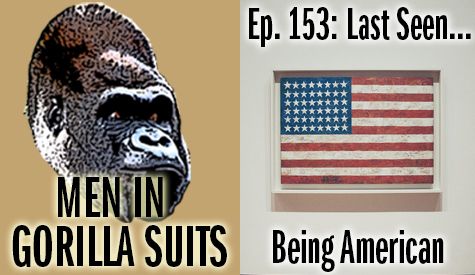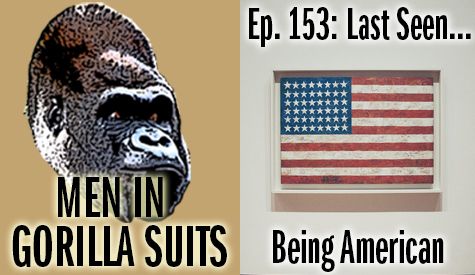 While we talk about a wide variety of things on Men in Gorilla Suits, there's no denying that much of what we talk about comes from an American perspective. (At least what we consider American.)
Some consider a group of men with guns holed up in a small Federal building they decided to occupy American.
People from other places might view Americans as loud and fat; others may say we're friendly. Some might even say we invaded their land and made a big mess of things.
America is a funny place. We can get away with things that would get us killed in some countries. At the same time, many think we're the only country with such freedoms...when that's far from the truth.
This week, we talk about what it is to be American (whatever the hell being an American is).
* * *
We begin by talking about how far back we have to go to find non-American citizens in our families. After that, we jump to whether or not people from other countries assume we're Americans when they meet us (and why we think that is how we're viewed). Next, we discuss what we love about being Americans...and what we're not so keen about.
People make assumptions about Americans. We chat about the assumptions we think people from other countries make about us because we're Americans, and even touch on the assumptions we make about our place in America.
American citizenship can be a heated topic -- so of course we devote some time to that. We chat about what we believe should be the process of becoming an American; what parameters (if any) should one lose their American citizenship; what we think about dual citizenship (and if we're eligible); if those who carry dual citizenship are any less American than single citizenship citizens; and what countries we would gladly share citizenship with if we could choose another. We also pretend we're exiled from America -- find out which countries we'd hope would take us.
Also find out what duties and responsibilities -- if any -- we believe we have as Americans (at home and while abroad).
And we wrap it all up with what we think America will be like in the future.
If you're an American, we'd love to hear your thoughts about all this in the comments...and if you're from another country, we'd love to know how we're viewed where you are from.
---