Tue, 12 January 2016
Men in Gorilla Suits Ep. 154: Last Seen…Conforming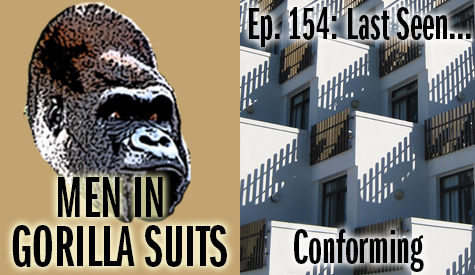 Do as we say, and all will be wonderful...
Fuck the system -- Tear it all down!
You make it easier on yourself if you're just like us...
Do you really want to be just like them?!
It's for your own good...
Only you know what's right for you!
It's an old battle: to conform or not to conform? Some (including us) argue that by not conforming...you're probably still conforming.
So...is resistance futile?
This week's episode is all about conformity (and non-conformity). Whether you're on the side of the popular jocks and cheerleaders...
...On the side of the deliberate non-conformists (who, remarkably, all look and act the same as each other, in much the same way as the jocks and cheerleaders)...
...Or if you're the geek totally out there on your own...
...This is an episode for you!
* * *
We kick is all off by talking about our first memories of conformity, and then jump to the benefits -- and drawbacks -- of conforming. After that, we discuss how important conforming is to society...and to us.
There are those who take incredible offense with those not like them. We talk about why that is before chatting about how much our environments influence us and our views.
Trends. Ah, wacky trends. We cover some of the trends we've followed, and then jump to whether conforming (or not conforming) has ever had a negative effect on us.
Our teens years are the most awkward years in our lives. It's a time when conformity is almost vital, even if you claim to not conform to anything at all. We chat about why that is, and then move on to whether people see us as conformists or non-conformists...and if those views are even accurate.
We wrap it all up by discussing the future, and whether or not conformity will be more -- or less -- important in the coming years.
Conform to the ways of all the cool kids and let us know your feelings about conformity in the comments. (To not comment is still conforming to an even bigger group, so sit at the "cool table" for a bit and have your say!)
Or just watch this:
(Is it sad that Christopher, at least, kinda envied Tom Hanks at the end of Mazes and Monsters...and still has days he kinda still does...?)
---