Wed, 20 January 2016
Men in Gorilla Suits Ep. 155: Last Seen…In High School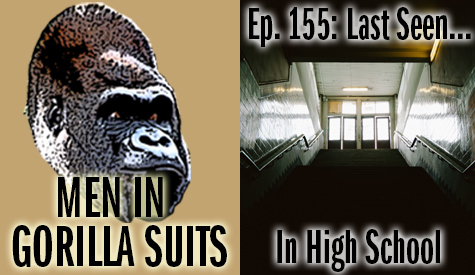 It's probably evident by the photo we used to represent high school that we weren't big fans of those four years. Still, they were not without their moments.
For some, they are the best days of their lives, while others could have easily done without them. Football games, parties, and fun; dodging bullies, isolation, and despair.
Being somewhere in the middle of it all, we decided to devote this episode to high school days...
* * *
We begin by sounding off: when did we graduate high school. After that, we talk about where we went to high school...and whether or not it was a good experience for us.
Find out if we agree with those who say high school is the best time of one's life as well as what we remember most about those years.
For many, extracurricular activities are what high school is all about. We discuss what we took part in -- and then chat about how many people from high school we're still in touch with.
High school is supposed to serve a purpose: preparing students for college. Was that the case for us? Did it even vaguely prepare us for the adult world?
As we often do, we hop into our imaginary time machines to go back to our high school selves. We have 30 seconds to offer advice about the time and life ahead. Find out what we would tell our younger selves.
Because we're old enough to have had high school reunions, we chat about if we attended any...or plan to in the future.
And we wrap it all up by discussing what we'd do to improve high school as it currently exists.
As always, we'd love to hear your thoughts about this week's topic in the comments if you are so inclined.
---