Tue, 24 November 2015
Men in Gorilla Suits Ep. 147: Last Seen…Procrastinating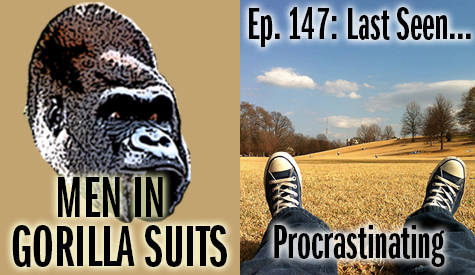 When we started Men in Gorilla Suits, we made an agreement to post episodes on Thursdays. It works out that we usually post on Wednesdays, though...with the rare Thursday posting.
With a holiday week in the states, we're posting on a Tuesday. It is not wasted on us that there's a certain humor in us posting an episode about procrastination two days early.
* * *
We begin this episode talking about if we are (or have ever been) procrastinators. After that [spoiler alert] we discuss the reasons we procrastinate -- going as far as chatting about the worst thing we've put off for later.
If you listen that far into the episode, you'll know we see strength in proper procrastination. We devote some time to when procrastination has been the best course of action in our lives before talking about the last thing we put off.
If you've ever wondered, "Who is the worst procrastinator the Gorilla Men know?" -- we answer that question. We also answer this one: "Why do humans procrastinate?"
We close out the episode discussing whether or not procrastination is generally a good or bad thing.
As always, the comments section awaits your feedback; you know, whenever you get around to it...
---